Spectacular waterfalls, star-filled night skies, and sweeping views of forest-covered mountains as far as the eye can see—this is the Endless Mountains region of northeastern Pennsylvania. When you want to get away from it all and enjoy a little peace and quiet (and plenty of natural beauty to match), you'll find it in this area, comprised of Sullivan County, Susquehanna County, and Wyoming County. Start dreaming up your next mountain escape with these ideas.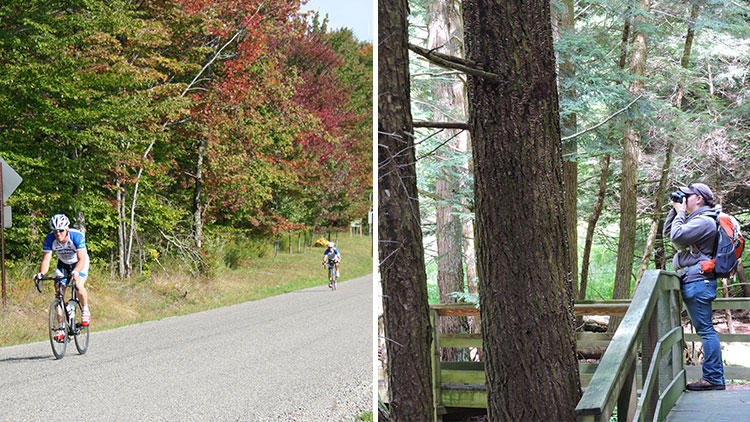 Outdoor Adventures in State Parks and Forest
Whether you long for days of trekking hiking trails, dropping in a fishing line, or kayaking some whitewater rapids, there are endless ways to take in the solitude and scenery of the Endless Mountains.
At Worlds End State Park, hike more than 20 miles of trails, launch your boat into Loyalsock Creek, and then spend the night at one of the 70 campsites. During the mountain laurel bloom in June and fall foliage in October, don't miss the views from the Loyalsock Canyon Vista, an ADA-accessible overlook.
Harboring the Glens Natural Area and offering 26 miles of hiking trails—many of which offer waterfall views—Ricketts Glen State Park is an outdoor enthusiast's dream. Follow the 7.2-mile Falls Trail to see 21 waterfalls, including the 94-foot Ganoga Falls.
At Salt Springs State Park, hike along trails through old-growth forest during the summer and fall, or explore the trails by cross-country skis or snowshoes in winter. For anglers, Fall Brook and Silver Creek offer plentiful opportunities for fishing.
Explore the many other parks in the Endless Mountains for even more outdoor adventures.

Charming Small Towns
Meander along the many backroads of this region to discover small towns with locally owned restaurants and shops. You'll enjoy a slower pace of life in communities such as Eagles Mere, Tunkhannock, Susquehanna, and many more. 
In the Endless Mountains, fill up on the beloved "Big Bread" Cinnamon French Toast at Bingham's Restaurant in Kingsley; opt for healthy, seasonal salads and sandwiches at T&C Grille in Tunkhannock; or pair food and fun at Harding's Dairy Bar, BBQ & Mini-Golf in Tunkhannock.
Be sure to stop into wineries such as Winterland Winery in Dushore or Hidden Creek Vineyard & Winery in Laceyville for wine tasting options. Nimble Hill Vineyard & Winery in Tunkhannock makes award-winning wines as well as a lineup of craft beers, and for a wide variety of freshly made ales, order a pint at Endless Brewing in Montrose.
Want to explore even more? Historic PA Route 6 connects a number of communities and picturesque scenery along the way.
Where to Stay
Whether you enjoy the privacy of vacation rentals, the luxurious amenities of country inns, or the personalized service of bed-and-breakfasts, you'll find plenty of places to stay in the Endless Mountains. For more adventurous accommodations, sleep under the stars when you pitch a tent or bring your RV to one of the many campgrounds.