Nestled in the hillsides of southern Pennsylvania, discover the site of one of America's most important events—the turning point of the American Civil War and its bloodiest battle—the 1863 Battle of Gettysburg. In conjunction with the National Park Service, Gettysburg Foundation preserves this 7,000-acre battlefield, which features more than 1,300 monuments, markers, and memorials across its hallowed grounds.
Your visit to Gettysburg starts at the Gettysburg National Military Park Museum & Visitor Center, where a ticket grants you access to the multi-dimensional Film, Cyclorama & Museum Experience: three distinct experiences in one. Gain a deeper understanding of the Battle of Gettysburg when you watch the film "A New Birth of Freedom," detailing the war's first shots to Abraham Lincoln's monumental Gettysburg Address. Then, immerse yourself in the midst of battle with the Gettysburg Cyclorama: a 360-degree painting—taller than a 4-story building and longer than a football field. Painted by French artist Paul Philippoteaux in 1884, the Cyclorama depicts the fire and fury of Pickett's Charge. Explore artifacts and interactive exhibits at the Gettysburg Museum of the American Civil War.
After gaining an overview of this pivotal period in American history, venture onto the battlefield to stand in the very place where Union and Confederate soldiers charged into conflict, where cannons thundered; gunfire echoed; and blood spilled. When you explore the Gettysburg Battlefield with a licensed guide, you'll hear stories about the generals, soldiers, and civilians who changed the course of history, and you'll see important sites that have been made famous in books and film, including Little Round Top, Devil's Den, and an array of state monuments. Take your pick from a guided bus tour or a personalized guided car tour.
For additional ways to experience Civil War history, the Gettysburg Foundation hosts special events and programs throughout the year, from hidden history tours and focused lectures to guided hikes and volunteer programs.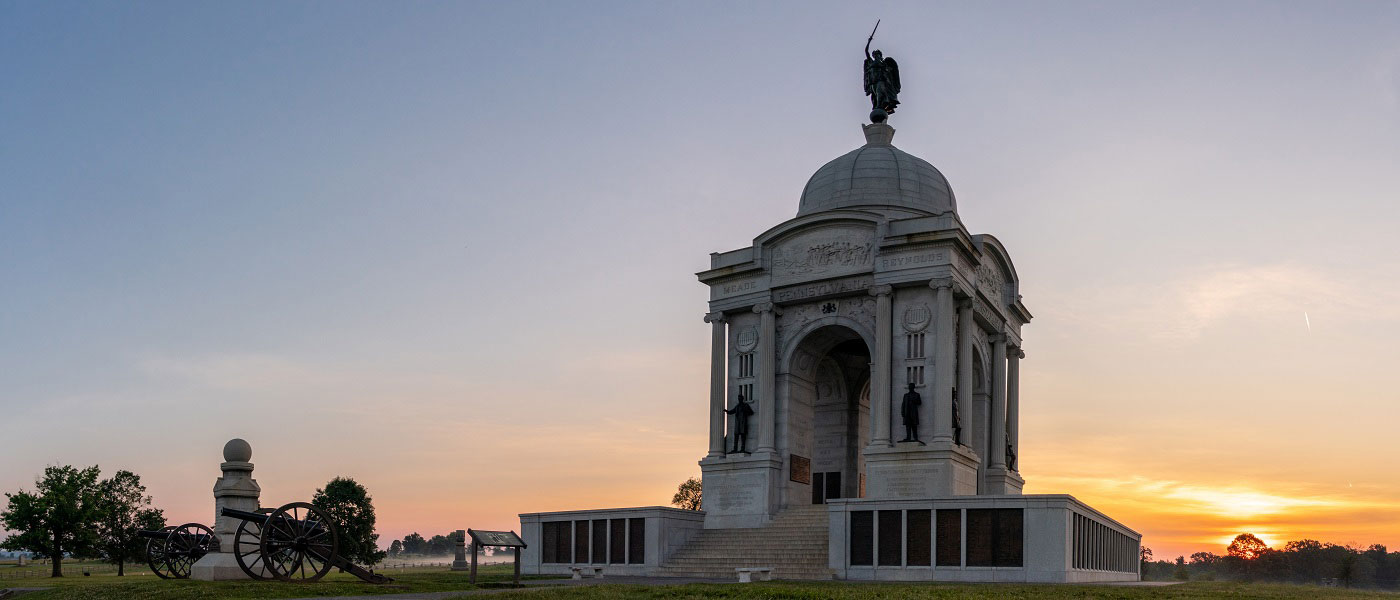 Continue your exploration of American history at the Eisenhower National Historic Site, the former weekend home, farm and diplomatic destination of 34th President and General Dwight D. "Ike" Eisenhower and First Lady Mamie.
In downtown Gettysburg, get a glimpse into civilian life during the Civil War at the 1863 Rupp House History Center. This free museum, located at 451 Baltimore Street, offers an interactive, hands-on experience. During summer weekends, living historians bring this time period to life.
Then, see where Abraham Lincoln spent the night preparing for the Gettysburg Address: the historic David Wills House, located at 8 Lincoln Square in downtown Gettysburg, was home to attorney David Wills, where plans for the Soldiers' National Cemetery originated.
And during summer weekends, ride the shuttle from the Museum & Visitor Center to the George Spangler Farm & Field Hospital, where a family farm was urgently converted into a field hospital for 1,900 wounded Union and Confederate soldiers.
Get even more ideas for planning your trip with these tips for visiting the Gettysburg Battlefield.