Hidden away in the mountains of northern Pennsylvania, the historic town of Wellsboro is an idyllic scene of small-town living: red-brick buildings, locally owned shops, and authentic gas-lit lanterns along the main thoroughfare. And just minutes away? An abundance of outdoor adventure, with scenic mountain biking and gravel trails latticing the forested landscape.
Nearby Colton Point State Park and Leonard Harrison State Park flank the sides of the spectacular Pine Creek Gorge, a 1,450-foot-deep canyon—sometimes called the "Pennsylvania Grand Canyon"—carved into the Allegheny Plateau by Pine Creek. Cyclists won't want to miss a ride along the traffic-free Pine Creek Rail Trail, located near the bottom of the canyon. The 62-mile converted railway was named one of the "10 great places to take a bike tour" by USA Today. Pedal along the hard-packed gravel route, which has numerous access points and only a 1–2% grade over its entire length. Bring your own bike or stop by Pine Creek Outfitters for bike rentals (including electric bikes), as well as shuttle services for visiting cyclists and families looking to explore the trail. For even more mountain biking trails, Tioga State Forest offers plenty of options—everything from mellow greens with flowing hills to gnarly double black diamond trails with steep climbs and fast downhill action.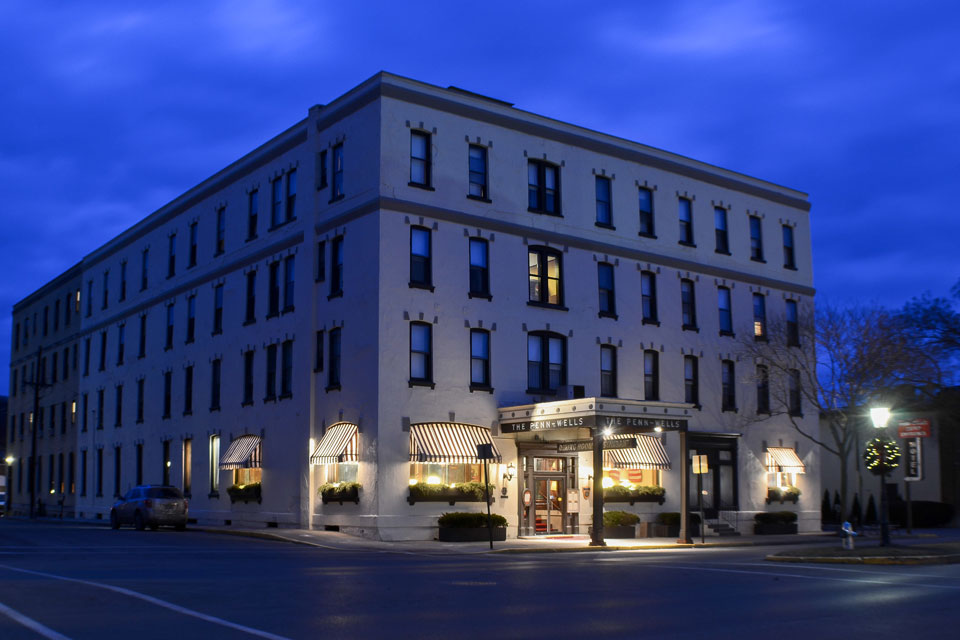 For the perfect home base, stay near the trails while enjoying the convenience of downtown Wellsboro at the iconic Penn Wells Hotel and Lodge, a staple of the town for more than 150 years and a member of Historic Hotels of America. Step into the hotel's grand lobby, where mahogany woodwork, tiled floors, a wood-burning fireplace, and rich jewel tones create an elegant space. You'll feel like you've traveled to another era. And accommodations range from budget-friendly economy rooms to spacious family-style rooms with sitting areas.
Just a block away from the Penn Wells Hotel is the Penn Wells Lodge, the contemporary counterpart to the historic hotel, offering a variety of modern accommodations, as well as onsite amenities such as complimentary breakfast, an indoor pool, fitness center, business center, laundry facilities, and travel market.
During your free time, you'll discover even more things to do in Wellsboro, such as watching a movie at the Art Deco-style Arcadia Theatre or shopping at Dunham's Department Store, one of the last few family-owned and -operated department stores in the country.
Book a stay at the Penn Wells Hotel and Lodge to start dreaming up your Wellsboro getaway.