By Bob Batz Jr.
In this most untraditional holiday season, you're free to be NOT traditional about your holiday beer. That includes the foods with which you choose to drink them, which may well be something you do at home, instead of at breweries, bars and restaurants. Thankfully, many iconic Pennsylvania seasonal brews are widely available at distributors and stores, and many breweries and third-party services deliver to homes across the state. What's your non-traditional holiday/winter beer-food pairing? Maybe this is the year you discover it.
Eric Heinauer has been in the beer business for 20-plus years and now works as regional brewery manager for Straub Brewery in St. Mary's, Elk County. Its holiday offering is Winter Bash, a 4.3%-alcohol lager infused with the flavors of raspberry, grapefruit and orange.
"There are two ways to look at food pairings," he says. "A lot of people like contrasts. And a lot of people like similarities. I fall into the camp of, if it works, it works."
And you know what works for him with Winter Bash? French toast. Garden-variety French toast, made like his Grandma made it, with store-bought white bread and slathered with artificially flavored maple syrup.
The sweetness is cut by the citrus in beer, the way orange juice would, and "it pairs really nicely with it," he insists. Try it for a holiday brunch.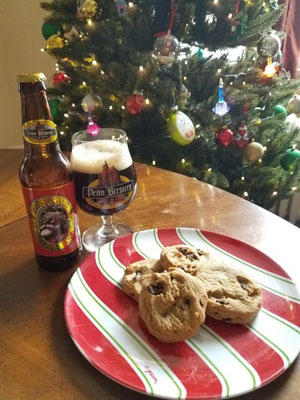 At Pittsburgh's Penn Brewery, where Mr. Heinauer once worked under late founder Tom Pastorius, most wonderfully named head brewer Chris Rudolph has two holiday brews to consider: Nut Roll Ale, which is meant to taste like the pastry (and which Mr. Heinauer helped develop), and St. Nikolaus Bock. Mr. Rudolph's pairing is for the latter and in more ways than one. The big, dark and strong (6.5% alcohol) German-style bier gets Mr. Rudolph thinking about his aunt's picture-perfect chocolate chip cookies. "They bring out the chocolate notes in the beer," he says – goodness that St. Nick himself would appreciate having set out for him on Christmas Eve. If you really want to win Santa's heart, or at least warm it, pair his cookies with 9%-alcohol St. Nikolaus Bock Brewer's Reserve doppelbock.
Corey Reid, sales manager for Sly Fox Brewing based in Pottstown, pairs its super-cinnamon-y, 6.3%-alcohol spiced Christmas Ale with homemade apple fritters, "since I am a simple PA Dutch Boy that grew up in a rural 19th century village in Southeast Pennsylvania called Sassamansville," home also to the legendary Bauman's Apple Butter. With apples running in his blood, "it was a natural for me to start cooking with this beer. The recipes are able to be enhanced with cinnamon, nutmeg, allspice — ginger and cloves were endless."
Sweets with beer? How about sweets IN beer?
There's a brand-new holiday brew that is brewed in North Carolina – by Wicked Weed Brewing – but for the Pennsylvania-based Sheetz, and it's brewed with the convenience store chain's Schweetz Glazed Vanilla Donut holes, one pound per barrel. The result, "Project Happy Hole-idayz," is available at 432 Sheetz stores across Pennsylvania, North Carolina and Virginia. It's described as a deep golden pale ale with notes of fresh baked donuts, vanilla frosting, graham crackers and honey. Sheetz Senior Manager for Research and Development Jason Amell says it pairs well with fried foods in general – fried chicken, chicken and waffles – but he likes it with the Sheetz carved turkey breast sandwich. "The sweet hoppy notes balance out the rich roasted turkey notes." He recommends the pretzel roll.
If you like the schweet stuff, you might also like Yuengling Hershey's Chocolate Porter, which America's oldest brewery – based in Pottsville, Schuykill County – brewed this with chocolate from another iconic Pennsylvania brand. The 4.7%-alcohol beer pairs well with a number of things, as noted on the brewery's website, but brewer Sheryl Yuengling says she loves it with a chocolate brownie and a scoop of vanilla ice cream. "The caramel and dark roasted malts enhance the rich chocolate of the brownies and the depth and body of the beer supports the creaminess of the ice cream."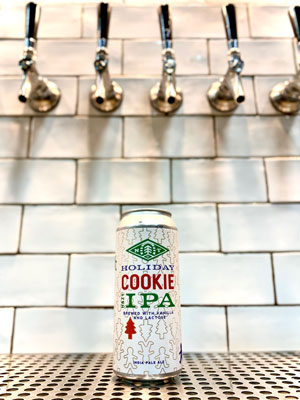 Williamsport's New Trail Brewing Co. has two holiday brews on which Director of Brewing Operations Mike LaRosa is sweet: Holiday Cookie, a 7.5% alcohol hazy IPA brewed with vanilla and lactose, "is best paired with chilly nights spent in a kitchen baking an assortment of your favorite cookies." And eating them, because lactose and vanilla in an IPA will lend a fuller mouthfeel and sweetness to the beer that should only be accentuated by richly sweet cookies." Snowmen Are Jolly Too, a 6.2% spiced ale, is "best paired with a hearty spiced bread or fruit cake."
Not ready for dessert? How about a main course?
For some salt with your sweet, candied bacon is on target for the dark, fruity, 10.1%-alcohol "wee heavy ale" named for an iconic Red Ryder B&B gun before Erie Brewing Co. in Erie had to rename it, for legal reasons, Ol' Red Cease & Desist. Head Brewer Tate Warren says, "The best part is that it can be used in the process of making the [bacon] and then drank with the final product," including at deer hunting camp. The brewery's web site lists other good pairings, including game birds and crème brûlée.
If you are hungry like a wolf, you might howl for Lancaster Brewing Co.'s Winter Warmer, a high-gravity (8.9% alcohol), non-spiced, "incredibly malt forward" old ale with "mild burn on the finish," says Lancaster founder Pete Keares. "In my opinion, it pairs far better with braised or roasted flavors as opposed to grilled, works well with the earthy flavors of truffle and mushrooms and needs an acidic element throughout a meal to help balance all the richness." If he had to pick one pairing it would be with LBC Original White Chili.
Philadelphia's Dock Street Brewery offers a wintry version of its seasonal pale ale called Winter Haze. It's a 5.2%-alcohol brew made with spelt as well as wheat malt and flavored with Simcoe hops and orange peel, and "perfectly pairs with cold noses and warm fires." As far as food goes, founder/owner Rosemarie Certo loves to pair it with a Fig Jam pizza from one of Dock Street's wood-burning pizza ovens. "The sweetness of the figs plays perfectly with the subtle orange peel notes in the beer -- and of course, since I was born in Sicily, I am partial to figs and oranges," she says. "Then you get that salty hit from the bacon and gorgonzola! Pine aromas and Simcoe notes in the Dock Street Winter Haze cut through those flavors in a way that complements but doesn't overpower."
At Philadelphia's Evil Genius Brewing Co., the festive holiday saison, brewed to 7.2% alcohol with Belgian yeast, Belgian candi sugar, rose hips, chamomile and black currants -- is Santa!! I Know Him! Head Brewer Matt Lally muses, "The holidays can be a lot to deal with. It gets dark early, it's cold, and I need to escape the constant stream of Christmas carols. But there are remedies for this -- vitamin D pills, warm socks, and thrash metal. Regardless, when I get the winter gloomies, I reach for a nice "cold weather" beer, like Santa!! … It's strong, dark, sweet, and fruity. And what do I pair with such a bold beer? Tacos, of course! Namely, tacos al pastor -- spicy pulled pork with pineapple. The dark, sticky richness of the beer is counterbalanced perfectly by the bright spiciness of the pork and the acidic tang of the pineapple. It's definitely a meal that'll make you want to nap afterward, but hey, it's already dark outside anyway."
Lots of holiday and winter beers go well with lots of flavors, as you can see on the web pages of of Hershey's Tröegs Independent Brewing and its iconic Mad Elf Ale, brewed, to a mischievous 11% alcohol by volume, with honey and cherries. The brewery's detailed and downloadable food notes give both contrasting and complementary as well as adverse flavors for the brew. But you could go super traditional if you can find roasted chestnuts.
Sara Bozich, part of the team behind the Poured in PA series about the state's breweries, says her favorite holiday beer ("also maybe my favorite beer") is Tröegs Blizzard of Hops Winter IPA (6.4% alcohol). "I pair this with general food prep and football games from the moment it's released" and pairs well with turkey sandwiches as well as "touchdowns, blitzes, and sacks." This winter, she'll be drinking it "with Christmas cookies while I wrap gifts and watch bad Hallmark movies!"
Bonus pup pairing: If you'd like to drink a holiday beer with your dog, you could have a newly updated classic, 5.6%-alcohol Samuel Adams Winter Lager, which is brewed in Pennsylvania, and give your dog a Sam Adams Winter Later Inspired Brewscuit, a made-in-Pennsylvania-with-spent-brewing-grains dog treat with the beer's flavors of orange peel, cinnamon and ginger.
Bob Batz Jr. writes about beer for the Pittsburgh Post-Gazette. Contact him at [email protected] and on Twitter @bobbatzjr.
For even more ideas on craft beer in PA, check out the visitPA website. Follow us on Facebook, Twitter, and Instagram to stay up-to-date on even more great ideas and places to visit around our state.