Dutch Country Roads, Pennsylvania Wilds & The Alleghenies
16 stops
Dutch Country Roads, Pennsylvania Wilds & The Alleghenies
3 Days - 16 Stops
Perry County Arts Council Gallery
67 North 4th Street, Newport, PA 17074
In Newport, the Perry County Arts Council Gallery (1) supports artists from the area and is a pleasant stop for all. Here you can find pottery for storing your pickles, glasses for wine or beer, beautiful wooden boards for displaying cheese, and so many more one-of-a-kind items. Walk around the square in Newport. It is a delightful town with diverse shopping experiences. They have everything from country kitsch, to antiques to modern arts and crafts, as well as a top-notch coffee shop.
Butcher's Farm Market
590 N 4th St, Newport, PA 17074
A mile or so away is Butcher's Farm Market (2) where you can buy pickled red beets, chow chow, sauerkraut, and Vidalia onion relish that is made on the premises. Buy a few jars of your favorites and pack them in the trunk for later!
Gita Nagari Eco Farm
534 Gita Nagari Rd, Port Royal, PA 17082
About thirty minutes west, a really unique experience can be had at Gita Nagari Eco Farm (3). Gita Nagari is a no-kill farm where visitors can purchase yogurt and other dairy products, as well as visit with the cows out in the pasture. The property, near Port Royal, is the first and only USDA certified slaughter-free dairy farm in the country. Since 1974, a staff of volunteers has worked to keep the farm running by offering working farm vacations and meditation retreats, as well as selling their products. Give them a call ahead of time to let them know you will be visiting, so that someone can be there to show you around and help with your purchases. It's a dreamy location with a wonderful mission.
Guante Family Restaurant
111 Bridge St, Mifflintown, PA 17059
Next, head through the verdant Juniata river valley and up the hills of the Tuscarora Mountains to Guante Family Restaurant (4) in Mifflintown. Guante features Ecuadorian food and is one of the few places in the state that makes their own Curtido, a spicy, lightly fermented Ecuadorian slaw containing cabbage, carrots, onions, oregano, and lime juice. The menu offers empanadas and plantains, as well as all sorts of items otherwise unexpected in this mid-state Amish and Mennonite community. Sit by the windows and do some people watching before continuing on.
Big Springs Spirits
198 Match Factory Place, State College, PA 16823
Take a winding drive through stunning mountain scenery to Big Springs Spirits (5) in the quaint village of Bellefonte. Owners of the distillery believe the water from Big Spring, awarded "best tasting water in the state" by PA Rural Water Association in 2014, used to make their products is, in part, what makes them so delicious. At Big Springs, you can tour the facilities and sample some of their vodka, gin, rum, and more in their LEED-certified gold building. Then stroll over to Tallyrand Park to see the restored pump house and the spring (covered due to Federal regulations) that still serves as the domestic water source for the town and neighboring communities.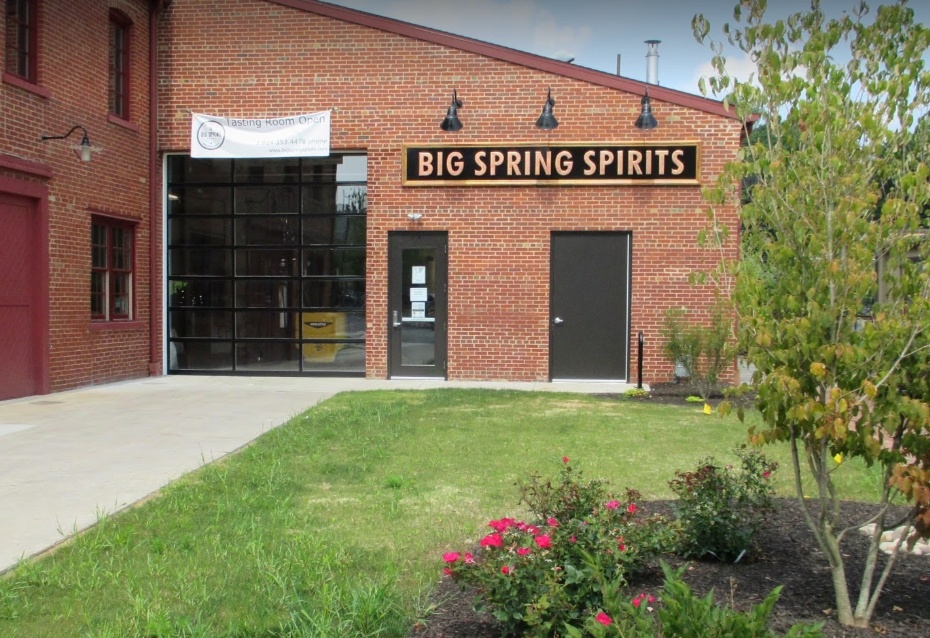 Vale Wood Dairy
517 Vale Wood Rd, Loretto, PA 15940
Hop back in the car and drive southwest on Route 99 to Vale Wood Farms (6) in the historic town of Loretto. Loretto was the first English speaking Catholic community west of the Allegheny mountains. Here, Catholics settled together to avoid interference from the largely Scots-Irish Presbyterian, Lutheran, and Reformed German population in the area. Vale Wood has been in business since 1934 and still delivers milk to homes. They also offer other dairy items like sour cream, cottage cheese, yogurt, and buttermilk at their on-farm store. It is a beautiful spot to sit outside and enjoy the peaceful nature of the town.
Starr Hill Winery
861 Bailey Rd, Curwensville, PA 16833
On to Starr Hill Winery (7), for more beautiful scenery and delicious wine. Starr Hill offers a selection of dry, semi-dry, and sweet wines, so there is something for everyone to enjoy. Hang out in their year-round outdoor seating area at this fourth-generation winemaker's retail shop and sip until your heart's content. The northern branch of the Susquehanna River runs through this area. If you are lucky enough to drive through the area during fishing season, make a point to stop and watch just how many fish swim through these chilly waters.
The Depot at Doolittles
1290 Rich Hwy #200, DuBois, PA 15801
For a unique overnight experience, the Depot at Doolittles (8) is the place to go. Guests can dine in an old train car and then spend the night in one of the sleeping cars, including the 1901 Pullman Presidential Car once used as a private car for the president of a local railroad company. Dubois was once a railroad hub in the country, so nothing is more fitting than staying at this unique overnight accommodation.
Aroma Cafe and Restaurant
51 E 4th St, Emporium, PA 15834
The next morning, Aroma Café and Restaurant (9) in the tiny town of Emporium is the first stop for a flight of Earth Below Kombucha. This fizzy, fruity beverage is the perfect way to start the day and explore the surrounding area. Earth Below's owner Erin Solveson started experimenting with this non-alcoholic fermented tea after tasting it at an Amish stand years ago. Be sure to try some cold brew and vanilla bean kombucha, or one of Erin's creative seasonal flavors. Before heading out, pick up a scone or other yummy treats from Aroma's bakery case for nibbling on your drive. Although a tiny town now, Emporium was once bustling with the major electronics giant Sylvania founded here in 1924.
Wharton General Store
27 E Fork Rd, Auston, PA 16720
The Wharton General Store (10), about a thirty-minute drive from Emporium, is a step back into time when small mom and pop stores were the norm and carried a little bit of everything. Wharton's carries local culinary treasures, such as Cooney's Mountain Mustard, a peppery mustard made by a family-owned business, and "wheel cheese." Kim Cooney says a piece of sharp cheddar wheel cheese served with their mustard is something every visitor must try.
God's Country Creamery
439 Sr1009, Ulysses, PA 16948
Drive north through beautiful, dense white pine and hemlock forests to the town of Ulysses to visit God's Country Creamery (11). God's Country is a fourth-generation, family-owned business. The cheese is made from the raw milk of grass-fed cows. Visit the farm and make sure to greet the cows. The Bachman and Peangatelli families have three breeds of cows, Holstein, Jersey, and Brown Swiss, and offer nine varieties of cheese.
Highland Chocolates
11724 US-6, Wellsboro, PA 16901
A really special stop is Highland Chocolates (12) owned by Partners in Progress, a non-profit that provides training for people with disabilities. Their chocolates are delicious and creative, including Tree Stumps, which are a peanut butter, caramel, pretzel (Pennsylvania-made pretzels) treat. Although the folks at Highland Chocolates don't ferment the cacao beans themselves, chocolate is a fermented food and Highland Chocolates is a special place worth visiting.
Broken Axe Brewhouse & Avenue Bed and Breakfast
1 E Bald Eagle St, Lock Haven, PA 17745
84 Susquehanna Ave, Lock Haven, PA 17745
A quick stop at Broken Axe Brew House (13) for some local Kombucha (tap #1 at the bar) before retiring for the night at Avenue Bed and Breakfast (14) in Lock Haven is next. Broken Axe also has terrific menu items, such as soft pretzels served with spicy mustard or beer cheese. Their Pennsylvania beer flights are always interesting (a note for families: only people over the age of 21 can enter the building). The Avenue B and B is a beautiful property near the Pine Creek Trail, in case a walk or quick bike ride is in order.
Sugar Valley Produce Auction
702 S. Mill St., Loganton, PA 17747
A couple more stops to go the next morning, and then it is homeward bound! The Sugar Valley Produce Market's (15) auction is held on Mondays, Wednesdays and Fridays April through October, with the busiest season being the fall. The market focuses on selling to restaurants, grocers, and other retail businesses, but individual buyers are welcome too. It is a fun place to buy big boxes of cucumbers for pickling at home, or just to watch the action.
Burkholder's Country Market
1577 Continental Blvd, Danville, PA 17821
The last stop is Burkholder's Country Market (16) in Washingtonville for some of their homemade sauerkraut. While there, check out the large bulk food bins and the hot bar in the back. The local goat milk yogurt is something special too. Burkholder's is a family-owned grocery store that sells a lot of Montour County specialties and some house-made products. It is the perfect place to stock up on items you will need when you get back home.
Explore our other regions
Select a region to view an itinerary