Fermented Food Destinations in Southeastern PA
24 stops
Fermented Food Destinations in Southeastern PA
3 Days - 23 Stops
Adams County Winery & The Family Cow
251 Peach Tree Road, Orrtanna, PA 17353
3854 Olde Scotland Road, Chambersburg, PA 17202
Drive toward the densely wooded Michaux State Forest and the center of Pennsylvania apple country to Adams County Winery (1) housed in a bank barn built around 1860. Enjoy their Black Magic made with all local blackberries, or their Traveller, an easy-drinking white wine. Savor the views of the peaceful countryside, then cruise westward for about 30 minutes to Chambersburg and The Family Cow Farm Store (2). This is truly a farm store, not a shop set up to look like a farm. Their farm-fresh yogurt, kefir, and other ferments, such as lacto-fermented dilly beans, beet kvass, and ginger carrots are all wonderful. Family Cow also sells kits to make your own milk kefir, water kefir, and kombucha. The wild blueberry water kefir is especially refreshing, so if they have it, pick up a few bottles. This pristine and quiet setting will relax the entire family before the drive ahead.
Tröegs Independent Brewing
200 Hersheypark Drive, Hershey, PA 17033
Next, head north past the main entrance to Hershey Park, a large theme park with coasters and other amusements, to Tröegs Independent Brewing (3). In this location since 2011, the Trogner brothers serve some delicious and unique homemade items to go along with their beer at the Snack Bar in their large outside seating area. Enjoy duck confit or popcorn with rosemary hop salt paired with one of their wild fermented Pennsylvania Sour Ales, like Blackberry Tizzy. The menu always contains a few items that are house-fermented by Troeg's creative kitchen team, such as a zippy tepache-lime vinaigrette using fermented pineapple rinds, or fermented hot sauces using local peppers from Little Peace Farm to go with their oysters. Troegs also has a flight of four beers, so guests can sample a few different varieties before buying their favorites to take home. There is also an easy self-guided walking tour through the brewery, and a gift shop that includes a variety of items, such as beer scented soap, t-shirts, and drinking glasses. Troegs is a standard-bearer for combining a microbrewery and creative, inventive food in a casual setting.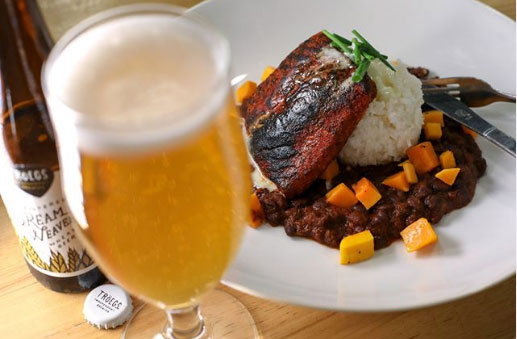 Drive east to the lush Oley Valley about ten miles northeast of Reading. The Oley Valley was once home to the Lenni-Lenape people. In Lenape, Olink means kettle, which is the shape of the valley. The Sacred Oak, on private property in the Valley, is a more than 500-year-old oak tree that served as a meeting ground for the Lenni-Lenape and was where many treaties were negotiated and differences settled. Visitors can view the oak a few times per year and should follow the Sacred Oak Facebook page for more information.
Kimchee Girl at the Fresh Market at Hershey Towne Square
121 Towne Square Drive, Hershey, PA 17033
Indulge your senses with a classic Korean culinary experience — kimchee from KimcheeGirl (4). This high-fiber, vegan, gluten-free, vitamin-packed Korean side dish of salted and fermented vegetables is lovingly crafted in small batches by Joyce, aka Kimchee Girl, from her family's time-honored recipe. Available in three varieties — Napa cabbage, cucumber, and Korean radish, satisfy your kimchee cravings at her stand on the upper level of the recently opened Fresh Market at Hershey Towne Square, from select retailers in the greater Harrisburg area, or call the toll-free number or email your order and have your kimchee shipped directly to your home or available for pick up from their Mechanicsburg location.
Valley Milk House
92 Covered Bridge Road, Oley, PA 19547
While in the Oley Valley, visit Valley Milk House (5), a quaint dairy that makes award-winning soft-ripened and aged cheeses, such as camembert and cider-washed tomme. All of the cheese is made from milk that comes from a Berks County organic and grass-fed dairy farm. The farm, near the land where owner Stefanie Angstack's German ancestors lived three centuries ago, has been around since 1742. Enjoy your cheese and Stefanie's produce (sometimes she has locally made bread, too) outside at one of her picnic tables with views of the rolling hills. Valley Milk House's farmstead is also near a lovely old, red covered bridge, which makes it even more picturesque.
Oley Valley Organics
3071 W. Philadelphia Ave., Oley, PA 19547
Next, head to Oley Valley Organics (6). Open since 2017, it is a family and veteran-owned market with more than 60 certified organic growers. Owners Barb and Mike Dietrich really focus on the local farm and maker communities of Berks County. This shop is a must for local foods. Customers can find Pheasant Hill PorTch kombucha on tap; ginger, turmeric, and garlic honey-infused Valley vinegars; and Cottage Kitchen raw, organic fermented products, such as kimchi, curtido, kraut, and kvass. Buy some jars of local Ellen's Pickles, Mertztown's Epic Acre hot sauces, Lancaster Farm Fresh Kraut, and Wild Fox Bloody Mary Mix. Oley Valley Market also carries Fiddle Creek yogurt, which is a real treat if you are accustomed to more processed, big brand yogurt. Two woman-owned baking companies, The Daily Loaf and Good Grain Bread Company are additional treasures to be found here. Enjoy their variety of naturally fermented baked goodies made with local grains, including spelt apple turnovers and apple cinnamon bread. Buy a glass or a jug of kombucha and sit down to eat and relax across the street where there are a few picnic tables in a small, wooded community park.
Maple Spring Vineyards
94 Nuss Road, Bechtelsville, PA 19505
Next, drive to Maple Springs Vineyards (7), where owner and vintner Marianne Lieberman and her team produce some of the loveliest wines in the state on this small family farm. Lieberman's family has a long history in brewing in the Lehigh Valley, and when she moved back to the area from Manhattan with her wife Carolyn, she found a farmhouse and land dating back to the 1750s to rehab and eventually turn into their home and winery. Generating a negative energy impact every year, sustainability is important to this winery. Give their award-winning (Best White Wine in the state in 2017) Albarino a try, or sample one of their other dry whites. Maybe it is the underground glacial springs, or just the passion of the owners that make this wine so unique and good, but Maple Springs is special.
Glasbern Inn
2141 Packhouse Road, Fogelsville, PA 18051
Glasbern Inn (8), a 150-acre working farm west of Allentown is the stop for the night. Built in 1787, the stables are from a nearby farm, and the historic buildings have many lodging choices. With lots of flower-lined walking paths and longer walking trails for the more adventurous, it is the perfect stop to get in a little exercise and rest. The Glasbern Inn also has Scottish Highland cattle and ponds to enjoy. The dinner menu here offers many ways to enjoy eastern Pennsylvania products, including Red Earth Farm heirloom tomatoes, Free Bird Farm chicken, Jurgielewicz duck breast, and Hershey Farm beef.

The Crooked Row Farm Market
3245 Route 309, Orefield, PA 18069
After your breakfast at Glasbern Inn, which includes eggs from down the road at The Nesting House, drive along to The Crooked Row Farm Market (9). This large farm stand offers a wide selection of food from makers in the Lehigh Valley, including Kreeky Tree cheese, Klein Farms cheese, High point Kombucha (try the bright pink beet lemonade flavor), Pure Wild Tea, Valley Milkhouse cheese, and locally fermented sauerkraut and kvass. If you enjoyed the eggs at breakfast, be sure to buy a few dozen here to take home, as owner Liz Wagner's chickens lay those sunny orange yolked eggs.
Radish Republic
21 North 7th Street Artswalk, Allentown, PA 18101
It's a short drive to the former steel town of Allentown (as in the Billy Joel song of the same name) to Radish Republic (10), located downtown on the ArtWalk. The ArtWalk at City Center is a pedestrian-only walking space with murals, seating, and a small amphitheater. It is a vibrant area for shopping, eating, and getting to know Allentown. Radish Republic carries a large variety of fermented foods made in the Lehigh Valley region, including Fresh Tofu, Inc from Allentown, Root Crafter Cocktail Mixes from Bethlehem (try the Cucumber Lime), Vine Street Vinegars, and High Point Kombucha. A treasure trove of regional treats in a beautiful space and in a city now reinventing itself after a difficult post-industrial period.
Mr. Lee's Noodles at Easton Public Market
325 Northampton Street, Easton, PA 18042
Onward to Mr. Lee's Noodles (11) located in Easton Public Market, a community-supported space that is part of America's oldest continuous outdoor market established in 1752. Chef Lee Chizmar and his wife Erin Shea work together to bring all sorts of ramen and twists on Japanese specialties to the area using miso, kimchi, sriracha, and house-pickled vegetables. They source their ingredients locally from Berks, Lehigh, Northampton and Bradford counties.
B's Pickles at Quakertown Flea and Farm Market
201 Station Road, Quakertown, PA 18951
The eastern half of Pennsylvania is filled with indoor/outdoor farm and flea markets lined with colorful stalls and local vendors offering anything from produce, baked goods, home items, clothing, and antiques. These markets are unique to this part of the state and visitors can spend hours (maybe days) inside one of these gems. Broad Street Market in Harrisburg, Central Market in Lancaster, Renninger's in Kutztown, and Roots Market in Manheim are just a few. A trip to one of these kitschy shopping meccas is a must for anyone trying to get an idea of all that Pennsylvania has to offer—such a fun opportunity to explore and meet some terrific business owners. The Quakertown Farm Market is also one such place with over 150 farm market stands, 120 indoor flea market stands, and 45 outdoor flea stalls. It has been around since 1932. B's Pickles (12) stall is especially worth a stop. Owner Don Brown sells a variety of pickles from half sours to spicy dills, kraut, barbecue sauces, stuffed olives, and hot sauces. Specifically, Brown carries the Perkiomenville-made Fraktured Sauces produced in Montgomery County. These hot sauces won second place at the 2020 Scovie Awards (like the Academy Awards for hot sauces) and a silver medal at the 2019 NYC Hot Sauce Expo. The sauces are made on Goshenhoppen Run Farm with a seed-to-sauce philosophy. They are aged six months before bottling. Stop at Department #239 to add some zip to your trip with these delicious pickles and hot sauces.
Martha
2113 E. York Street, Philadelphia, PA 19125
Drive south into the City of Brotherly Love (Philadelphia) to Martha (13) — a restaurant with its own Fermentation Director. Voted Best Pickles by Philadelphia Magazine, Martha is known for lacto-fermented vegetables, pickled serranos, and their delicious Pickle Boat (a sampling of their house-pickled items). Enjoy these treats with a house-fermented ginger beer called Beet Tepache — a naturally fermented pineapple and beet soda brewed down the street at Kenzinger Beer. Or try a Yerba Mate. Martha also received a James Beard Nomination for Outstanding Bar Program, so be sure to try a few cocktails while there, including those made with Movement Labs' kombucha. While Martha makes many of their fermented products in-house, they also source delicious house-fermented products from a new company called Fishtown Ferments, so look for that label while out and about in Philadelphia.
V Marks the Shop
1515 McKean Street, Philadelphia, PA 19145
To find additional Fishtown Ferments products and a number of other delicious fermented and pickled foods, walk or take the convenient public transportation to V Marks the Shop (14), a hidden gem and vegan convenience store of sorts in South Philadelphia. Shoppers can not only find Fishtown Ferments goodies here, but also Conscious Cultures vegan cheese and cultured butter, Witching Hour hot sauces, Philadelphia Tempeh, Peachey's Vinegar, and more. Carmell Lanni-Giardina and Carlo Giardina own the Newbold neighborhood store, which is less than a mile from the city's cheesesteak meccas, Pat's or Gino's (both have a loyal following).
Penn's View Hotel & Franklin Fountain
14 N. Front Street, Philadelphia, PA 19106
116 Market Street, Philadelphia, PA 19106
For a relaxing night in the Old City neighborhood of Philadelphia, the location of the Liberty Bell, Old Christ Church (Ben Franklin is buried here), and really good shopping, visit Penn's View Hotel (15). Penn's View is a family-owned, independent hotel with unique rooms and an old-time Philadelphia feel with all of the modern amenities necessary for a good night's rest. Before you retire for the night, stroll around Old City as pharmacists Charles Elmer Hires once did on the way to his first factory at 117-119 Arch Street. Hires, the first to market a commercial brand of root beer, sampled his extract at the Philadelphia Centennial Exhibition of 1875 and from there the rest is history. In its first commercial forms, root beer was a powder to be mixed with water, yeast, and sugar and left to ferment until drinkable. Sassafras was the "root" most often used. It was Hires who made root beer a successful commercial product right here in Philadelphia, but the origins of root beer are traced to indigenous peoples who created beverages from roots, herbs, and twigs for medicinal purposes. End your day with a homemade (the root beer and the ice cream) Root Beer Float at the Franklin Fountain (16), a haven for ice cream treats in an old Philadelphia building with original porcelain floors and servers dressed in period costumes.
Giovanni's DILLicious Pickles
802 Bristol Pike,Croydon, PA 19021
Are you a pickle lover? If you are, Giovanni's DILLicious Pickles (17) is one restaurant you don't want to pass without trying their amazing pickle items! Pickle hoagies, pickle dippers, fried pickles, pickle pizza and more!
Baba's Brew
333 Morgan Street, Phoenixville, PA 19460
The next morning, drive southeast to the Chester County town of Phoenixville and Baba's Brew (18) where owner Olga Sorzano, honoring her Siberian great-grandmother's heritage, has come up with some of the most delicious kombucha in the state. Favorites of her handcrafted and locally produced fizzy fixes include Flower Power (lavender rose, tulsi basil and hibiscus) and Purple Rain (blueberries and ginger). Sorzano also sells Phoenix Tonic, a zippy blend of vinegar, turmeric, ginger, cayenne, and honey, as well as individual ingredients to make your own kombucha at home. Visitors can also find other healthful products, such as Annmarie Cantrell's fermented Cucina Verde, Kurry Kraut, Curtido, and Philadelphia's own Food and Ferment's Rosemary Lemon Kraut. Baba's Brew's Tasting Room is a delight for anyone interested in SCOBYs, bubbling brews, and all sorts of gut-healthy fermented products.
Eclat Chocolate
24 S. High Street, West Chester, PA 19382
Eclat Chocolate (19) in the pristine college town of West Chester is a treasure trove for chocolate lovers. Owner and Master Chocolatier Christopher Curtin has an array of delicious treats of his own and has also collaborated with the late Anthony Bourdain, top chef Eric Ripert, and Jose Garces, as well as well-known companies like Boize Spices and Victory Brewing to come up with unique and delicious candies and bars. The Chester County factory is also the site of the retail store. If Mr. Curtin is on site, be sure to ask him questions about his chocolate adventures. Try the Peruvian Pure Nacional truffle made with the world's rarest harvested chocolate, or the Beer truffle made with Hope Devil beer from the Victory Brewing Company in nearby Downingtown. It is a fun, interesting, and really "sweet" way to spend an hour or so.
Olde Heritage Root Beer
3217 Old Philadelphia Pike, Ronks, PA 17572
Next, take a 50-minute drive westward on historic Route 30 to Olde Heritage Root Beer (20). Every visitor to Pennsylvania needs to try some homemade-on-the-farm root beer, and the Fisher family farm is a perfect spot for that. Visit every day but Sunday for a taste of their minty, spicy, and not-too-sweet homemade root beer.
Thistle finch Distillery
417 W. Grant Street, Lancaster, PA 17603
Then it is a short drive to Thistle finch Distillery (21) in downtown Lancaster. This distillery housed in a former tobacco warehouse, is on the national Register of Historic Places. Ninety percent of the grains used in their products come from Lebanon and Lancaster County, and everything is distilled in a gorgeous hand-built still. Their rye whiskey is the signature beverage, so give it a try and take a few bottles home as well. Red beet eggs, hard-cooked eggs soaked in beet juice, used to be common at bars in the Lancaster area as a snack that would supposedly make patrons thirstier and, consequently, spend more on alcohol. Some bars used to have jarred pickled pigs feet for the same reason. Another bar food seen throughout the country, but especially popular in eastern Pennsylvania, is pickled "hot" bologna, ring bologna soaked in vinegar and pickling spices, which still is popular in the coal regions of the state. There is a chance that Thistlefinch or another bar in the area will have a jar of one or more of these salty items on their counter. If so, give one a try with your cocktail or beer.
Lemon Street Market
241 W. Lemon Street, Lancaster, PA 17603
Lemon Street Market (22), a small independent and woman-owned store in Lancaster City that carries loads of locally made and natural products is next. They might have a small parking lot, but street parking is easy, so don't give up if the lot is full. You will find all sorts of goodness here, but look for York County-made Epic Pickle's products, such as Chesapickles (seasoned with Old Bay), Pumpickles (that's right, pumpkin slices), pickled string beans, pickled asparagus, and spicy carrots. Shoppers can find Swiss Villa products here, as well. These come from a co-op of a few Swiss-descended farmers in the area. Try their yogurt, kefir, buttermilk, cottage cheese, cultured butter, kombucha, and jarred raw fermented vegetables such as kimchi, kraut, and beet kvass. There is always something new that is pickled or fermented at Lemon Street, so strike up a conversation with one of the helpful people there for their suggestions on what to buy.
The Wilbur Lititz Hotel & Renewal Kombucha
50 N Broad Street, Lititz, PA 17543
51 N Broad Street, Lititz, PA 17543
A perfect end to this whirlwind drive through central and eastern Pennsylvania is a night at The Wilbur Lititz Hotel (23). Once the home of the Wilbur Chocolate Company, the hotel has kept a lot of the factory's original features, including the beautiful red brick walls. The lobby even has the faint scent of chocolate. The Wilbur Company, founded in 1865, started as a molasses and hard candy manufacturer, but then expanded to chocolate. The Wilbur Bud, a chocolate nub shaped like a flower bud, became their signature item years before Pennsylvania's Hershey's kiss came to be. In fact, some think Hershey's kiss was modeled after the Wilbur bud. These chocolates are no longer made in Lititz, but do stop to visit the Wilbur museum and candy store across the street from the hotel. Take note of the one-of-a-kind collection of ceramic and china chocolate pots, which were once used for serving hot cocoa. Before leaving Lititz, walk a few feet up North Broad Street from the Wilbur store to Renewal Kombucha (24), which is known for its lighter feeling kombucha attributed to Renewal's unique method of preparation. After sampling, select a four-pack or a growler to take home — the perfect way to end this cluster of stops.
Explore our other regions
Select a region to view an itinerary