Nestled in the heart of central Pennsylvania, Huntingdon County (also known as Raystown Lake Region) is home to abundant natural beauty—shimmering lakes, serene rivers, and forested state parks—as well rich historical attractions and museums. Make the most of your trip with these top things to see and do.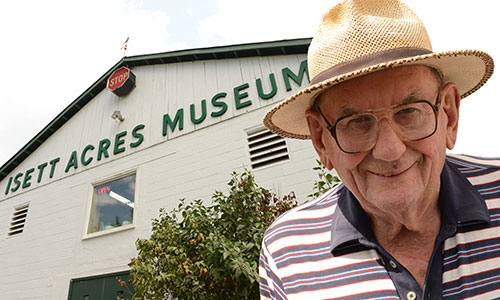 1. Take in the picturesque views of Raystown Lake, the largest lake entirely within Pennsylvania, offering plenty of family fun including swimming, boating, fishing, and more. Rent a houseboat at Seven Points Marina to stay on the water, or book a lakeside stay at Lake Raystown Resort, where you can enjoy WildRiver Waterpark and more.
2. Paddle a canoe or kayak along the Juniata River through Jack's Narrows, the deepest gorge in Pennsylvania. There are two (new in 2018) access points at Mapleton and Mount Union for this placid water trail through a scenic and historic area.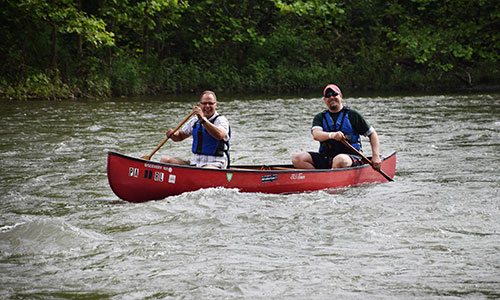 3. Browse the sprawling compilation of historic memorabilia at Isett Heritage Museum in Huntingdon, where the collection of more than 40,000 items is organized by theme or historic era.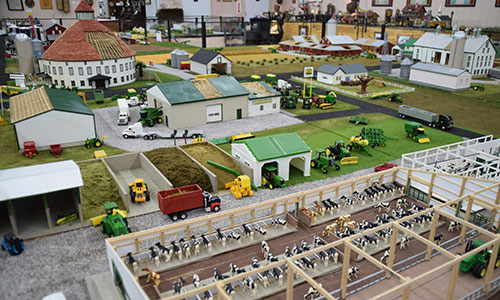 4. At Rockhill Trolley Museum in Rockhill Furnace, ride the rails in restored antique trolleys just like your grandparents did, and learn more about the history of the streetcar with the rotating exhibitions.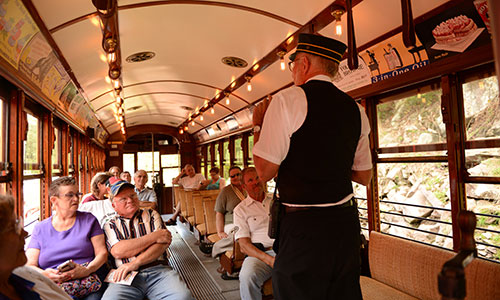 5. Celebrate the American automobile at The William E. Swigart, Jr. Automobile Museum in Huntingdon, where the impressive collection spans from 1899–1988 and includes Tuckers, a Stanley Steamer, 1933 Duesenberg, a DeLorean and more. (Open seasonally)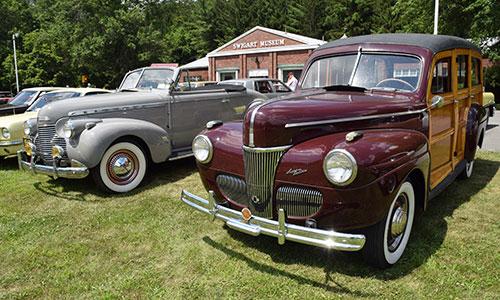 6. Learn about the Scotch-Irish history of Huntingdon County at The Hartslog Heritage Museum in Alexandria, which includes displays that cover everything from a country store to a blacksmith and a watch shop to a family parlor. The history preserved in this museum is reminiscent of small towns all across the United States. (Limited hours.) Discover more about the industrial heritage—particularly the coal fields and railroad systems—when you visit the Broad Top Area Coal Miners Historical Society & Museum and the Friends of East Broad Top Museum (limited hours), both in Robertsdale.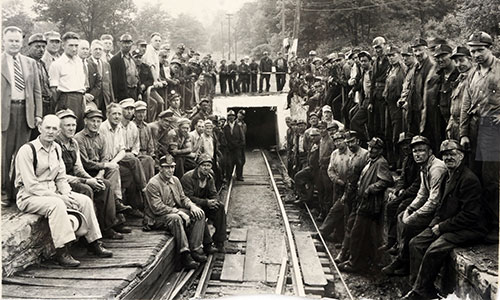 7. Trek along the many hiking trails in the Raystown Lake Region, such as the 84-mile Standing Stone Trail (PA Trail of the Year) with its unique "Thousand Steps" section up the side of the mountain. Stroll the Lower Trail and Huntingdon & Broad Top Trail rails-to-trails, or step up to the overlook on the 30-mile Terrace Mountain Trail. Other great day hikes with views are at Trough Creek, Greenwood Furnace and Whipple Dam State Parks. For exploring trails on two wheels, ride the 36 miles of world-class single-track mountain-biking trails along the Allegrippis Trails system, comprised of 24 trails arranged as stacked loops.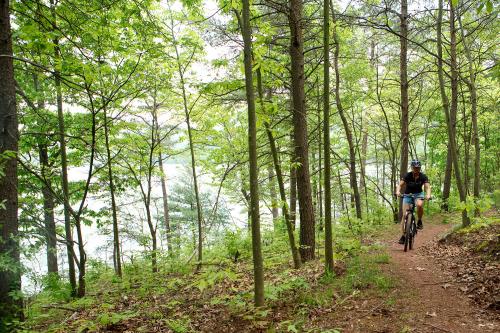 8. Go on a guided cave tour at Lincoln Caverns & Whisper Rocks, where you can walk through winding passageways and splendid rooms containing massive flowstones, thousands of delicate stalactites, pure white calcite, and sparkling crystals.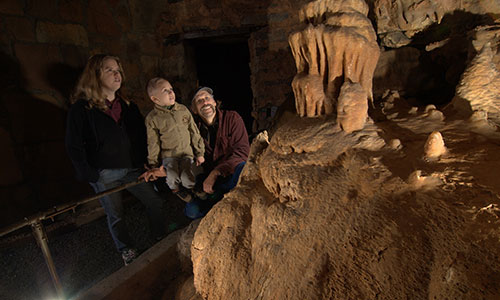 9. Experience the unique culture of Juniata College campus, Division III sporting events, Juniata Presents performances, distinguished speakers, theater and Juniata College Museum of Art.
10. Explore unique tastes at the many restaurants in Huntingdon County. Dive into the signature burger at Tops Diner, lobster bisque at Riverside Grill, Bourbon Street Scallops at Mimi's Martini Bar, crepes at Stone Town Gallery, vegetarian Boxerito from Boxer's Café, steaks and the salad bar at Hoss's, or award-winning ribs at Doans Bones.
Find even more exciting things to do during your trip with the online Raystown events calendar.