Dense forests as far as the eye can see, serene waterfalls surrounded by woodlands, deep-blue waters teeming with fish, and miles of trails that lead you straight into adventure—this is Warren County in scenic northwest Pennsylvania, where outdoor recreation of all kinds awaits.
Overlapping the southern part of Warren County is the sprawling Allegheny National Forest—the state's only national forest—offering numerous hiking trails and dramatic overlooks to explore. This is also where you'll find the Allegheny River, which skirts along the edge of the Allegheny National Forest and turns into Allegheny Reservoir at Kinzua Dam, a popular spot for fishing in Warren County.
Go for a swim or just soak up some sunshine at Kinzua Beach on the Allegheny Reservoir, and then trek the 1.3-mile Rimrock Hiking Trail to reach the spectacular Rimrock Overlook, showcasing sweeping views of the reservoir.
If a day of boating and fishing is on your wish list, be sure to stop at the Kinzua-Wolf Run Marina, a full-service marina along Longhouse National Scenic Byway. Meanwhile, Allegheny Outfitters offers canoe and kayak rentals, as well as transportation to and from boat launches on the Allegheny River. Or, take your pick from other boat rental companies in the area for a day of self-guided paddling.
To explore a designated National Scenic Area—and one of the last remaining old-growth forests in the northeastern United States with white pine—stroll through the awe-inspiring Hearts Content National Scenic Area, where centuries-old white pine tower above the 1-mile Hearts Content Scenic Interpretive Trail. From May through October, spend the night among these giants at the 26-site campground, or just bring an alfresco lunch to enjoy at the picnic area, open year-round.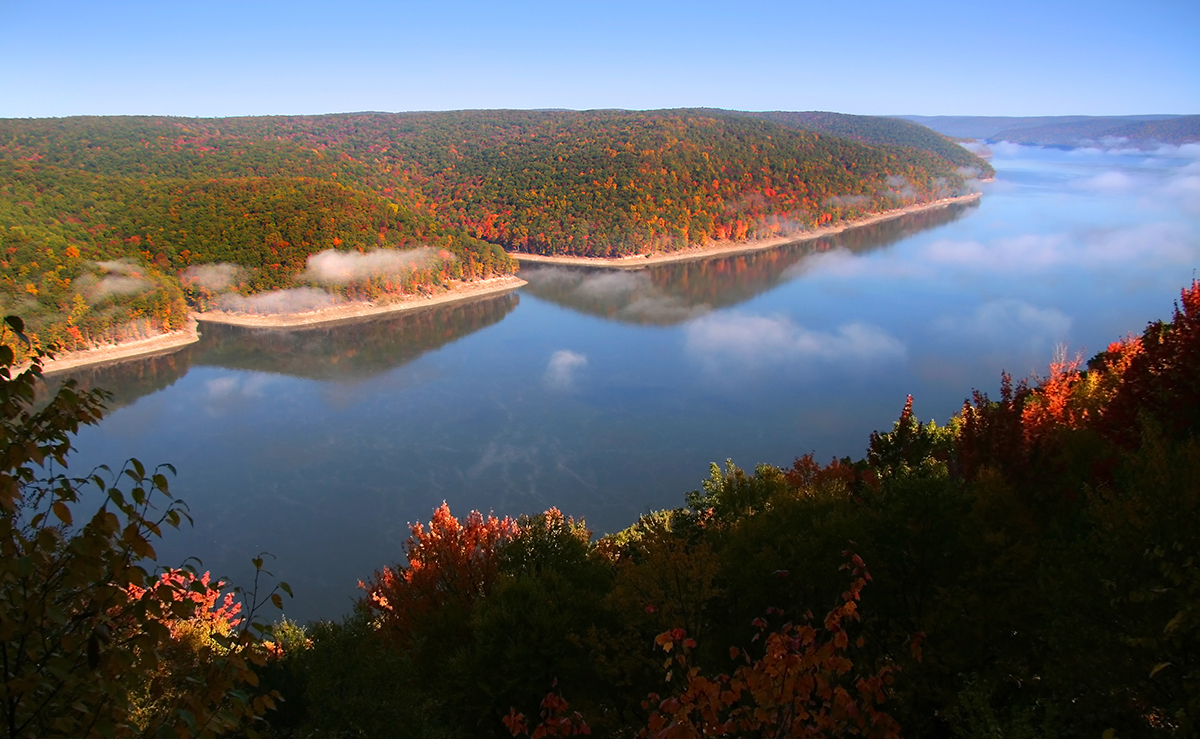 For even more outdoor adventure options all in one place, explore Chapman State Park, which is surrounded by the Allegheny National Forest. Here you can hike 14 miles of trails, boat and fish on the 68-acre Chapman Lake, swim at the sandy beach, and spend the night beneath the stars at the 80-site campground, which offers comfort amenities including flush toilets, warm showers, and electric hook-ups.
Dreaming of some excitement on two wheels? Bring your mountain bike to the Trails at Jakes Rocks, where you'll find an expertly designed, 30-plus-mile stacked loop mountain biking trail that winds through natural boulders and offers challenges for all levels of riders. On the 23.1-mile Rocky Gap ATV Trail, ride your mountain bike or ATV spring through fall, or in winter, use the multi-use trail to access the Allegheny Snowmobile Loop system. Discover even more off-road trails in the area for year-round fun.
No matter what kind of outdoor recreation gives you a thrill, Warren County offers an adventure for all ages.
Request a Warren County visitors guide for more ideas for your next trip.