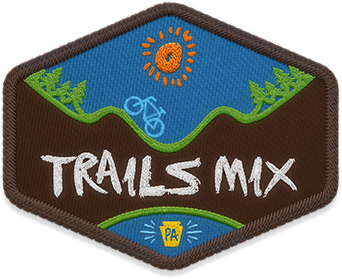 Pocono Mountains
Upstate PA
2 days - 4 Stops
Becoming one with nature and getting your cardio workout — it's all just that much more pleasant in Upstate PA and the Pocono Mountains, where the outdoors is your instant friend. Whatever your mode of climb, be it boot or bike, many of the trails are near the water, with tons of between-trail activities like swimming and fishing. You'll also discover plenty of peaceful country inns and resorts, scenic byways, pristine rivers and creeks, historical sites, and a rich diversity of restaurants that make this an ideal place for a memorable vacation. It's easy to extend this two-day road trip into something longer.
Day 1
Ricketts Glen State Park
Sweet Valley
Start the morning at the Falls Trail in Ricketts Glen, which corrals 21 of the park's 22 amazing waterfalls, including the 38-foot F.L. Ricketts bridal-veil waterfall and the 94-foot wedding-cake Ganoga Falls. Start your hike at Lake Jean, just a few miles from the park entrance and head down the well-groomed path towards the first set of falls. Be sure to take in the diverse wildlife from cranes to white-tail deer.
Lake Wallenpaupack 
Hawley
About an hour and a half away from Ricketts Glen is Lake Wallenpaupack. This man-made lake has some serious dimensions — covering 5,700 acres, stretching 13 miles long, and containing 52 miles of uninterrupted shoreline – and offers plenty to do both on land and in the water. The lake has six recreation areas and features hiking, biking, and walking trails, campsites, and boat slips. Take note along the way of the incredible mix of trees including chestnut, oak, white pine, and red maple.
Day 2
Edge of the Woods Outfitters 
Delaware Water Gap
Take your hike to the water and paddle down the Delaware River. A stop at Edge of the Woods Outfitters offers trips and outdoor adventure, plus they only hire outdoors enthusiasts, so you can trust their recommendations on the best hiking and biking trails in the area. After taking in the views from the river, explore local trails nearby.
Bushkill Falls 
Bushkill
A short thirty-minute drive takes you to Bushkill Falls — a hiker's dream. The gorgeous, noisy series of eight waterfalls — the Main Falls are 100 feet high — plays soundtrack to the network of trails and bridges that wind throughout the Pocono Mountains. These trails match all levels of difficulty, from the easy ambling of Green Trail to the more difficult two-hour Red Trail that passes all eight falls.