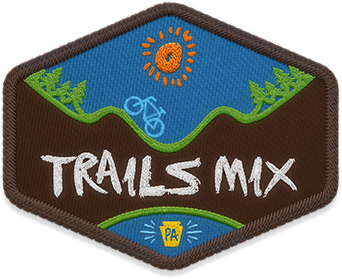 Hiking & Biking Destinations Throughout the PA Wilds
2 days - 5 Stops
The Pennsylvania Wilds, situated in northcentral PA, is an outdoor lover's paradise. This road trip will take adventurers on a scenic pathway through state parks, wildlife viewing areas, and miles and miles of hiking trails. For the water lovers, there are plenty of opportunities for canoeing, kayaking, and fishing. Pack up the car for a wild ride.
Day 1
Elk Country Visitor Center
Benezette
Your first stop is the most natural stop of all - the Elk Country Visitor Center, an eco-friendly structure in the heart of Elk County. As you'll quickly find out, Elk County is home to the largest elk herd in the northeastern United States. At the Visitor Center, check out the panoramic views, interactive exhibits, gift shops, and the hands-on Discovery Room for kids.
Quehanna Wild Area
Penfield
You're next stop will have you entering one of the PA Wild's greatest treasures, the Quehanna Wild Area and its nearly 50,000 acres of natural fun and beauty. Home to a portion of the vast Quehanna Trail system, a 72-mile loop hiking trail, there are countless opportunities for wildlife viewing, fishing, and picnicking with a view.
Marion Brooks Natural Area and Monument
Benezette
Make your first stop and stretch your legs at the Marion Brooks Natural Area and Monument, a 900+ acre natural area named after Marion Brooks, a pioneering environmentalist and native of Elk County. This area also boasts the largest stand of white birch trees in the eastern United States. After you've enjoyed the scenery, take a hike on the Marion Brooks Loop Trail, a pleasant three-mile ramble to take in the best of the unique landscape and environment.
Beaver Run Dam Wildlife Viewing Area
Weedville
Before you head for some much-deserved R&R, be sure to make a stop at the Beaver Run Dam Wildlife Viewing Area, where shallow water impoundments offer daily viewing of waterfowl, wading birds, deer, and songbirds. Nearby open fields provide food (and occasional viewing) of elk, white-tailed deer, and wild turkeys. Good luck pulling yourself away from all this. Food and slumber awaits in nearby Clearfield.
Day 2
Bald Eagle State Park
Howard
After your morning drive, hop out of the car to experience Bald Eagle State Park, a 5,900-acre home to hiking trails, campgrounds, boating, fishing, and natural habitats. Check out the sand and turf beach at Sayers Lake with views of Bald Eagle Mountain. Nearby trails (easy to moderate) are available, including the 1.9-mile Butterfly Trail loop, which begins and ends near the beach. It get its name from the conservation of butterflies for which it was created.