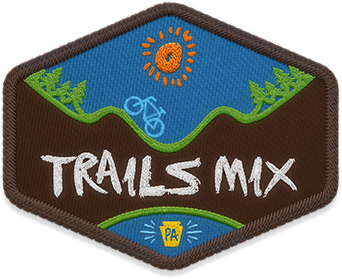 Hiking & Biking Destinations Throughout Laurel Highlands
2 days - 5 Stops
Western Pennsylvania's Laurel Highlands region has more than its share of steep hills and thrills. It also has country markets, inns, and dining places, as well as one of the world's most famous houses, and not just because it has a natural waterfall in the living room. Whether you're a hill hiker or a mountain biker, you're in for some serious trails. Not just any trails – the kind that are steeped in history, lush scenery, interesting side-routes, and plenty of other excuses to take it all in and fall behind in your itinerary (it's worth it).
Day 1
Great Allegheny Passage
Ohiopyle
Once ranked by USA Today as one of the Top 10 Great Places to (bike) Ride the Rails, the Great Allegheny Passage begins in Pittsburgh and crosses the border into Maryland, eventually ending in the nation's capital. The 335-mile journey from Pittsburgh to the end of the trail makes it the longest, unpaved bike path on the East Coast. Crushed limestone offers a smooth surface for bikers, hikers, runners, and cross country skiers.
Ferncliff Peninsula
Ohiopyle
If hiking is more your style, then head off to Ferncliff Peninsula for a two hour hike you won't forget. Get a good walking stick, some trail mix, and explore this National Natural Landmark, rich with rare and unusual plants. These plants wouldn't normally grow in PA, but the microclimate in the river gorge allows them to thrive. Keep going and stop to smell the flowers — there's nothing like pausing before a bubbling stream in a field of wildflowers.
Day 2
Bear Run Nature Preserve
Mill Run
No snooze alarm needed. The promise of these great outdoors (and hundreds of songbirds) is a natural way of getting ready for the morning. Good thing, because you're headed to the Bear Run Nature Reserve just outside Ohiopyle State Park. Check out the Lower Bear Run Trail — it lies along the west slope of Laurel Ridge, facing the spectacular Youghiogheny River gorge. As you traverse the Reserve's trails, you'll enjoy the beauty and solitude of dense oak and hemlock forests and more.
Laurel Highlands Scenic Byway
Normalville
Your drive from Mill Run to Donegal will take you along Routes 711 and 381, one of our favorite portions of the Laurel Highlands Scenic Byway. This 68-mile strip of road is like a moving postcard show, with rolling hillsides, sparkling waterfalls, and picturesque farmlands.
Laurel Highlands Hiking Trail
Donegal
Hop back in the car for an entirely new view of the terrain. The Laurel Highlands Hiking Trail is the gem of Ohiopyle State Park, stretching atop the Laurel Ridge and going for 70 miles. Chances are there's a little more backpacking than you bargained for, but no worries, the day hikes are just as spectacular. Access the trails just off Route 30 near the Westmoreland/Somerset County line. You'll get some more ridiculously scenic views of your new favorite river, the Youghigheny.