Apple Destinations in Northeast PA
11 stops
Apple Destinations in Northeast PA
3 Days - 11 Stops
The northeast part of Pennsylvania or the Scranton area, offers another set of small orchards, cider producers, and a more rural feel than the other trails. The farms in this part of Pennsylvania are smaller than those in big apple producing regions, and the orchards once served farm owners and locals, as well as some urban markets. The land was originally inhabited by the Iroquois nation until 1625 and then the Delaware nation, until diseases spread by European settlers and war virtually eliminated these groups from the area. In the middle of the 18th century, there was an influx of "Yankee's and Yorkers" and now the area has a more New England feel than other parts of the state.
Gardiner's Orchard & Case's Mansfield Cider Mill
5420 Fallbrook Road, Troy, PA 16947
16469 US-616933, Mansfield, PA 16933
On the trail up near the Pocono Mountains in the Northern Grasslands, horse drawn wagons at Gardiner's Orchard (1) will take you out to the fields to pick your own apples. About a half-hour west of Gardiner's Orchard is Case's Mansfield Cider Mill (2), which has artifacts from over 125 years of cider making, as well as an array of cider, jams, apple dumplings, and more.
Deep Roots Hard Cider
348 Back Road, Sugar Run, PA 18846
Next, head towards Scranton and make a stop in the mountains at Deep Roots Hard Cider (3) to samples one of their 15 hard ciders or a honey pommeau made from apples from Miller's Orchard in Clarks Summit.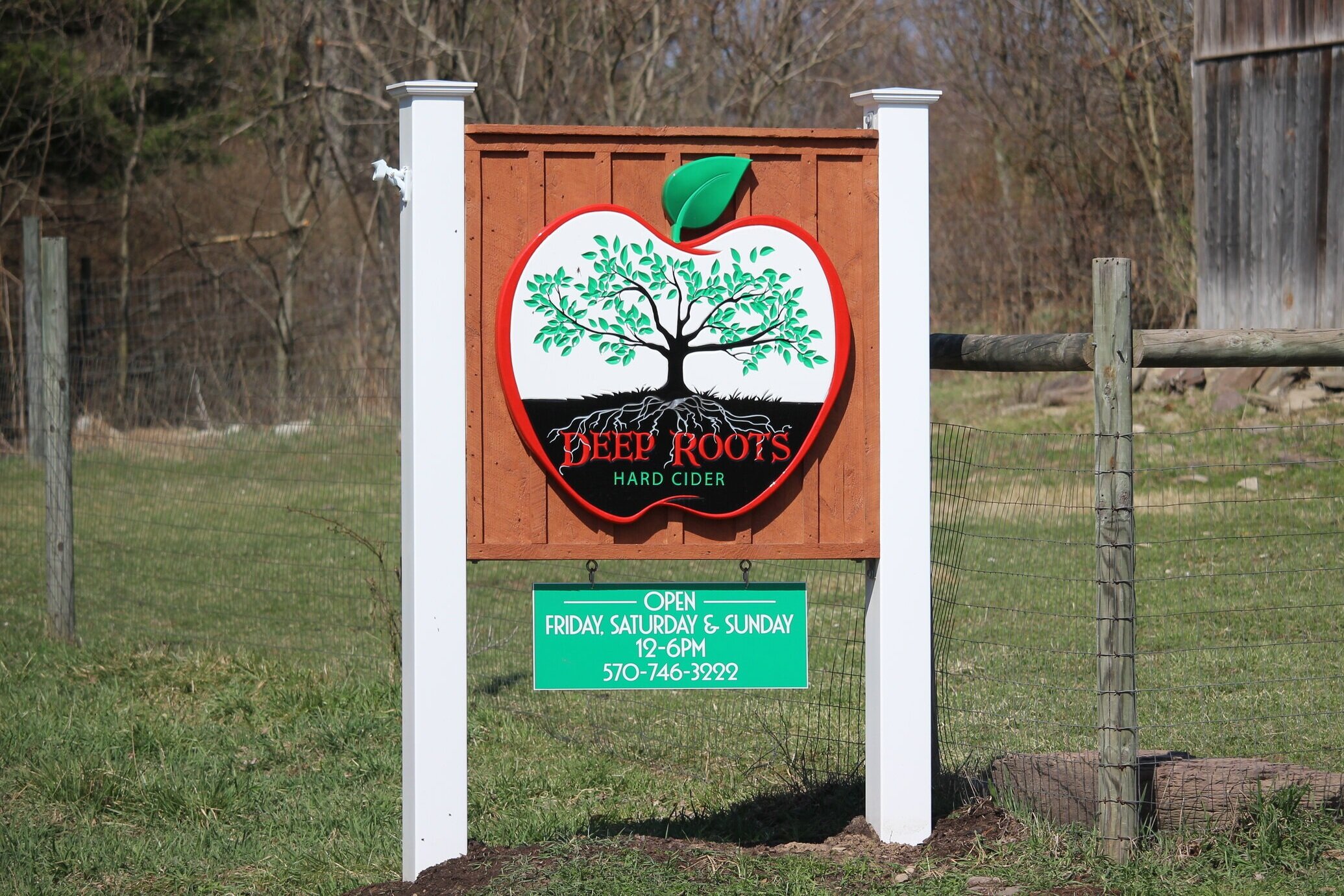 Roba Family Orchard and Farms
230 Decker Road, N. Abington Township, PA 18433
A stop at Roba Family Orchard and Farms (4) has a little something for everyone. Not only does this farm have many varieties of apples for purchasing and delicious apple butter, but it also has a park with entertainment for the whole family, food stands, and campfire sites.
Klim's Orchards & Ritter's Cider Mill
481 Keystone Road, Lake Ariel, PA 18436
117 Wimmer's Road, Mt Cobb, PA 18436
While in the Scranton area, be sure to stop at Klim's Orchards (5), which has been in operation since 1932. Klim's offers at least 15 varieties of apples and great cider, too. Follow up with a stop at Ritter's Cider Mill (6) for other apple treats, including apple cider donuts, pies, and jellies. Ritter's also has a corn maze and petting zoo for the kids.
Colonel Rickett's Hard Cider
4360 Red Rock Road, Benton, PA 17814
Head west again to Benton and Colonel Rickett's Hard Cider (7). Three generations of cider makers, their tasting room serves many types of apple wine and mixed and single apple variety ciders. They also occasionally have live music, so keep a lookout for that!
Civil War Cider Company
606 Market Street, Lewisburg, PA 17837
A pleasant and speedy drive on I-80 (great views even with truck traffic to and from NYC) takes you down toward Lewisburg, where the Civil War Cider Company (8) offers totally inventive ways of using hard cider, such as Brew Cannon (unfiltered cider with frozen apples) and General Burnsides (cider fermented with spicy pepper). This cider company ages their cider in styles similar to that used during the 1800s—in old oak whiskey barrels, in clay jugs, and in glass. During the Civil war, women often took over the labor on farms and in businesses as the men were not around. Americans were drinking about 15 gallons of hard cider per person per year during the 1800s, and women were certainly creating a large portion of that. The soldiers used cider, too, sometimes as an antiseptic for wounds. Cider was not always the drink of the wealthy. It was a homemade drink, often a drink of the American frontier, as well as the drink of choice of America's founders. Farm laborers were often paid in cider instead of money.
Dries Orchards, Whispering Pines Fruit Farm, Schlegel Fruit Farm
1724 Dornsife Mountain Road, Sunbury, PA 17801
1652 Martin Brothers Road, Mt Pleasant Mills, PA 17853
1426 State Route 147, Dalmatia, PA 17017
The next morning, stop at Dries Orchards (9) and Whispering Pines Fruit Farm and Country Market (10) for all sorts of local treats before heading to one last orchard—Schlegel Fruit Farm (11). This fifth generation farm is an Eco-Farm that grows over 30 varieties of apples using Integrated Pest Management.
Explore our other regions
Select a region to view an itinerary