Apple Destinations Throughout Central and Southeastern PA
19 stops
Apple Destinations Throughout Central and Southeastern PA
2 Days - 16 Stops
The birthplace of Pennsylvania apples, including the famous lopsided York Imperial variety, is in the counties south of the state capital of Harrisburg. With sloping hillsides that hold deep, nutrient-rich soils made from the erosion of mountains once taller than the Rockies, this is Pennsylvania apple country. This cluster of stops is filled with history, delicious food, old school and new styled apple beverages, and lots of welcoming people.
Brown's Orchards and Farm Market
8892 Susquehanna Trail S, Loganville, PA 17342
A good start is south on Interstate 83 past the beautiful tree lined countryside to Brown's Orchards and Farm Market (1). At Brown's many varieties of apples and a panoply of mouth-watering apple pies await. Pie variations include apple crumb, apple lattice, and apple caramel walnut. Brown's also has apple dumplings, apple cider, and other apple related gifts. In addition, activities like wagon rides and apple slingshot are available seasonally. Stop at the cafe for their apple and bacon grilled cheese sandwich before getting back on the road.
The Markets at Hanover
1649 Broadway, Hanover, PA 17331
Follow Route 30 to Hanover for a quick stop at The Markets at Hanover (2), an indoor local vendor market. Here you'll find stalls with everything to go with your apples, including honey, cheese, and wine. Pick up some Amish apple snitz from the Shady Maple stand for snacking in the car.
Ploughman's Farm Cider
1606 Bendersville-Wenksville Road, Aspers, PA 17304
Heading north, you'll drive through the rocky hillsides of the South Mountain Fruit Belt and the northern edge of the Blue Ridge Mountains to Ploughman's Farm Cider (3) in the historic town of Gettysburg. They have so many unique cider choices, including some delicious perries, as well as a selection of local beer and wine. Sample the heirloom apple ciders from orchards that have been in the Wenk family for over two hundred years. Unique ciders include Kenspeckle, a dry and slightly tannic American cider made with apples and chokeberries. Or, try the dry Stark, an American strong cider made from the heirloom Spitzenburg and Stayman varieties.
Tracey's Orchard
12483 Hollowell Church Rd, Greencastle, PA 17225
To get a real taste of this area, visiting more than one orchard is essential. No two are alike, and the locals all have a sentimental favorite. Cruising along on Routes 116 and 997, you will pass one of the most gorgeous stretches of orchards in the country. Tracey's Orchard (4), founded in 1909, is a favorite of apple experts in the area. Tracey's apples are fabulous, and their homemade apple pie filling is the best the best around. If you are too busy to prepare your own pie filling, Tracey's has the answer.
Shatzer's Fruit Market
2197 Lincoln Way, Chambersburg, PA 17202
Next stop is Shatzer's Fruit Market (5), which sits along one of the first transcontinental highways—the Lincoln Highway. Buy some apples (and some of those famous Chambersburg peaches, if in season) and some preserves and honey to accompany them. In the 1930s, Martha Shatzer would sell fruit, butter, and buttermilk from the front porch of the farmhouse. Look for the Lincoln Highway Corridor sign to learn more about the Shatzer's story.
Jan Zell Wines
251 Grant Street, Chambersburg, PA 17201
Sharpen your tree identifying skills as you drive westward through the southern end of the Michaux State Forest, which was the home of the first forest school in the state. Named after the French botanist, Andre Michaux, the wooded lands contain many special oak trees, along with red maple, black birch, hickory, and more. Not far away in the town of Chambersburg is Jan Zell Wines (6). Available apple wines include Arn's Apple made from local apples, Summer Nights made from a blend of white cranberries, apples and Chardonnay grapes, and their house-made hard cider made from Shatzer's Orchard apples. All of these wines come highly recommended by locals. Buy a few bottles to go or sip some on their beautiful deck as the sun sets.
Inn at Ragged Edge
1090 Ragged Edge Rd, Chambersburg, PA 17202
The Inn at Ragged Edge (7) near Chambersburg, built in 1900 as a summer home for Colonel Moorhead Kennedy and his family, is the perfect place for an overnight stop. The Kennedy family were large supporters of the Pennsylvania fruit culture, and the property once had extensive orchards. Take in the beautiful woodwork in the interior of the home and the exquisite outdoor grounds, especially the creek area, before calling it a day. Guests rave about the breakfasts here too.
Historic Round Barn & Farm Market
298 Cashtown Rd, Biglerville, PA 17307
The next morning, it is just twenty minutes east on Route 30 to the Historic Round Barn & Farm Market (8). This beautiful building is an example of one of the few round barns left in the country. Here you can find a large selection of apples and other produce, as well as lots of locally made small batch foods. Out back, you can visit the donkeys and horses.
The Thirsty Farmer Brew Works
290 Cashtown Rd #9528, Biglerville, PA 17307
Across the road is The Thirsty Farmer Brew Works (9) where guests can enjoy their beer with lunch and apple fry pies or apple cider donuts for dessert. Fry pies are flaky, hand-sized pies with a deep-fried pastry crust stuffed with various fillings, including apples, blueberries, peaches, or a fruity cream cheese mixture. Sometimes they are covered with a powdered sugar icing or sprinkled with granulated sugar.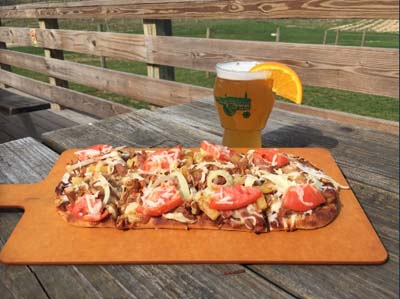 National Apple Museum
154 W Hanover St, Biglerville, PA 17307
Next, travel southward toward Biglerville and the heart of Pennsylvania apple country to the National Apple Museum (10). Housed in a pre-Civil War bank barn, this museum enlightens visitors about the picking, packing, and shipping of apples. A bank barn is often built into the side of a hill (a bank) with access on two separate levels.
Hollabaugh Orchards
545 Carlisle Rd, Biglerville, PA 17307
A few minutes further south is Hollabaugh Orchards (11) where apple pies, dumplings, breads, butters, and sauces are available for nibbling or saving for a late-night snack. You can also try an apple cider donut milkshake from Mr. G's ice cream stand or pick your own apples in season. A new popular addition to their offerings is a cut-your-own flowers field. And as if that is not enough, the Bin Poarch at Hollabaugh's draws people from miles away to mix bags of apples. The more you buy, the better the price. Family-owned for over five decades, this is an orchard and farm store that should not be missed.
Kime's Cider Mill
171 Church Street, Benderville, PA 17306
The next stop is Kime's Cider Mill (12), where many varieties of non-alcoholic ciders can be found. The Honeycrisp cider is a real treat for every family member. Also try their apple butter, applesauce and apple juice. To mix it up a bit, try their pear cider too.
Big Hill Ciderworks
338 Georgetown Road, Gardners, PA 17324
A short drive to Big Hill Ciderworks (13) is next, where owners Ben Kishbaugh and Troy Lehman grow, press, ferment, and package their ciders. They just opened their tasting room, and it is a favorite with local connoisseurs. They use three different methods of fermentation: slow ferment, barrel-aged, and wild yeast ferment, so there is something for everyone. Sample their Michaux Mule with fresh ginger and lime zest. Or try their Marmalade, a sour cider with wild skin contact fermented apples and peaches, honey, and orange zest.
Apple Valley Creamery
541 Germany Road, East Berlin, PA 17316
Beautiful Apple Valley Creamery (14) is the place to get sweet, yet savory apple cinnamon cheddar and applewood smoked cheese for car-snacking. Their cottage cheese, buttermilk, and butter are top of the line too. Family-owned, GMO-free, and animal welfare-approved, Apple Valley is a working farm where tours are offered on weekends. They still have home delivery for milk too!
Red Lion Bed and Breakfast & York Central Market
101 S Franklin St, Red Lion, PA 17356
34 W Philadelphia St, York, PA 17401
Round your trip off with a stay at the Red Lion Bed and Breakfast (15), a large brick home built in the early 1900s in the quaint town of Red Lion. Enjoy the complimentary local snack basket and the wonderful homemade breakfast before getting on the road to your final stop at the York Central Market (16). Built in 1888, this community gathering place boasts over fifty stalls. Grab an apple dumpling at Mama D's or Myers' stands and pair it with a cup of coffee from Take 5 Espresso Bar to fuel your drive home.
Styer Orchard
97 Styers Ln., Langhorne, PA 19047
Choose from acres of apples like Empire and Gala at this Langhorne orchard! Take the free wagon ride out to Styer Orchard (17). Stop by the market nearby for fresh apple cider donuts!
Solebury
3325 Creamery Rd, New Hope, PA 18938
Located in New Hope, Solebury Orchards (18) is known for their high-quality fruit and picturesque country setting. Pick through apples of many different varieties while enjoying the scenery. During weekends in the fall, there is apple cider, apple cider doughnuts and wagon rides through the orchards to make your apple picking experience even better.
Shady Brook Farm
931 Stony Hill Rd., Yardley, PA 19067
Enjoy a hayride through the orchard to pick your own apples and stay for family fun with inflatable attractions. Apples are sold by the pound. With plenty of fresh air and wide-open space, Shady Brook (19) has lots of room for guests. Pick your own fields are open Wednesday through Sunday.
Explore our other regions
Select a region to view an itinerary