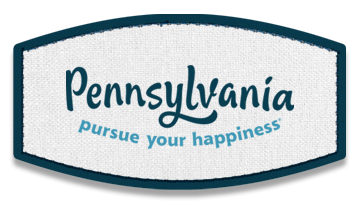 Happy Days in the Valleys of the Susquehanna
Views from the rolling country roads of these valleys summon artists, and for generations, farmers have treasured their fertile land. This region features the funky, historic towns surrounding small colleges, antique shops off the beaten path, and romantic covered bridges. Waterfalls, riverbanks, and forests beckon to be explored by footpath – or enjoyed with a picnic on lazy summer days. Revisit timeless pleasures here, like riding a carousel, traveling by train, and leisurely pedaling a bicycle.
A Happy Day
Family
Take family time to another level. Cool down at Liberty Splashland with their great waterslides and pool. The Children's Museum offers interactive exhibits designed just for children. See big cats at T&D's Cats of the World, or check out the amazing reptiles at Clyde Peeling's Reptiland. Thrill-seeking families can visit the largest free-admission theme park in America, Knoebel's Amusement Resort. Or simply relax with a stroll through the historic Keithan's Bluebird Gardens.
---
Adventurer
Adventurers will love the Anthracite Outdoor Adventure Area, which features miles of off-roading trails for vehicles big and small. Hikers and fishermen will enjoy spending time on the island that makes up Milton State Park or strolling along the Susquehanna River at Danville Riverfront Park. The region's many State Game Lands offer hunting opportunities throughout the year, as well as hiking, biking and horseback riding outside of prime hunting seasons.
---
History Buff
Explore the Mifflinburg Buggy Museum, a 19th century buggy shop that has been beautifully restored. The Montgomery House Museum, the former home of Revolutionary War General William Montgomery, is now home to the Montour County Historical Society and open for tours. The Catawissa Railroad Company and Caboose Lodge features over a dozen restored cabooses. Visitors are invited to tour the grounds or can stay the night in one of the historic rail cars.
Keystoner Tip: Stroll down Historic Market Street in downtown Lewisburg, where six blocks of mom-and-pop shops, extraordinary architecture, and even an original Art Deco movie palace will transport you to a bygone era.
---
Go for the ... Lush Landscape
Immerse yourself in the natural beauty of Ricketts Glen State Park, where an array of hiking trails offers plenty of ways to experience the landscape. Venture into old-growth forests, past cascading waterfalls, through groves of cherry trees, between massive blocks of Pocono sandstone leftover from the ice age, or to the peak of Red Rock Mountain – perfect for viewing brilliant fall foliage.