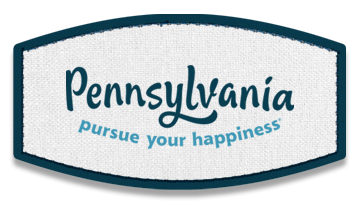 Happy Days in Upstate PA
Upstate PA
Majestic, endless mountains and the mighty Susquehanna River define the landscape. Overlooks abound. Rebirth is well underway in places that were old industrial centers and their rich, historic buildings are finding new lives as museums, colleges, and hotels. Old pieces await new uses at flea markets. The tame waters of the Delaware River invite a quiet paddle or lazy float on an inner tube. Explore wineries and breweries, and the charms of quaint towns.
A Happy Day
Family
Watch in wonder as magicians levitate an audience member at the Houdini Museum, and then see memorabilia – such as the tank-like water torture cell from which Houdini always escaped. Tour a repair shop and ride the steel rails aboard a passenger train at the Steamtown National Historic Site. At the Bradford County Farm Museum and Historic Village see the carriages, wagons, and sleighs that carried travelers 100 years ago.
---
Arts & Culture Seeker
Browse creations of local artists at Marquis Art and Frame and treasure-hunt among art supplies. At Wilkes University's Sordoni Art Gallery this spring, see works by regional, national, and international artists. Learn how Scranton's neoclassical train station became a Radisson Hotel and how other buildings found new life on the Downtown Scranton Architectural Walking Tour.
---
Adventurer
Explore pools the Wheelbarrow Run stream has carved and the surrounding forest at the Seven Tubs Nature Area. Walk through Florence Shelly Preserve, looking for the species inventoried by her team of citizen naturalists, such as a rare red alga, hummingbirds and great-horned owls. Cut the day's first tracks or enjoy night skiing at Elk Mountain Ski Resort's 27 trails and 1,000 vertical feet.
Keystoner Tip: The newly built Priesthood Restoration Site explains how Joseph Smith's experiences there in the 1820s late led him to found the Mormon Church.
---
Go for the ... Dramatic Views
At Worlds End State Park, hike beneath shaded canopies of sugar maple, ash and black cherry trees on the four-mile loop of Canyon Vista Trail. At the top, you'll find panoramic views of Loyalsock Creek, as it winds through the S-shaped valley and intersects rugged forests and seemingly endless mountains.