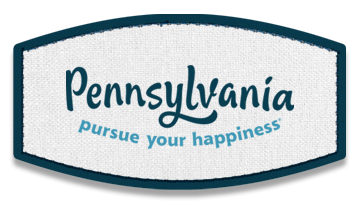 Philadelphia and Its Countryside
A Happy Day
Arts & Culture Seeker
Whether you prefer to see a leading collection of French Impressionist paintings at the Barnes Foundation, thought-provoking pop art on exhibit at the Philadelphia Museum of Art, or modern works in wood at the New Hope Arts Center, you can curate your own arts experience in the Philadelphia region. Or share and discuss the themes that run through the collections at the National Museum of Jewish American History and the African American Museum.
---
History Buff
Learn about the struggles and triumphs of General Washington's Continental Army at Valley Forge National Historical Park; tour the Assembly Room of Independence Hall, where the Declaration of Independence was adopted; meet Betsy in person at the Betsy Ross House, where she sewed our nation's first Stars & Stripes; and gain a better understanding of the essential freedoms established by "We the People" at the National Constitution Center.
---
Shopper
Philadelphia is a grab bag of shopping experiences, from power shopping along Rittenhouse Row to strolling the bricked walkways of Peddler's Village and perusing artisans' work on display. Seize the sales at Philadelphia Premium Outlets, with stores like Disney and DKNY; get on your walking shoes for King of Prussia Mall, the largest shopping mall on the East Coast; and save your appetite for the purchase of handmade artisan cheeses at the Italian Market in South Philly.
---
Party Animal
Ranked as one of the top beer cities in the country, Philadelphia is always brewing up something interesting. Try a pint of ale named for one of our Founding Fathers at Yards Brewing Company or sample up to 15 types of beer on The After Hours Brew Tour, offering several itineraries. If spirits are more your thing, head to Manayunk's The Goat's Beard, with its massive domestic whiskey selection. End the night at Harrah's Philadelphia Casino and Racetrack, with slots and table games.
---
Go for the ... Icons
There are the icons that define the Philadelphia food scene: cheesesteaks, hoagies, soft pretzels, water ice – even the roast pork has made headway. But take a selfie with two cultural icons that surpass the city's delicacies: the 2,080-pound Liberty Bell, named by abolitionists fighting to end slavery, and the Rocky Statue, immortalizing the legendary Rocky movies.
Keystoner Tip: Quality, value, and convenience star on the QVC Studio Tour, where guests learn the complexities of a 24/7 shopping network and see how products are brought to life on-air.