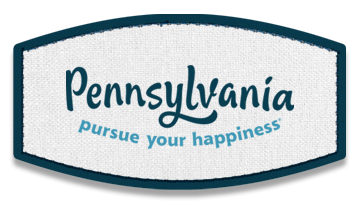 Happy Days in PA's Great Lakes
Pennsylvania's lake coast features everything you'd want from a beach: gentle waves, ice cream stands, flat trails, and even a lighthouse. But the Great Lakes region boasts more than Lake Erie's shore. Hit the links and then rest in luxury in Mercer County or search for wildlife in Hell's Hollow. The state parks and wooded lakes teem with hiking, hunting, history and heritage, offering something exciting for visitors of all ages.
A Happy Day
Adventurer
Two Mile Run County Park offers 26 miles of wooded trails and a treehouse for camping. Anglers and boaters love looking for ospreys in Maurice K. Goddard State Park. Hike along Sugar Lake at dusk to find 230 bird species in the Erie National Wildlife Refuge. Peer over the dam or fish for walleye between water-ski attempts at Shenango River Lake. Find a thrill on Conneaut Lake Park's wooden roller coasters.  
---
Family
The water's always fine at the indoor Splash Lagoon. Cruise the Endless River in Waldameer Water World. Experience the launch of the modern petroleum industry at the Drake Well Museum. Visit the bison herd at Wooden Nickel Buffalo Farm. Presque Isle State Park is the gateway to Erie's beaches, with a 13.5-mile paved path for biking. Pop into the Tom Ridge Environmental Center at the entrance to grab a hiking map. 
---
Foodie
Save Room for Dessert (the bakery, that is) at the Meadville Market House, where you'll savor local fare. Meander along East Lake Road for a guided tour of Mazza Vineyards, whose tasting room is open year-round. Grab a slice of double Gloucester or Manchego at The Cheese House, which also carries jams, jellies, pickles, and local jerky. You can view (but unfortunately, can't sample!) a 400-pound chocolate turtle at Daffin's Candies, where they sell 600 different creations.  
Keystoner Tip: See (and taste!) freshly tapped maple syrup at Hurry Hill Maple Farm Museum, or at one of the many other sugaring operations in the area. 
---
Go for the ... Waterfront Lifestyle
Revel in the resort-like atmosphere of the town of Edinboro, where the 250-acre lake with public docks and boat launches draws boaters, swimmers, anglers, and summer campers to this charming college town. Kids under the age of 12 can drop a fishing line into Mallory Run, located just beneath the Edinboro Dam.