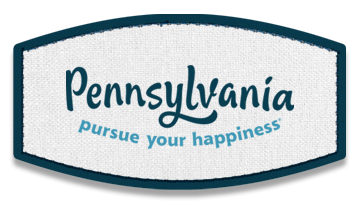 Happy Days in Laurel Highlands
It's hard to look away from the Laurel Highlands. The roaring Youghiogheny River draws you in, whether you're gazing down from the rail trail that parallels it or riding along its rapids. These mountains host architectural marvels, amusement parks, and art museums – in addition to world-class hiking. Come for the culture and the great outdoors, and soak up the charm with a dazzling backdrop every season of the year.
A Happy Day
Adventurer
Snowboarders can shred the East Coast's only Olympic-size half-pipe at Seven Springs Mountain, which features 33 slopes and trails. Sit in the creek bed to slide down the chutes of Meadow Run's waterslides in Ohiopyle State Park. Hikers can soak up the views along the 70-mile Laurel Highlands Hiking Trail – backpackers might even spot a bobcat at dusk. Wild mountain laurel, moss, and mushrooms dot pathways, ranging from beginner to lung-buster. 
---
Family
Ding-ding! Daniel Tiger's trolley is rolling through Idlewild and SoakZone. Plan to stay awhile – kids will want to explore every inch from Raccoon Lagoon to Storybook Forest. Get a history lesson when you march along the Fort Necessity National Battlefield, where the French and Indian War began in 1754. Load up your bike (or rent one) to ride the Great Allegheny Passage trail, and enjoy an ice cream break in one of many little towns just off the flat path.
---
Arts and Culture Seeker
Tour several Frank Lloyd Wright creations in one spot! Spend a day at Fallingwater and Kentuck Knob, and then spend the night at Duncan House in Polymath Park, where you can also see Balter and Blum Houses, designed by Wright's apprentice Peter Berntston. The newly renovated Westmoreland Museum of American Art features four centuries of major works, including a contemporary collection. The Hardy Art Collection at Nemacolin is free to tour, and the onsite Lautrec Restaurant features works by its namesake.
Keystoner Tip: Visit the Saint Vincent Gristmill, where Benedictine monks have been making and selling fresh flour and bread since 1854. 
---
Go for the ... Journey
Take the road less traveled, and discover Pennsylvania's rural charm as you drive along the 68-mile Laurel Highlands Scenic Byway, where rolling hillsides, covered bridges, pastoral landscapes, and the Allegheny Mountains will have you enchanted. Meanwhile, Historic National Road boasts 90 miles of historic landmarks, from important battlefields to industrial revolution sites.