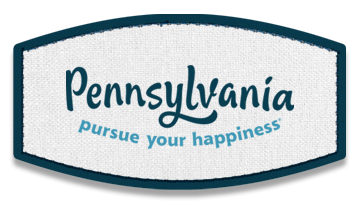 Happy Days in Central PA
For every slice of shoo-fly pie in Dutch Country Roads, there's a soufflé with lemongrass essence and kaffir lime crème anglaise. The region's time-honored attractions pair nicely with their contemporary counterparts. Shop Amish Country and the Lancaster arts scene. Check out Civil War sites and Corvette car shows. Eat your way through Hershey's sweet family fun and the farm-to-fork dining scene. Work it all off with a hike on the Appalachian Trail, watch the fall raptor migration, or row yourself out on the glassy, flat waters of the Susquehanna.
A Happy Day
History Buff
Journey through several turning points in our nation's history, when you visit: the National Civil War Museum, the only museum in the country to highlight the entire story of the Civil War; the Gettysburg Battlefield, the site of the bloodiest battle to take place on American soil; the U.S. Army Heritage and Education Center, displaying the culture and experiences of American soldiers from the French & Indian War to the War on Terror; and the Antique Automobile Club of America Museum, a collector-oriented showcase of the car's historical evolution.
---
Family
Family-style doesn't apply to just food in Dutch Country, where numerous attractions are fitting for all generations. Enjoy Hershey's Chocolate World Attraction, where you can create your own candy bar; Crystal Cave, where you descend 125 feet underground to marvel at stalactites; the State Museum of Pennsylvania, where you can come face to face with a huge mastodon; Land of Little Horses Farm Park, where tiny equine perform; and Steam Into History, where you can hop aboard an operating locomotive.
---
Foodie
Feast on foods from Central PA or "Tuscany of the East Coast," as they call it at The Millworks. Sample a smorgasbord of hearty foods at Hershey Farm Restaurant & Inn (think made-from-scratch soups and the farm's own red beat eggs). Casual dining gets stylish at Fenz Restaurant & Latenight, where classics such as the portabella are remastered with a crisp polenta stack and tofu boursin. Dine on modern Mediterranean at Victor's, housed in a renovated 19th-century church.
---
Go for the ... Slower Pace
Take a break from being behind the wheel and listen to the clip-clop of horses on a buggy ride through Amish farmland. Various tours will take you past an Amish one-room schoolhouse, a Mennonite craft store, or a bakeshop, all while graciously answering questions about Amish culture.
Keystoner Tip: Go back in time – or at least feel like you have – at Landis Valley Village & Farm Museum, where you can get a first-person interpretation of Pennsylvania German life.