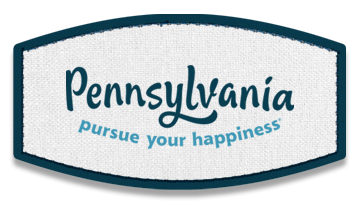 Happy Days in the Alleghenies
The Allegheny Mountains take center stage in this historic region. These hills, and the towns between them, offer a feast for your senses, from the crackling leaves along wooded trails to the screeching rails of trains winding along mountain curves. Whether you're seeking a lazy day by the lake, a challenging backwoods hike or a thrilling day at the races, the Alleghenies are here to serve you. 
A Happy Day
Family
Roller coaster fans will love Leap-the-Dips, a National Historic Landmark in Lakemont Park. Nearby DelGrosso's Amusement Park offers a newly completed water park expansion. Study a slower sort of ride at the Railroaders Memorial Museum. Celebrate the legends of Blue and White at the Penn State All Sports Museum. Down the road, find hands-on STEM (science, technology, engineering and math) fun at the Discovery Space Children's Science Museum. Glide through a limestone cavern by boat in Penn's Cave.
---
Adventurer
Hop on your ATV, UTV, dirt bike or snowmobile to ride 140 miles of trails at Rock Run Recreation. Enjoy Happy Valley from the air with the Sky's the Limit Ballooning. Whitewater paddlers can play in 15 rapids in the four-mile Stonycreek River Canyon. The 24 Allegrippis Trails, designed and built by mountain bikers, are arranged in stacked loops so bikers, hikers, runners, or cross-country skiers can plan endless route combinations.
---
Art and Culture Seeker
Honor one of history's great tragedies and a town's recovery at the Johnstown Flood Museum. Experience the River City Brass Band's Celtic Connections or the Johnstown Symphony's "Season of New Faces" at the Pasquerilla Performing Arts Center, or watch touring Broadway musicals and cultural concerts at Center for the Performing Arts at Penn State. The Southern Alleghenies Museum of Art hosts 4,000 works by regional and national artists from Andy Warhol to Will Barnet. 
Keystoner Tip: Anglers won't want to miss fly-fishing at Penns Creek – a 35-mile limestone stream flowing from a spring within Penn's Cave – which is world renowned for its trophy trout.
---
Go for the ... Yesteryear Style
Discover "Central Pennsylvania's Victorian Secret" when you stroll through the picturesque town of Bellefonte, founded in 1795. Here you'll find mom-and-pop businesses housed in historic Victorian buildings, colorful gingerbread homes lining quiet streets, and castle-like bed-and-breakfasts.  Visit the Bellefonte Art Museum for arts and culture, or spot breathtaking fall foliage on a special train ride by the Bellefonte Historical Railroad Society.