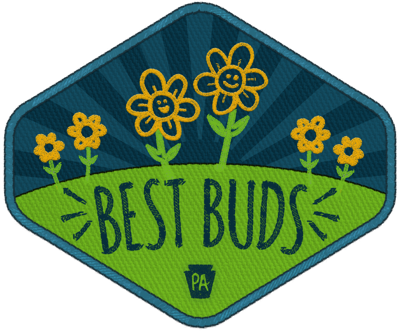 Best Buds Garden Trail: Pittsburgh
3 Days - 5 Stops
Surrounded by its storied three rivers, Pittsburgh has no shortage of stunning vistas and equally stunning gardens, arboreta, and public parks you won't want to miss.
Day 1
Phipps Conservatory and Botanical Gardens
Pittsburgh
Phipps Conservatory and Botanical Gardens is the perfect place to begin your journey along the Pittsburgh Garden Trail. Founded in 1893, this green oasis just four miles from downtown Pittsburgh includes the lovingly restored, 14-room glasshouse in all its Victorian splendor and 23 distinct gardens – all brimming with blooming flowers, trees and other plants, sculptures, and artwork. This year's Summer Flower Show's main feature is a magical adventure through The Hidden Life of Trolls, a fun adventure for the whole family. There are large trolls, tiny trolls, a troll that spits water, and one that demands you answer riddles before allowing you to pass – a truly one-of-a-kind display of the mythological creatures found in folklore!
Worthy detour: What could be better either before or after a garden-filled afternoon than some refreshing, freshly brewed tea?! Combining a decades' long passion for all things tea and long-time infatuation with the healing properties of herbs, Abeille Voyante Tea Co. (4 miles/15 minutes from Phipps Conservatory) feeds mind, body and soul from a space connected to the Millvale Community Library. This cozy, eclectic tea shop and plant-based café offers an extensive selection of the highest quality teas from throughout the world. Choose your favorite or one of the custom blends. The walk-up food menu includes several delicious vegan options in addition to their regular fare.
Worthy detour: From Trolls to Campbell Soup Cans – what a journey this garden trail offers. Mr. Warhol would be so proud and love the whimsicality of it all! The iconic picture of soup cans is just one of the more than 7,000 pieces of artwork proudly displayed in The Andy Warhol Museum (5 Miles/15 minutes from Phipps Conservatory and Botanical Gardens), including a variety of engaging, interactive installations and activities that appeal to children and adults alike. This summer (2021) explore your inner Warhol on weekends with their "Pop Art Pop Up" free, hands-on, Warhol-inspired artmaking activities, including painting, collage, stamping, silkscreen printing, and photography – a fun time to create your own Troll-inspired masterpiece!
Rodef Shalom Biblical Botanical Garden
Pittsburgh
Find another small botanical wonder right on Pittsburgh's Fifth Avenue, just 4 miles from the downtown and a block north of the Carnegie Museum of Art. Established in 1987and spanning just a third of an acre, the Rodef Shalom Biblical Botanical Garden is still the largest garden of its kind in all of North America! The garden features more than 100 plants including wheat, barely, millet, herbs valued by the ancient Israelites, and even papyrus, as well as olive, date, pomegranate, fig, and cedar trees–each plant labeled with its own appropriate biblical verse. Adding to the garden's theme, other biblical features include a waterfall, desert, stream, and a representation of the River Jordan flowing from "Lake Galilee" to the "Dead Sea" meandering through the garden. Whether religious or not, this pretty little garden gem offers a peaceful and interesting "trip" through the world of ancient Israel!
Worthy detour: It's a quick trip from the botanical wonders of ancient Israel to a scrumptious array of today's finest Italian delicacies at the iconic Pennsylvania Macaroni Company (3 miles/12 minutes from Rodef Shalom Biblical Botanical Garden). For close to 120 years, this legendary Italian market has been a landmark of Pittsburgh's famed "Strip District" offering more than 5,000 authentic Italian foods – from cheeses, pasta and pasta sauces to salamis, sopressata, pepperonis, and prosciutto, to spices, olive oils, and pizzeria flour, to you-name-it Italian. You simply have to experience this legendary Italian tradition for yourself!
Worthy detour: One can certainly work up a thirst exploring Pittsburgh's amazing gardens! End you day in appreciation of nature's bounty and libations created from the finest, organic regional grains at Wigle Whiskey (3.4 miles/12 minutes from Rodef Shalom Biblical Botanical Garden) – one of the nation's premier distilleries. A James Beard semi-finalist and the most awarded craft whiskey distillery in the U.S., their award-winning spirits are first milled, fermented and distilled on-site in a copper pot still in the beautifully restored building of the former Pittsburgh Wool Co. Feeling adventurous?! Be sure to try their Eau de Pickle or Saffron Amaro – both National Innovation Award winners!
Worthy detour: Need to wet your whistle and satisfy those hunger pangs after a long day admiring so many amazing Pittsburgh gardens?! Located in Pittsburgh's iconic Strip District, Cinderlands Warehouse (3.3 miles/12 minutes from Rodef Shalom Biblical Botanical Garden) craft brewery and scratch kitchen has become a prime destination for great-tasting, handcrafted brews and classic and not-so-classic dishes. They typically have up to 15 of their finely crafted beers on tap including pilsners, IPAs, Berliner Weisse, and stouts, as well as a sommelier-curated Pennsylvania wine selection and local liquors.
Day 2
Westinghouse Memorial Garden
Pittsburgh
It's a short walk down Schenley Drive to the Westinghouse Memorial Garden. Built in 1930 and beautifully restored in 2016, the garden pays homage to George Westinghouse, one of Pittsburgh's and the nation's industrial titans. Known for both is incredible ingenuity with more than 360 patents under his name and concern for his workers well-being, the garden's centerpiece is the bronze and granite monument that overlooks a beautiful lily pond. Weeping Katsura trees have been planted at the edge of the pond, reminiscent of the willows that once inhabited the landscape. The garden also features native ferns, grasses, perennials, and shrubs that are ideal for the damper conditions, as well as aquatic plants around the edge of the pond that provide an ideal environment for beneficial insects. You'll come away refreshed and with a profound new appreciation of one of Pittsburgh's favorite sons.
Chatham College Arboretum
Pittsburgh
Up next is one of Pittsburgh's best-kept botanical secrets — the 32-acre Chatham College Arboretum. They pack a lot into those 32 acres with more than 115 different varieties of trees, including Japanese flowering crabapple, river birch, Kentucky coffeetree, and eleven species of maple! Download their Tree Guide and Walking Map before you go and see how many trees you can identify without the helpful labels, including their 32 "Champion Trees" that are super-spectacular specimens of their species. Whether taking a stroll or meditating, the arboretum provides a peaceful place to spend time in nature surrounded by a wide diversity of trees and other botanical wonders that grace the campus.
Mellon Park Walled Garden
Pittsburgh
Simply step across Shady Avenue for a true garden treat! Nestled within Mellon Park's 33 acres of pastoral parkland, formal gardens, fountain, and former estate buildings is the Walled Garden. First built in the 1920s as part of the original Mellon Estate, the Walled Garden features a mix of perennials, shrubs, and flowering trees, including a Japanese Stewartia tree not commonly found in this area. With its Gothic-design walls of brick and limestone, this urban oasis becomes simply enchanting at sunset when 150 small points of lights hidden in the lawn turn the garden into a map of the night. The grassy planetarium was built as a memorial and celebration of the life of a lovely and talented young woman who loved the garden and died much too soon – a garden experience that is both ethereal and magical.
Day 3
Highland Park Entry Garden
Pittsburgh
A little more than two miles north is another of Pittsburgh's garden jewels – the Highland Park Entry Garden. As its name indicates, the beautiful Victorian era entry garden, complete with its beautifully restored fountain, garden, and reflecting pool, is the formal entryway into Highland Park. The garden is a glorious mix of blooming perennials and spring bulbs. Butterfly/pollinator plants were added to the garden a few years ago, adding a wonderful new dimension to the garden's features. The milkweed and butterfly weed are a favorite of Monarch Butterfly caterpillars, while Tiger Swallowtail Butterflies love to sip nectar from the tall garden phlox as bees buzz around purple salvia. On your way to the Pittsburgh Zoo and PPG Aquarium that is also housed on the park's grounds? Be sure to stop and admire the garden and flowers along the way!
Worthy detour: Did you know the Pittsburgh Zoo and PPG Aquarium is also housed on the Highland Park's grounds? Be sure to stop and admire the Philippine crocodiles, clouded leopards, and the elusive Capybara, the world's largest rat!
From Slavery To Freedom Garden
Pittsburgh
The natural world has always been key to human survival, but perhaps never more poignantly than for those fleeing enslavement. The From Slavery to Freedom Garden at the Frick Environmental Center tells a story of survival as enslaved African Americans escaped north during the 19th century, relying on the plants and trees found in the woodlands and fields on their journey to freedom. A collaboration of the Heinz History Center and the Pittsburgh Parks Conservancy, the garden showcases several of the plants uses for food and medicinal purposes by those escaping to freedom, as well as others cultivated in home gardens of free people of color. The garden is a true celebration of the resourcefulness, skill, and testament of the will of enslaved African Americans to be free!
Pittsburgh Botanic Garden
Oakdale
Not to be confused with the Phipps Botanical Gardens, your Pittsburgh garden trip would be incomplete without a stop at the Pittsburgh Botanic Garden. Established in 1988 by a number of devoted horticulturists who envisioned a world-class outdoor garden for the greater Pittsburgh area, they sought to reclaim and restore 460 acres of lands devastated by past industrial activity. Located about 11 miles west of downtown Pittsburgh, the garden currently features 60 acres of delight-filled outdoor gardens, meadows, and woodlands, family friendly activities, spaces for solitude, and endless natural beauty. Re-connect with nature as you explore the whimsical Garden of the Five Senses and the Asian Woodland with its beautiful Lotus Pond. Your head will be spinning with ideas to test at home in your own garden retreat!
Worthy detour: On your way from Pittsburgh, be sure to stop by the lush Allegheny Arboretum, which encompasses the entire 354-acre campus of the Indiana University of Pennsylvania. Established in January 2000 and home to 1,200 trees representing 104 species, this living museum has managed to place an information plaque on or near one tree of each species. Be sure to download their "Map & Guide to the Living Collection" before you go so you'll be fully versed and able to tell the buckeyes from the serviceberry tree and the other 102 species!