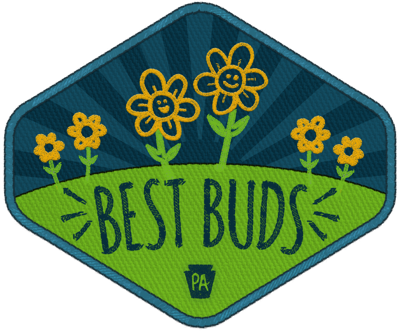 Best Buds Garden Trail: Central PA
3 Days - 6 Stops
You are sure to become one with nature exploring Central Pennsylvania's rich green valleys and tree-sheltered streams, each destination an unforgettable outdoor experience!
Day 1
Hershey Gardens
Hershey
Start your Garden Trail Adventures with a trip to Hershey Gardens. What started as simple rose garden has bloomed into 23-acres of floral splendor, complete with a hands-on Children's Garden, Conservatory, Butterfly Atrium, and even a Zoology Zone featuring fascinating reptiles, insects and more from around the world. What better way to spend a warm summer day than strolling through the many gardens surrounded by gorgeous flowers and others of nature's wonders!
Worthy detour: There's a definite connection between gardens and Troëgs Brewery (only a mile away from Hershey Gardens) since the brewery's founders and owners "really do dig getting into the fields and tasting the ingredients" used in crafting their award-winning beer. With two brewhouses – one for daily production and the other, smaller one with its pilot brew system to R&D new beer concepts, visit on Thursdays to try their latest and greatest small-batch, draft only "Scratch Beer." Be sure to stop by the Snack Bar where their locally sourced food selections are as original and interesting as their craft beer!
Worthy detour: With vineyards, gardens, and farm animals sharing 60 acres of bucolic farmland that dates back to the 18th century, Spring Gate Farms & Vineyard (10 miles away from Hershey Gardens) makes for a perfect detour along the Central Pennsylvania Garden Trail. Their extensive wine selection ranges from simple, approachable wines to complex award-winning wines and includes red, white, blush, and fruit wines, as well as distinctive blends, that range from dry to sweet. For those who like a bit of the bubbly, their line of Mello fruit wines comes in both sparkling and non-sparkling varieties. Wine slushy fans can even enjoy their favorite at home – innovatively packaged in both cans and pouches.
Liberty Forge Arboretum
Mechanicsburg
As you continue to peruse nature's bountiful wonders, visit the Liberty Forge Arboretum, located on the grounds of a golf course. A registered member of the American Public Gardens Association, you'll find over 100 acres of breathtaking views from pristine gardens to impressive collections of trees and plants native to Pennsylvania. Schedule a tour of the Arboretum and pontificate over your favorite plant with lunch at the Wedge. Just make sure you leave enough time to take in all the serenity and beauty this Central Pennsylvania treasure has to offer.
Ashcombe Farm & Greenhouses
Mechanicsburg
Follow the aroma of fresh baked cookies, whoopee pies, breads, muffins, and other tasty treats to reach this highly popular gardening destination – Ashcombe Farm & Greenhouses! Along with a fully stocked greenhouse and nursery brimming with flowers, vegetable plants, herbs, houseplants, trees, and shrubs, as well as the tools of the trade, their on-site bakery will satisfy all your cravings for a sweet treat. Too tired to cook after all your gardening?! Pick up a delicious meal to go from their Country Café!
Worthy detour: After a day filled with garden splendors, a stop at The Millworks (10 Miles/20 minutes from Liberty Forge) is a definite must! With a restaurant, biergarten, art galleries, and artist studios, this unique central PA establishment is a destination unto itself! Along with showcasing the wonderful artistic talents of local artists and artisans, its restaurant and biergarten showcase the region's bountiful harvests, with a menu filled with authentic, local, sustainable foods. It that's not reason enough to visit, their full-service bar features a unique menu of spirits and artisan cocktails, as well as handcrafted beers brewed in their on-site brewery!
Day 2
The Arboretum at Penn State
State College
History and enrichment take center stage and variety is always in season at The Arboretum at Penn State – a destination the entire family can enjoy! Little tykes and not-so-little ones will delight in the Childhood's Gate Children's Garden with its cave and a hidden passage big enough for even grown-ups to pass through, or gain a true sense of the plants that existed at the time of dinosaurs in the Grove of Ancients. Even more botanical wonders await in the several other gardens and groves of this stunning, seven-acre arboretum.
Worthy detour: What better way to end (or begin!) your day on the Garden Trail than with a scoop or two of Arboretum Breeze and a real cow-to-cone experience at the world-renowned Penn State Berkey Creamery (half mile from the Arboretum at Penn State)! Artfully crafted with mint vanilla ice cream, chocolate chips, and raspberry swirl, Arboretum Breeze is just one of the 120 indescribably delicious flavors of ice cream, frozen yogurt, and sherbets made from the milk provided by the university's herd of 200 Holsteins. It's a perfect end to a perfect horticultural adventure in Happy Valley!
Mount Assisi Gardens
Loretto
Though a bit off the beaten track, the Mount Assisi Gardens on the outskirts of Saint Francis University are a must-visit for anyone seeking a bit of peace and tranquility surrounded by nature's wonders. One of the most beautiful gardens in the Alleghenies, enter a seemingly magical world filled with picturesque paths and walkways filled with beautiful flowers, fountains, rock gardens, shrines, and reflection ponds. Walking along the gardens' vine-covered, stone walkway with its massive columns, you just might think you've been transported back to medieval times!
Worthy detour: Not only an engineering marvel, the Horseshoe Curve National Historic Landmark (14 miles/25 minutes from Assisi Gardens) was one of intrigue during World War II, found on a list of key industrial sites the Nazis hoped to destroy. Featuring a 220-degree curve of track, the Horseshoe Curve dramatically reduced travel time through the Allegheny Mountains when it was first completed in 1854, opening the way for railroads to conquer the Allegheny Mountains and connect east and west and fast became a key component of the nation's supply chain. Enjoy the scenic views of this amazing, only in PA site!
Worthy detour: Enjoy a cold one, brewed from the riches of the earth at Coal Country Brewing (6 Miles/10 minutes from Assisi). Their finely crafted beer celebrates and honors the region's rich and storied coal-mining history. You'll find Coal Country's three flagship brews on tap – the Jaggerbush American wheat (brewed with fresh red raspberries), the Rusted Rail honey Kölsch, and the Pick and Shovel German altbier. There is also a rotating selection of seasonal brews, IPAs (American, double, hazy East Coast, etc.), dark beer (such as stouts and porters), a non-alcoholic soda, and a root beer (traditional, birch, and sarsaparilla). And they're all on tap where the beer is always "coaled."
Day 3
The Arboretum at Penn State Mont Alto
Mont Alto
Take a tour of trees from throughout the world as you stroll through The Arboretum at Penn State Mont Alto. The more than 1,000 trees representing close to 175 different species were gathered and planted over the past 115+ years. Organized into eight different groves including Asiatic Species, Flowering Trees and Shrubs, and separate groves dedicated to Maples, Oaks, and Conifers of the World, as well as species unique to various regions of the U.S., be sure to stop by the large Northern Red Oak, native to PA and one of the tallest trees in the arboretum.