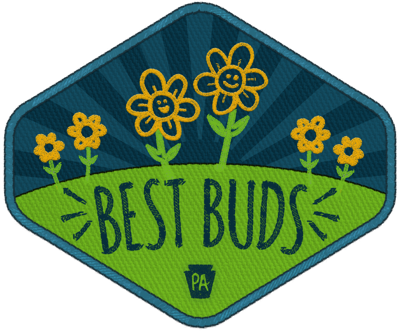 Best Buds Garden Trail: Philadelphia & The Countryside
3 Days - 6 Stops
Southeastern Pennsylvania has long been a destination for those blessed with a "green thumb" and those who simply admire the work of those who do. Explore the region's exquisite gardens – several of which date back decades and some even centuries. You may never want to return home!
Day 1
Andalusia Historic House, Gardens and Arboretum
Bensalem Township
As the locale for the very first meetings of two of today's iconic gardening institutions, i.e., The Garden Club of Philadelphia and The Garden Club of America in the early 1900s, the Andalusia Historic House, Gardens and Arboretum is an essential "pilgrimage" stop for today's gardeners. With stunning views of the Delaware River, two centuries of an ever-evolving garden landscape, and the stately "Big House," a National Historic Landmark and one of the finest examples of Greek Revival architecture in the entire U.S., Andalusia is a destination unto itself! The estate's gardens have recently been reconceived, revamped, and revitalized for another century of garden splendor!
Worthy detour: Enjoy the fruits of the garden transformed into spectacular red, white, specialty, and fruit wines at Rose Bank Winery (20 miles/25 minutes from both Andalusia and Mill Fleurs). Located in the heart of historic Bucks County, the winery is the very definition of rustic elegance. Featuring a circa 1719 manor house and the beautiful and historic Buckman Barn housing the winery's tasting room, you are sure to find your favorite among their estate-produced and bottled, handcrafted wines, refreshed and ready for your next garden adventure!
The Gardens at Mill Fleurs
Point Pleasant
After days spent marveling and admiring the region's formal and historic gardens and arboreta, The Gardens at Mill Fleurs are equally splendiferous, but in their own unique way and a worthy stop on your garden tour! Specializing in "against-the-grain" horticulture, the gardens are 25 years young and showcase the owners' love of unique and interesting plants. With an old grist mill and sawmill side by side on the banks of the sometimes raging Tohickon Creek, their gardens are filled woodland and shade plants -- both native and Asian, hosta, tricyrtis, astilbe, galanthus, anything with a green or black flower, or in their words, "The stranger the better!"
Day 2
Chanticleer Gardens
Wayne
"Chanticleer" – Even its name evokes romance so it is no wonder Chanticleer Gardens is known as one of the most romantic gardens in the nation. Once the Rosengarten estate, it has been transformed into a spectacular, must-visit, colorful, contemporary garden within an historic setting. The gardens are a study of textures and forms, where foliage trumps flowers, and even the drinking fountains are sculptural throughout the 35 acres! From green lawns and vegetable gardens to trails that lead to orchards and wildflower meadows, this "Pleasure Garden" is simply filled with unexpected surprises along its paths. (Please note: If you plan to arrive by car, a parking reservation is required and available two weeks in advance of your visit.)
Worthy detour: Time for a bit of refreshment after a long afternoon on the garden trail? Stop by the award-winning Five Saints Distilling (10 miles/20 minutes from Chanticleer) micro-distillery for a taste of their finely crafted spirits and signature cocktails. Housed in the former horse stables of the historic Humane Fire Engine Co. #1 that dates back to 1888, they use only the best of locally grown ingredients to craft a variety of premium spirits. Bestsellers include their small batch vodka and white whiskey, as well as a number of more adventurous concoctions, such as maple bourbon butter pecan flavored rum. Book a tour of this "grain to glass" distillery to learn more about the history of the building and to enjoy a free tasting, fully refreshed for you next garden trail adventure!
Brandywine River Museum of Art
Chadds Ford
With its stunning Wildflower and Native Plant Gardens and impressive art collections, the Brandywine River Museum of Art personifies the intersection of art and nature and is a worthy stop on any garden tour. Although originally intended to screen parking areas, the gardens have become a key component of the museum's grounds and landscape. Featuring both indigenous and naturalized plants of the greater Brandywine region with each plant displayed in its natural setting of woodland, wetland, flood plain, or meadow, soak up the views that inspired the art of three generations of Wyeths.
Worthy detour: With all the history surrounding many of Pennsylvania's stellar garden sites, there's more history to be found at the 50-acre Brandywine Battlefield Park (1 mile/4 minutes from Brandywine Museum) where almost 250 years ago, the peaceful Quaker farmlands of Brandywine Valley resounded with the sounds of warfare as British and Continental Army troops battled in the largest land engagement of the Revolutionary War. Outmaneuvered by the British, General Washington and his army were defeated on September 11, 1773 and forced to retreat, but with their spirit and morale largely intact. Tour the battlefield's rolling hills and woodlands that are testament to the battle for American independence fought on these grounds and stop in the Visitor Center to learn even more.
Tyler Arboretum
Media
Tucked away in the heart of Delaware County, the 650-acre Tyler Arboretum is one of PA's horticultural gems, filled with exquisite natural beauty and history dating back to 1825 when more than 1,000 plants were systematically planted by the Painter family for their enjoyment and study. Almost 120 years later, the family's last descendant left instructions for the homestead to be turned into a public garden and the John J. Tyler Arboretum was officially founded. Today, you are invited to explore beautiful woodland, seasonally charming meadows, and a lively program of seasonal events and activities – a true delight for nature lovers, birders, botanists, and anyone who wants to discover or rediscover the natural world!
Day 3
Longwood Gardens
Kennett Square
No gardening trip to southeastern PA is complete without a day (or two!) spent at the gardeners' mecca, Longwood Gardens. For more than 115 years, this iconic horticultural destination has harmoniously blended art and science to create an experience of unparalleled splendor. The gardens' 1,100 acres of horticultural magnificence include the grand 1921 Conservatory, an enchanting children's garden, exquisite rose, peony, and other lush, themed gardens, treehouses to climb, open meadows and serene woodlands to explore, spectacular 100+ year-old bonsai trees, and towering fountains – a true delight for all ages and gardeners of every stripe!
Worthy detour: Here's your chance to learn how to make your garden grow using the latest in regenerative organic gardening techniques at the Rodale Institute's (84 miles/1 hour and 32 minutes from Longwood Gardens) 333-acre organic farm. A global leader in regenerative organic cultivation for 70+ years, learn how you can still have a beautiful lawn and garden without the chemical weed killers and pesticides simply by planting flowers that attract your local pollinators, composting, and other techniques that are environmentally friendly. Sign up for one of their workshops for some "hands-on experiential training" and be sure to stop by their Garden Store and Visitor Center. Housed in a historic, one-room schoolhouse, here you'll find a selection of delicious organic food items, how-to gardening books, and some fun merchandise made from organic and eco-conscious materials.