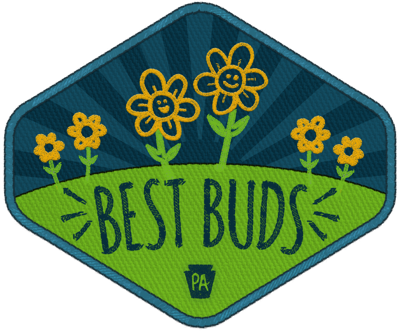 Best Buds Garden Trail: Philadelphia (City)
3 Days - 5 Stops
Southeastern Pennsylvania has long been a destination for those blessed with a "green thumb" and those who simply admire the work of those who do. Explore the region's exquisite gardens – several of which date back decades and some even centuries. You may never want to return home!
Day 1
Bartram's Gardens
Philadelphia
What better place to kick start your garden tour of the greater Philadelphia area than at the 45-acre Bartram's Garden where the region's storied gardening past first took root! As the oldest surviving botanic garden in the U.S. and a National Historic Landmark, many of the trees and plants in its extensive collection of native eastern North America species and exotic plants from throughout the world can trace their origins back to the early 1700s when collected by John Bartram. Among the highlights are a gingko tree and the Franklinia alatamaha tree – both saved from extinction by the garden's founders.
Worthy detour: When it's time for a break before your next garden adventure, the Reading Terminal Market (6 miles/22 minutes from Bartram's Gardens) is a delight-filled stop brimming with amazing restaurants and an incredible selection of locally grown and exotic produce, fresh cut flowers, locally sourced meats and poultry, seafood, cheeses, and scrumptious baked goods. Be sure to stop in the Herbiary – a shop dedicated to the herbal arts with a plethora of herb-based products including soaps, incense, bulk teas, essential oils, tinctures, and ointments, as well as a wonderful selection of books on herbal healing, foraging, and cultivating tips whether starting or expanding your own herb garden.
Morris Arboretum
Philadelphia
Philadelphia is also home to the Morris Arboretum at the University of Pennsylvania – named the Most Stunning University Garden and Arboretum in the world! No wonder Condé Nast Traveler recently named the city among the world's top destinations with the magic going beyond the city's rich history, neighborhoods, and cuisine to its garden gems. The Morris Arboretum is certainly one of them with an incredible 13,000+ labeled living plants from throughout the world, stunning rose gardens, and swan pond. There are fun activities for all ages – from the Squirrel Scramble for younger tykes to the Garden Railway to a bird's eye view of the surrounding landscape at the award-winning, "Out on a Limb – a Tree Adventure." Be sure to check out the Victorian era, glass Fernery – the last of its kind in all of North America.
Day 2
Shofuso Japanese House and Garden
Philadelphia
Next stop is the peace and tranquility of the Shofuso Japanese House and Garden in Philadelphia's West Fairmount Park. While relatively small at just 1.2 acres, the Shofuso's features are extensive and include a traditional, 17th century style Japanese house, pond garden with tiered waterfall, koi pond, 75-year-old weeping cherry tree, and the recently added pebble beach, inspired by Kyoto's Kamo River shoreline. It is easy to see why the Shofuso has been named the third-best Japanese garden in North America and Philadelphia's "Best Hidden Tourist Attraction!"
Worthy detour: Take a break from all the fantastic greenery and horticultural splendor and stroll through a garden of a different kind – Philadelphia's Magic Gardens (5 miles/15 minutes from Shofuso Japanese House and Garden). As noted by Condé Nast Traveler, PMG is "A symphony of mirror fragments, tiles, bike wheels, and glass bottles," crafted by South Street's artist, visionary, and expert mosaicist, Isaiah Zagar. With two indoor galleries and a bi-level outdoor sculpture garden covering a space equal to about half a city block, the Philadelphia's Magic Gardens simply blossom with creativity and you might think just a hint of madness!
The Barnes Arboretum at Saint Joseph's University
Merion
Who knew the Barnes Foundation is far more than just its magnificent art collection?! It is also home to stunning magnolias, peonies, and lilacs, and more than 2,500 varieties of woody and herbaceous plants growing in its arboretum! The pride and joy of Laura Barnes, the famed art collector's wife, the Barnes Arboretum at Saint Joseph's University has 12 acres of beautiful trees and plants to explore, with special exhibits including the "Medical Plant Garden" organized according to each plant's healing property. Home to many rare plants, try to spot the fern-leaf beech, dove tree, monkey-puzzle tree, and a redwood at this quintessential example of early 20th century landscape design.
Day 3
The Highlands Mansion and Gardens
Fort Washington
Your tour of the Philadelphia region's garden gems includes a trip back to the formal gardens of the 1920s and Gatsby's era with a stop at Highlands Mansion and Gardens. While the beautifully restored Georgian mansion dates back to the late 1700s and the original two-acre formal garden to the 1820s with its crenelated stone wall added in 1844, the garden really came into its own in the 1920s. Reminiscent of a formal English garden, the Highlands estate provides a beautiful example of early 20th century estate gardening with a central fountain, statuary, massive stone walls, and even a Hidden Garden!