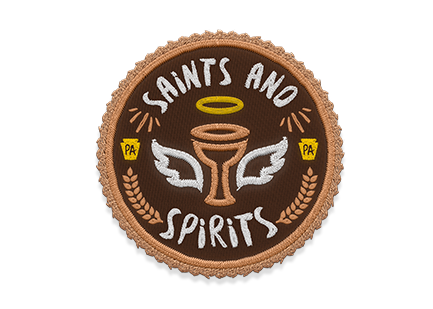 Philadelphia & The Countryside: Trip Itinerary
3 days - 10 Stops
It would be a sin to say any other city in America has more religious history than Philadelphia. Not only is it filled with several "first" churches, but it offers a variety of great breweries, wineries and distilleries you will pray to try. Plus, it's difficult to argue with Ben Franklin, who said, "Beer is proof that God loves us and wants us to be happy."
Day 1
Start your journey with a visit to the reconstructed home of religious freedom proponent and Pennsylvania founder William Penn at Pennsbury Manor. Take part in demonstrations and hands-on activities for a lively and interactive experience of what life was like 300 years ago, or explore the 43-acre country estate, including the gardens and the banks of the Delaware River.

Bryn Athyn Cathedral
A prime example of the Gothic and early Romanesque styles that dominated architectural design when the building was erected in the early 20th century, the Bryn Athyn Cathedral sits atop a hill overlooking the Pennypack Creek Valley and has been the central place of worship for the Bryn Athyn Church since its dedication in 1919. The church and its members welcome all guests to visit the Cathedral for tours, worship services and special events.

Dad's Hat Distilling
Quench your thirst with a 200 year-old American tradition. Dad's Hat Rye® uses locally-sourced ingredients to distill their famous whiskey. Head to the distillery to see what goes into making this traditional spirit, then enjoy their delicious Pennsylvania whiskey.
Day 2
Historic Christ Church
Start Day 2 of your road trip with a glimpse of America's religious history. Christ Church, founded in 1695, was the first parish of the Church of England in Pennsylvania and later became famous for the Revolutionary-era leaders who worshiped there. Tour the church's burial ground, which has earned the distinction of one of America's most interesting Colonial and Revolution-era graveyards. In fact, it's the final resting place of many leaders including Benjamin Franklin and four others.

Arch Street Meeting House
Step inside this 19th century Quaker meetinghouse and explore dioramas, displays of Quaker artifacts and rotating special exhibits celebrating the contributions of the Society of Friends. Built on a burial ground originally deeded by William Penn in 1701, the meetinghouse is active to this day and home to the Monthly Meeting of Friends of Philadelphia and Philadelphia Yearly Meeting of the Religious Society of Friends.

Catholic Shrine Tour by Philadelphia Trolley Works
There is no better way to explore Philadelphia's most treasured shrines and learn about the lives of Saints than by taking a Catholic Shrine Tour of Philadelphia. This unique, limited-time experience includes visits to the shrines of St. Rita of Cascia, St. John Neumann, Miraculous Medal and St. Katharine Drexel, a docent tour at each of the shrines and a box lunch of your choice.

Rowhouse Spirits
A visit to Rowhouse Spirits gives visitors a first-hand look at the evolution of the modern American craft movement – from craft beer to craft spirits. Rowhouse owner Dean Browne works out of a tiny shed on the property of Philadelphia Brewing Company, where he worked for years as a brewer. Tour the 1,200 square foot space and taste small-batch gin and other herbal spirits.
Day 3
Visitors interested in Jewish history won't want to miss the first dedicated Rodeph Shalom sanctuary, built in 1871 on its current site at Broad and Mount Vernon streets in Philadelphia. The building was designed by Frank Furness, considered the most exciting Philadelphia architect of his time, and inspired by the great Synagogue of Florence, Italy. To this day, the temple is one of few in the United States that retains its distinctive Moorish-Byzantine style.

Mother Bethel A.M.E. Church
Located in the heart of Philadelphia, the Mother Bethel African Methodist Episcopal Church proudly serves as the mother church of the nation's first black denomination and rests upon the oldest parcel of land continuously owned by African-Americans. Visitors to the National Historic Landmark can tour a museum with original artifacts and exhibits from the church's beginnings in 1787.

Yards Brewing Company
Raise a glass at Pennsylvania's first 100 percent wind-powered brewery. Yards has been brewing their Philadelphia Pale Ale, Extra Special Ale, India Pale Ale, Thomas Jefferson Tavern Ale and General Washington Tavern Porter since 1995, and offers tours of their environmentally sustainable brewery along the Delaware River.