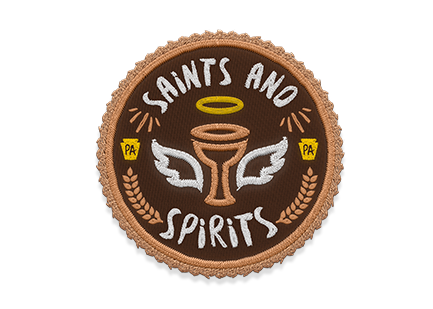 Pittsburgh & Its Countryside: Trip Itinerary
2 days - 10 Stops
The City of Champions is home to a cadre of magnificent churches and interesting cemeteries to explore. During your pilgrimage in Pittsburgh, we recommend a pit stop at a few of the fine breweries, wineries and distilleries. Explore the non-traditional at the Andy Warhol gravesite, Old Economy Village and Maggie's Farm Rum Distillery.
Day 1
Begin your trip at Old Economy Village, a 19th-century historic settlement that pays tribute to a communal group known as the Harmony Society. Originally organized in Germany by George Rapp, the society found its residence in Beaver County and built the village to include 14 harmonist buildings and structures, a post office, warehouse, graveyard, and a large garden complete with a statue and stone grotto for meditation. 

Pittsburgh Winery 
Your next stop is about 30 minutes away at the Pittsburgh Winery, a boutique urban gem just blocks from the shores of the Allegheny River. The founder began making wine as a hobby with his friends and has since mastered the art of producing small batches the old-fashioned way. Since urban wineries do not operate their own vineyard, visitors have an opportunity to experience grapes from all over the world. Enjoy a wine tasting for $10 per person. 

Wigle Whiskey 
Make the switch from wine to spirits at Wigle Whiskey, home of America's most awarded craft whiskey. Learn how organic, local grains are turned into whiskey, gin and rum all while sipping on a cocktail. If you prefer tasting over learning, enjoy a tour of the Barrelhouse to get a special sample of some products in the making. 

Maggie's Farm Distilling 
More of a rum drinker? Visit Maggie's Farm Distilling to see products distilled from scratch in the copper pot still. In fact, they're the maker of Pennsylvania's first commercially available craft rum. Visitors can shop for bottles Wednesday through Sunday and even get a taste during cocktail hours on Friday and Saturday. 

Allegheny Cemetery 
End your day with a historic tour of Allegheny Cemetery, a National Historic Landmark with 300 acres of stunning landscape. Call ahead to schedule a guided tour to the grave sites of many notable community figures, including: Stephen Foster, Lillian Russell, Rosey Rowswell, Josh Gibson, Charles Avery, Harry Kendall Thaw (Girl in the Red Velvet Swing), famous military figures and prominent Pittsburgh families.
Day 2
Start off your second day with a trip to the Cathedral of Learning, a Gothic Revival tower looming over the University of Pittsburgh. The building was constructed to be more than just a schoolhouse; it was to be a symbol of the life and spirit of Pittsburgh. A decades-old tale asserts the Early American Room is haunted, with furniture moving on its own, the smell of fresh bread baking in the brick fireplace (which hasn't been used since the 1940s), and cold spots are common experiences. 
Learn more about Rodef Shalom's 150-year history of service to the Jewish community in western Pennsylvania by visiting its current location at Fifth and Morewood streets. The Rodef Shalom Biblical Botanical Garden, established in 1987, is the largest such garden in North America. Sitting on a third of an acre, the garden is the only one of its kind to feature an ongoing program of research and publication. 
Heinz Memorial Chapel 
Nearby, soak in Pittsburgh's unmistakable architecture with a visit to Heinz Memorial Chapel, a nondenominational chapel given by the H.J. Heinz family to the University of Pittsburgh. This neo-Gothic building showcases the early 1900s style of stone vaults, high ceilings, repeated arches and extensive use of glass. 
Continue along your trip with a stop at R Wine Cellar, located in the historic Pittsburgh Strip District and established to produce distinctive handcrafted spirits. Enjoy a free tasting and see first-hand how carefully blended, very approachable wines are made onsite. 
Calvary Cemetery 
Get another taste of history when you visit Calvary Cemetery, the final resting place of several prominent Pittsburghers including former mayors Bob O'Connor, Richard Caliguiri and David Lawrence, several baseball players and Harry Stuhldreher, one of Notre Dame's "Four Horsemen."