Charcuterie Destinations Throughout Western PA
13 stops
Charcuterie Destinations Throughout Western PA
3 Days - 13 Stops
Elk Country Visitor Center
950 Winslow Hill Rd, Benezette, PA 15821
This cluster of stops begins by emphasizing the wild woods in North Central Pennsylvania. Start by visiting Elk Country Visitor Center (1) in Benezette. This stunning building is near the largest herd of elk in the northeastern US and has an impressive 4-D presentation about elk in Pennsylvania, interesting interactive exhibits, and live forest cameras. It's a great place for young and old alike. The Center also has a number of decks for elk viewing and trails if you want to go for a walk. The gift shop has a selection of elk jerky, elk pepperoni, and other elk related items. There are picnic tables outside at the Elk Center, if you want to sit outside and enjoy your snacks. During nice weather, horse drawn wagons take visitors through the countryside to try to spot some elk. To increase your chances of spotting elk, visit between Labor Day to Columbus Day (their mating season) in early morning or dusk. 
Straub Brewery
303 Sorg St, St Mary's, PA 15857
Next, drive north to St. Mary's and the Straub Brewery (2). The founder, Peter Straub, began brewing in St. Mary's in 1872. He was a cooper and made his barrels out of wood, putting a red stripe around the center of each barrel so that people would know which beer was his and would return the barrels to him when finished. The brewery is still owned by Peter Straub's descendants. The Straub Brewery has a taproom that offers a cheese plate that includes local Andouille, Metwurst (cured, smoked German pork sausage), and smoked beef sausage, as well as almonds, smoked cheese, and house-made pickled vegetables. In warm weather, outdoor seating is plentiful.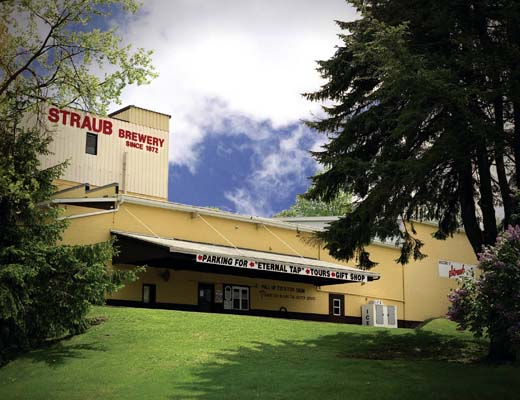 Jack Bell's Meat & Poultry
401 N Fraley Street, Kane, PA 16735
Now you're off to Jack Bell's Meat & Poultry (3) in the small town of Kane. This small-town market offers up to thirty-five kinds of sausage, including Portuguese, Spanish, and Greek. They also have some Swedish items reflecting the town's Swedish heritage, including Swedish crackers and a sausage called korv, which is made from potatoes, beef, pork, and allspice. Bell's is known for their beef logs, which are spicy, smoked rounds of a salami-like cooked and cured sausage. 
Elk County Elk Farm & Foxburg Inn Hotel
27821 Lake City Rd, Ridgeway, PA 15853
20 Main St, Foxburg, PA 16036
Stop for a quick visit to the Elk County Elk Farm (4) in Ridgway, the only working elk farm in Elk County, for some elk jerky and frozen elk meat (get out your coolers again) before heading down to the Foxburg Inn Hotel (5) for the night. Sitting along the Allegheny River, this serene hotel is in a town that takes its name from the prominent Fox family of Philadelphia, former owners of the land upon which the town was built. They were descendants of George Fox, the founder of the Quaker religion. 
Wendell August Forge
2074 Leesburg Grove City Rd, Mercer, PA 16137
The next morning, the flagship store of Wendell August Forge (6) founded by coal mine owner Wendell McMinn August is your next destination. Wendell August Forge, located in the town of Mercer, is America's oldest and largest forge, a place where objects are made by heating and shaping metal. The items sold here are still hand-forged and you can pick up gorgeous boards and trays, as well as serving tools for your charcuterie.

Con Yeager Spice Company
215 E Main St, Evans City, PA 16033
Drive on down Interstate 79 to Con Yeager Spice Company (7) in the charming town of Zelienople. Around since the 1890s, Con Yeager started in Pittsburgh where many slaughterhouses were once located due to the large number of trains that came into the city from cattle lots out west. Once the slaughterhouses closed and rent went up in Pittsburgh, the company moved north. This small store is packed with everything one needs to make sausage, pepperoni, salami, different styles of bologna, and more. They even carry a high temperature cheese; in case you want to serve some cheese with your pepperoni or beef sticks. If you have any hunting questions, the staff and customers here are always happy to share their knowledge about where the best deer graze ("potato deer" from deer at the potato farm down the road) or which local butcher does the best processing. 
Herb Brittner's Smoke House Radiator Shop
150 Magill Road, Zelienople, PA 16063
A mile or so away, turn where you see "Herb Brittner's Smoke House Radiator Shop" (8) in big white letters on the side of the red barn. Since the 1940s, the Brittner family has been making some of the best cured and hickory smoked meats around. Local favorites include "el scorcho" beef stick, German bologna, spicy beef jerky, Cumberland bologna, and smoked cheese. Brittner's beef jerky was once named Grand champion at the American Cured Meat Championships. 
Winfield Wines
1026 Winfield Rd, Cabot, PA 16023
Next it's time for a little R&R at Winfield Wines (9). You will pull into a private driveway and enter through the basement. It's part of the charm. Sample some of the Pennsylvania Farm Show award-winning wines, buy a bottle of your favorite, and sit out at the tables on their back patio. Sometimes in nice weather, there is even a band. As an added perk, owner John Richuito makes his own soppressata and smokes cheese, so if you sit down a bit to relax, he will deliver a complimentary plate of his charcuterie to you. John and his wife Linda are happy to talk wine or anything else with you if you are feeling chatty. 
Moe's Smoked Meats and Deli
709 Ekastown Rd, Sarver, PA 16055
201 Winsome Ln, Cabot, PA 16023
After a relaxing hour or two at Winfield Wines, it's a short drive to Moe's Smoked Meats and Deli (10) in the small town of Sarver for some smoked braunschweiger and smoked ham salad. Their smoked gouda with bacon and ring bologna is wonderful too. If you call ahead, Moe's can make a meat and cheese tray for you to take with you. The 1968 vintage Serro Scotty Camper allows you to sleep out in the woods in this adorable old camper. Whispering Pines also has glamping tents, if that is more your style. 
Schnur's Country Market
252 Bonniebrook Rd, Butler, PA 16002
The next morning drive over to Schnur's Country Market (11) to see the large stuffed buffalo head on the wall and to buy some jerky, beef sticks and buffalo sausage. This organic farm started as a dairy farm, but eventually transitioned to a meat market. They no longer have buffalo on the farm, but they still have buffalo meat and sausage for sale, along with ring bologna and other accompaniments. Some farm animals are always strolling around, including a chicken or two. 
Stello Foods
551 E Mahoning St, Punxsutawney, PA 15767
Head east on Route 422, winding your way back to Interstate 80, to the home of Groundhog Day, Punxsutawney, and Stello Foods (12). All perfectly designed charcuterie trays need some pickled items to cut the dense texture and creamy mouthfeel of most cured meats, and Stello is the place to go for all of the charcuterie accompaniments, such as Pennsylvania-made mustards, pickled vegetables, tomato jam, and caponata. They also sell their own beef sticks, if you need more of them! 
Laurel Mountain Winery
1754 Old Grade Rd, Falls Creek, PA 15840
Last stop before the Interstate and your trip home is Laurel Mountain Winery (13) for Smoke Shack meats and Pepperoni Man pepperoni. Small home businesses in this wooded area make some of the most delicious cured meat products around, and they're smoked over real wood without using any sprays to infuse a smokey taste. The real deal. Before you leave, pick up a bottle of wine to drink once you get home with your treasures.
Explore our other regions
Select a region to view an itinerary