Pennsylvania Wilds, The Alleghenies & Valleys of the Susquehanna
15 stops
Pennsylvania Wilds, The Alleghenies & Valleys of the Susquehanna
3 Days - 15 Stops
Rolling Hills Deer Farm
63 Pinnacle Drive, Catawissa, PA 17820
Travelers on this cluster might as well dive right in, starting with Pennsylvania's state animal, the white-tailed deer. A stop at the Rolling Hills Deer Farm (1), a short drive south from Interstate 80 near Danville, is a treat for all family members. Pennsylvania's deer hunting heritage and its 1.3 million licensed registered deer hunters makes a visit to a deer farm not only fun but important for understanding Pennsylvania's terrain and people. Tour the farm on a hayride where you can feed apples to the deer out in the field and then visit the farm store, which has a large array of deer-related gifts, deer jerky, bologna, snack sticks, and more. This is a great introduction to venison and the wide variety of unique charcuterie products Pennsylvania has to offer. 
W. A. Rothermel Meats
156 Rushtown Road, Danville, PA 17821
A few miles down the road, W. A. Rothermel Meats (2) is a classic example of an old-school meat market. Try their bologna and smoked sausage, and if you are lucky enough to be there during hunting season, you might get to watch owner Skip processing a deer. To check on the times of deer hunting season, go to the PA Game Commission Website at pgc.pa.gov. If you're in the area on a Wednesday, you can find the folks from Rothermel Meats at the year-round Lewisburg Farmers Market, which is also a fantastically fun display of locally produced meat products, produce, jams and jellies, cheese, and homemade fabric items, such as table runners and placemats. Perfect accompaniments for your charcuterie board! 
Edelholtz Woodworking
3169 Point Township Drive, Northumberland, PA 17857
All charcuterie trays need a beautiful serving piece to display the savory treats, and Edelholz Woodworking (3) in the serene Susquehanna River Valley provides the perfect stop. All the wood is from Pennsylvania hardwood trees, and items are made by Amish woodworkers. Owner Dick Cormell is usually on hand to explain the history of his gorgeous, hand-made products. The cutting boards and charcuterie boards can be imprinted with college logos or family names, too. The old, restored barn that houses Edelholz also includes a treasure trove of antiques, quilts, and locally made canned foods and jams. It's the perfect place for stretching your legs before the drive ahead. Make sure to check out Annie's Quilts on the second floor for delicious homemade pickles, chow-chow, and baked goods, along with her beautiful handmade fabric items such as oven mitts, scented hot pads, and quilts. If you're lucky, Annie will be there, stitching away on her pedal-driven sewing machine.
Hilsher's General Store
5254 S Susquehanna Trail, Port Trevorton, PA 17864
If you're already thinking that you want to make some charcuterie on your own, then a stop at Hilsher's General Store (4) is in order. This community market in Port Trevorton has butchering supplies, seasoning packets for salami, sausage, jerky, and bologna, as well as casings and cure mixes. They also have delicious house-made baked goods for a little sweetness to mix with the savoriness of this trip. It's a true general store. 
North Mountain Pastures
201 Cold Storage Rd, Newport, PA 17074
The next stop is North Mountain Pastures (5), a family-owned business in Perry County that raises pastured, non-GMO meat on an idyllic, 84-acre farm. Since 2007, Brooks Miller and Anna Santini have been producing their meats and sausages as part of a CSA, but they also have a small retail store on site that sells nitrate-free meats cured with Himalayan sea salt. It's a true breath of fresh air in the countryside of Pennsylvania. Brooks is an expert at butchering, so call ahead to make sure he is there and ask all of your butchering and curing questions. A few times per year, Brooks participates in butchering and curing workshops with fellow part-time butcher (and physician) Jim Chlebowski, and he is happy to share his knowledge if you already have the itch to make some of your own products. 
Driving westward, the fertile Juniata River Valley is long and narrow. Through the 1850s, wheat was the main cash crop, but raising livestock was also a common part of farm life. This area near the Tuscarora Mountains was inhabited by traders as early as 1740, but it wasn't until later that the Scots-Irish decided to stay. Many of them were cattle farmers who benefitted from the nutrient-rich land there. As you drive along through the lush green valleys, look for the family-owned dairy cattle farms still in existence. Keep your eyes open for the Pennsylvania Barn, a unique style of barn that is set into the bank of a hillside with a large fore-bay and stables on the ground level. A few smokehouses still sit back from the farmhouses too. Most of these look like outhouses with smokestacks. The smokehouses were more common where pork was the meat of choice. Back in the day, both men and women tended the smokehouse, and it was also a place for community members to gather to catch up on gossip while their meat was smoking. 
Benner's Meat Market & Juniata Winery 
56 Platt Hollow Rd, Thompsontown, PA 17094
19175 PA-35, Mifflin, PA 17058
The food in this area reflects Pennsylvania German, Scots-Irish, and Eastern European influences. In particular, this can be witnessed at Benner's Meat Market (6)'s long meat case where locals go when they need honey-pickle-cheese bologna, garlic ring bologna, scrapple, kielbasa, chorizo, or smoked cheese. Benner's is busy, with a line often forming outside the door. That's how good it is. After packing your cooler with goodies, it's a drive through small towns and by bubbling brooks and dense wooded areas to the Juniata Winery and B&B (7), a nineteenth century manor home. The meandering Juniata River is nearby, and it's the perfect place for a picnic with your savory treats followed by a relaxing hike. Sample the award winning wines at the Juniata Winery and spend the night before your next day of travel.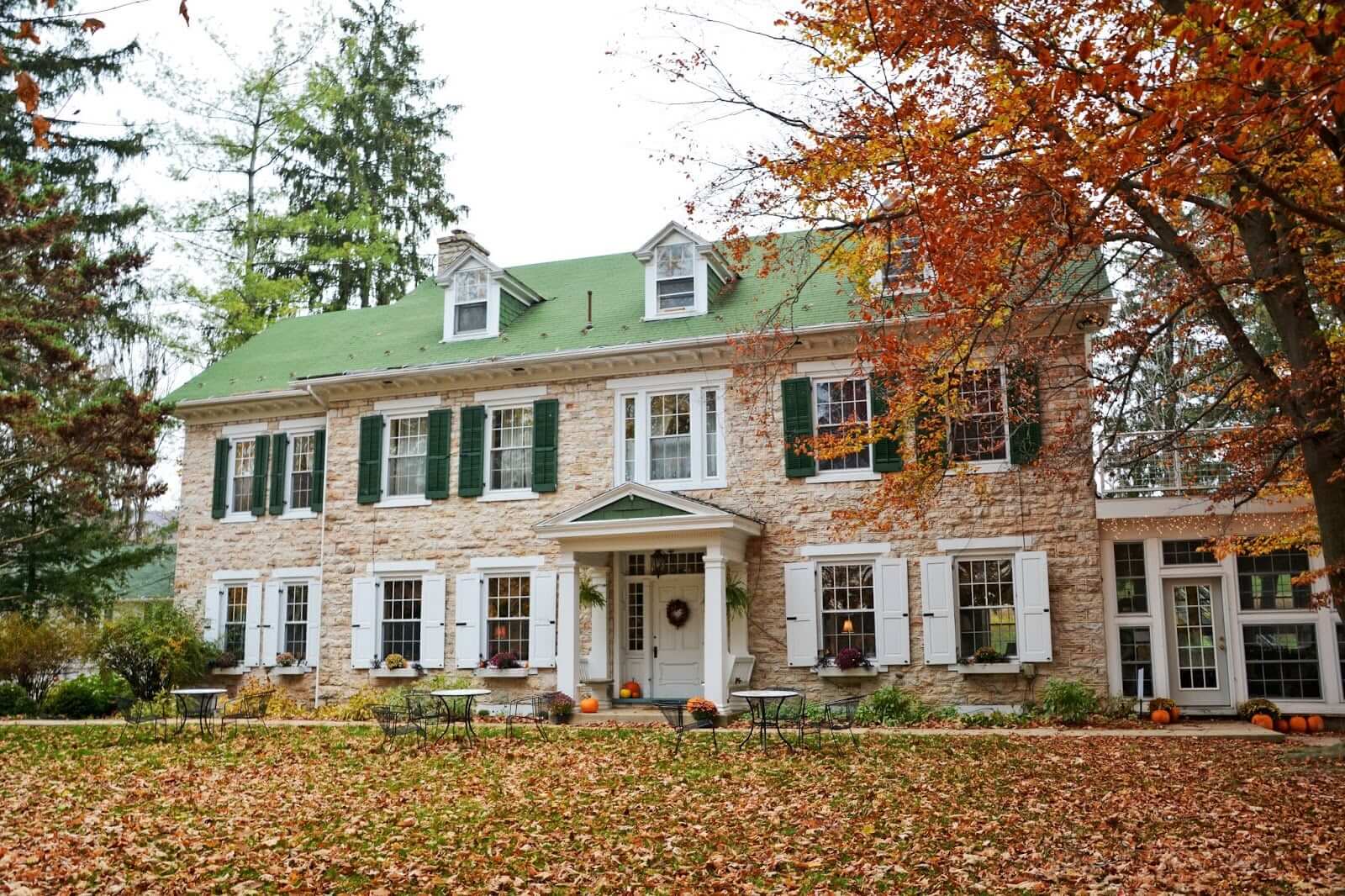 The next morning take the backroads to Pennsylvania's Big Valley. Also known as Kishacoquillas Valley after an eighteenth-century Native American chief, this enclosed anticlinal valley (the river valleys formed along the arched portion of the hillside) is especially breathtaking after a thunderstorm where rainbows pop up all over the place. 
Peachey's Food & Ice
85 S Penn Street, Belleville, PA 17004
The Amish settled in this area in 1791, which makes it the third-oldest American settlement in existence. It's "one of the most diverse expressions of Anabaptist-Mennonite culture anywhere in North America" according to John A. Hostetler, a sociologist and scholar of the Amish. The Amish-run Peachey's Food & Ice (8) is where locals take their animals for processing into custom bologna. Visitors can also purchase Peachey's own hickory-smoked ring bologna, trail bologna snack sticks, and more. Peachey's also sells block and chipped ice to their Amish customers who don't use electricity to keep things cold, which is interesting to anyone who has never been without a refrigerator and freezer and essential for storing your own cured meats in the trunk of your car.
Belleville Livestock Market
26 Sale Barn Ln, Belleville, PA 17004
Try to plan your trip to Belleville for a Wednesday, so that you can experience the auction at the Belleville Livestock Market (9). It's a real taste of the Big Valley. Visitors can stroll around the animal auctions and see everything from chickens to cattle, then purchase baked goods, ice cream, and other flea market items.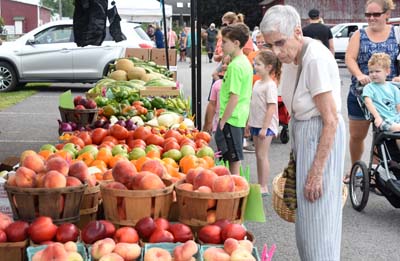 Berkey Creamery
119 Rodney A. Erickson Food Science Building, University Park, PA 16802
After a morning at the auction, hop in the car for a breath-taking mountain-top drive through Rothrock State Forest to the sprawling main campus of The Pennsylvania State University, the first agricultural university in the United States. A visit to the Berkey Creamery (10) for their ice cream is a must for every visitor, but their Sweet Bologna is a hidden treasure to the right of the ice cream line by the cheese cooler. Many describe it as smoky, tangy, slightly sweet, and a bit spicy. It's unlike any other type of cured meat. The Creamery, established in 1889, uses the on-campus herd for their dairy products and meat from the school's animal science program for the processed meat products. There are umbrella-covered tables outside for enjoying sweet and savory treats. A walk around the historic campus is always in order, but especially after loading your belly with bologna, cheese, and ice cream. 
Meats Lab
Porter Rd, State College, PA 16801
Also, on Penn State's campus, the 16,000-square-foot Meats Lab (11) is equipped for conducting livestock slaughter, meat cutting and processing, teaching, and research. Get to the Meat Lab on a Friday during the Spring and Fall semesters when it is open to the public for purchasing student-made products such as smoked ham, kielbasa, cottage bacon (round bacon made from pork shoulder that tastes like ham), snack sticks, and more. 
Hogs Galore
330 Enterprise Dr, Philipsburg, PA 16866
A short drive down scenic Route 322 past the town of Waddle is Hogs Galore (12), a family-owned pork producer that manages everything from the feed that the animals eat through to the seasonings in their products. Have a late lunch or take a barbecue smoked beef sandwich to go, but don't forget to purchase some of their fresh kielbasa for your cooler. It's more like breakfast sausage than smoked and dried kielbasa and is a real treat. This stuff isn't pre-cooked like the smoked version, so don't take a bite without heating properly and keep it cold (maybe with that ice from Peachey's) until you get home. 
Black Moshannon Lodge
562 Black Moshannon Rd, Philipsburg, PA 16866
Perfect for families, an overnight stay at the 2,000-square-foot Black Moshannon Lodge (13) will rejuvenate even the weariest of meat adventurers. It has a hot tub on an expansive deck that overlooks the mountains and lots of space for lounging around. 
Country Butcher
8791 Shiloh Rd, Woodland, PA 16881
The next morning, sleep in a bit and then wander around the park or take a kayak out for an hour before the last 2 stops on this charcuterie cluster. The thirty-minute drive to Country Butcher (14) is worth it for the smoked meats and jerky. They even make their own barbecue sauces, which are terrific for barbecuing or dipping. If you're hanging around the area for a few hours, Country Butcher even rents grills so that you can enjoy the mountains and the smell of sizzling smoked sausage at the same time.
Santinceto's Market
304 N 3rd S, Clearfield, PA 16830
About 15 minutes away is Santinceto's Market (15) where you can end the trip with capicola, salami, soppressata, and pepperoni—a reminder of the large numbers of Italian immigrants that came to the area to work in the rolling mills. With your stomach full and cooler packed, hop back onto Interstate 80 for your drive home.
Explore our other regions
Select a region to view an itinerary