Pittsburgh & Laurel Highlands Charcuterie Destinations
12 stops
Pittsburgh & Laurel Highlands Charcuterie Destinations
2 Days - 12 Stops
Parma Sausage Products
1734 Penn Ave, Pittsburgh, PA 15222
This Pittsburgh & Laurel Highlands trail is based in Western Pennsylvania and focuses more on the Italian and Eastern European immigrants and their food than wild meats. We start in Pittsburgh's Strip District, where wholesalers and retailers set up shop in the late 1800s and are still going strong today. In March 1895, a wholesale and retail meat market was opened at 64 Grant Street in downtown Pittsburgh. The shop eventually moved to Penn Avenue in the Strip District. Owned by Giovanni Pasquinelli, the store also sold house-made dried sausage products. In 1896, Giovanni cured the first Italian Ham (prosciutto) in the United States. Although Mr. Pasquinelli's business no longer exists, another business, Parma Sausage Products (1), founded in 1954, continues to make excellent cured Italian meats on the same street as where the original US prosciutto was cured. At Parma, company president Rina Edwards oversees production that her father Luigi Spinabelli started decades ago. Try their salami, coppa, and prosciutto. If you're feeling more adventurous, buy a fatty, pork cotechino sausage to take home. Legend has it that if you boil this sausage with lentils on New Year's Day, you will have luck throughout the year. 
Fort Pitt Trading Co.
108 19th St, Pittsburgh, PA 15222
Across bustling Penn Avenue and down a side street is Fort Pitt Trading Co. (2), the perfect place for purchasing a gorgeous charcuterie board for your Calabrian meats from Parma. Jonathan and his wife Mindy own the custom-woodworking furniture and home goods business where you can buy artfully designed gifts such as bowls, trays, and boards for your home or friends. They use reclaimed and sustainably sourced wood and the shop is beautiful. 
Pennsylvania Market
108 19th St, Pittsburgh, PA 15222
By now, hunger should be taking over, so literally step over and up from Jonathan Moran to the second floor of the Pennsylvania Market (3) where there is a choice of kitchen stations, including a charcuterie area. The charcuterie boards are yummy, and the lox baguette is a real treat too. In nice weather, there is an outdoor courtyard for sipping your choice from the Wine Library and eating your cured delectables. The space hosts wine events, food and wine pairing workshops, and Spanish tapas classes. If there is a charcuterie-resistant traveling companion, the pizza stand there is also top-notch. 
S&D Polish Deli
2204 Penn Avenue, Pittsburgh, PA  15220
Stroll a few blocks down Penn Avenue to S&D Polish Deli (4), where you can find all sorts of Polish deli meats, smoked sausages, pates, and blood sausage. The meats can be purchased for eating later, or you can order from their lunch menu for a meal to go. S & D has some unique items such as white borsch with kielbasa, so make sure to read the entire menu before you order.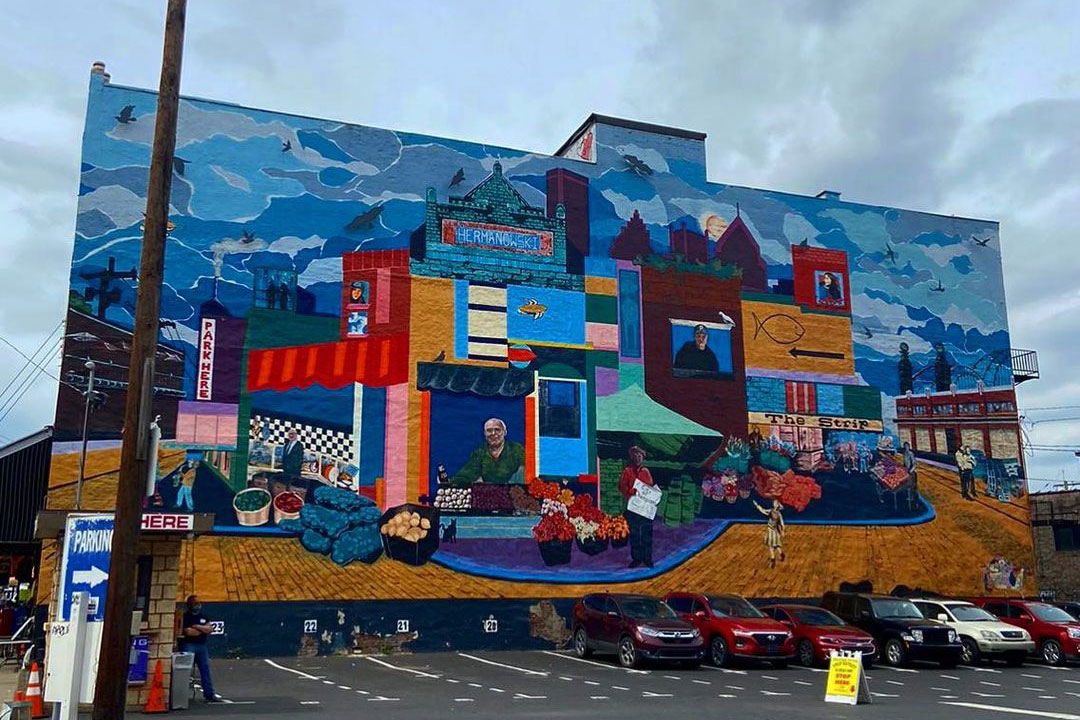 Silver Star Meats
1720 Middletown Rd, McKees Rocks, PA 15136
Next, a drive on Route 376 to the town of McKees Rocks takes you to the processing facility and retail store for Silver Star Meats (5). They're known in these parts for their cured hams. However, over the past few decades, President and CEO Robert Germony noticed that small local kielbasa makers and bacon curers like Mission Street Market in the South Side and Alfery's in Mt Pleasant were closing their doors. These markets had a diverse range of recipes with loyal followings. Germony worked with these small markets as they were closing to reproduce their recipes to keep these meaningful traditions alive. The Mission Street Kielbasa, for example, is said to be best eaten with cooked beets, either plain or pickled, or mixed with horseradish. Silver Star sells other accompaniments such as spicy Polish mustard, too. Germony recommends using the leftovers to make a Polish soup called zurek, which includes root veggies, cooked eggs, horseradish, and bits of leftover smoked meat. When at Silver Star, see if Mr. Germony is around and learn about his mission at Silver Star to preserve the food memories of the Polish families in the Pittsburgh area. 
The Pittsburgh Spice and Seasoning Company
1235 Clairhaven St, Pittsburgh, PA 15205
Up the winding hills to the suburb of Crafton and an old, repurposed school is The Pittsburgh Spice and Seasoning Company (6). Here you can purchase all of your sausage, pepperoni, or jerky-making supplies. They carry casings, and all sorts of seasonings for every cured meat you can think of. You can watch employees packing spices in the old classroom across the hall from the shop. Ring the buzzer to get in and don't be intimidated by the location, which is smack in the middle of a residential neighborhood. 
Las Palmas Carniceria
700 Brookline Blvd, Pittsburgh, PA 15226
Then it's on to Las Palmas Carniceria (7), a Mexican grocery in the hilly South Hills neighborhood of Brookline. Walk to the back of the store to the meat counter and buy up lots of their house-made chorizo. It's delicious. Las Palmas offers both Spanish and Mexican-style chorizo. Mexican chorizo is a spicy, fresh sausage that has to be cooked before eating, while Spanish chorizo is dried. Their street-level outdoor taco stand sells many different types of tacos, including pork and pineapple. 
LeoGreta
301 West Main St, Carnegie, PA 15106
Wind around back to Route 376 to get to the town of Carnegie, where LeoGreta (8) is your stop for dinner. The menu has a delicious antipasto platter that includes house-made mortadella, prosciutto, olives, roasted peppers, and house-pickled vegetables. An after-dinner walk around the town is essential for gazing at the beautiful onion-shaped domes of a few Ukrainian Orthodox churches that are still in the area. The last Ukrainian food store closed its doors a few years ago and many of those with Ukrainian heritage have moved away, but the glistening church domes remain. 
Hungarian Smokehouse
534 N Eighty Eight Rd, Carmichaels, PA 15320
From Marianna, drive south into Greene County to the Hungarian Smokehouse (9). They carry at least seven types of jerky, three types of beef sticks, kielbasa, and other meat specialties, as well as pickled eggs, pickled vegetables, and smoked cheese. The Hungarian Smokehouse can also process a hunter's deer into pepperoni, meat sticks, bologna, hot dogs, and salami. 
Stone House Butcher and Provisions
3023 National Pike, Farmington, PA 15437
Drive east to Route 40 (also called The National Road) into the Laurel Mountains to the Stone House Butcher and Provisions (10). Opened in 1822, the Stone House was one of the original inns along the National Road. The National Road was the first federally funded road and was built between 1811 and 1834 to connect Cumberland Maryland to the Ohio River. Many of the guests stopped here to enjoy the rejuvenating waters of nearby Fayette Springs. Today, the Stone House complex includes an inn, a restaurant, a butcher shop, and a barbecue hut. They cure smoked hams and sausages and make terrific barbecue sauces and rubs. The Butcher Shop also hosts hands-on classes but check the website before you go. 
Rockwell's & Polymath Park
1001 Lafayette Dr, Farmington, PA 15437
187 Evergreen Ln, Acme, PA 15610
After you're finished at the Stone House, keep driving up the mountain (keep your eyes open for the stunning viewing area on the right) and turn left into Nemacolin. This lush and expansive property was founded in the late 1940s when Pittsburgh industrialist Willard F. Rockwell purchased sixty acres on top of Summit Mountain on the Chestnut Ridge. He eventually added more land, built a summer home, and added a hunting and fishing area. By the end of the 1960s, the area had become the Nemacolin Trail Hunting Game Reserves, where the Rockwell's invited friends and business associates to hunt and fish. Silver fox, white-tailed deer, quail, and a number of other wild game naturally roamed the area. Elaborate, second homes of the elite were built here and eventually sold and turned into Nemacolin. Today, there are all sorts of activities to keep every family member busy, and there are multiple food choices for all tastes. At Rockwell's (11) restaurant on the property, the "Laurel Highlands Board" and "Pennsylvania Trout Two Ways" (including smoked trout and trout roe) are first-course highlights on the dinner menu. Make sure you walk around the picturesque grounds before you drive off to your overnight stay at Polymath Park (12), where you can stay in one of four lovingly restored homes designed by Frank Lloyd Wright and his proteges. Guests aren't allowed to cook in the homes, but luckily your coppa, prosciutto, and kielbasa are already cooked and ready for eating! Polymath Park is very close to the Pennsylvania Turnpike, so the next morning you can be on your way back home once you've enjoyed the Usonian comfort of the Frank Lloyd Wright homes.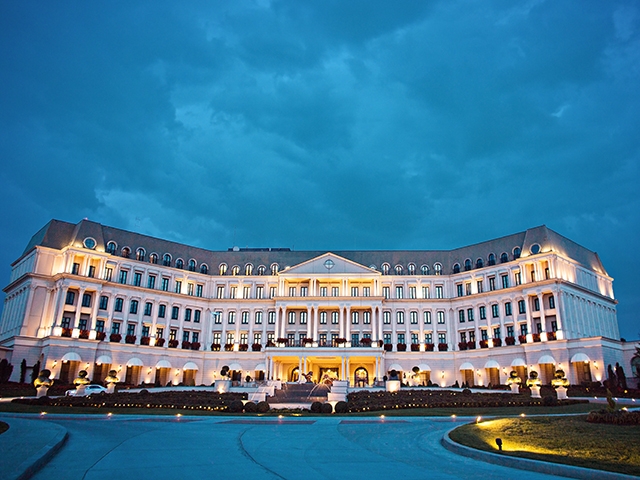 Explore our other regions
Select a region to view an itinerary