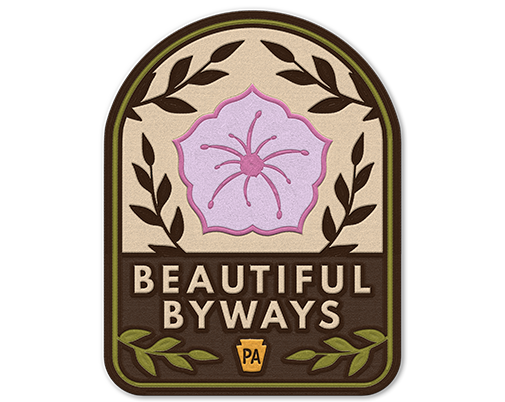 Brandywine Valley Scenic Byway: Philadelphia & The Countryside
3 Days – 19 Stops
Discover our nation's history and ride along 25 miles worth of historical roads on the Brandywine Valley Scenic Byway. Drive along route 52 as you explore artwork, local cuisine, and the past diving into the commerce, agriculture, and creativity of the surrounding area. From Chadds Ford to Kennett Square to West Chester, experience the unique charm and character this byway brings
Day 1
Brandywine River Museum of Art
Chadds Ford
A great way to start your journey on the Brandywine Valley Scenic Byway is to explore the one and only Brandywine River Museum of Art. Mostly known for housing the tremendous works of art from the Wyeth Family, the gallery walls are also filled with nineteenth- and twentieth- century landscape paintings, important portraits, still life paintings, and notable holdings in American illustration.
Millstone Café
Chadds Ford
Admiring works of art can make you work up an appetite, so be sure to stop at the Brandywine River Museum's Millstone Café for a menu filled with seasonally inspired and fresh made-to-order and "grab and go" options before exploring more of Chadds Ford and Kennett Square. The next stop: Longwood Progressive Friends Meeting House is less than seven minutes away!
Longwood Progressive Friends Meeting House
Kennett Square
Take a dive into history and see where significant advocates such as John Greenleaf Whittier, William Lloyd Garrison, and Susan B. Anthony spoke during monumental moments in history. The Longwood Progressive Friends Meeting House was built in 1854 and became the annual meeting place of the Pennsylvania Yearly Meeting of Progressive Friends, a group of notable reformers who fought for change within our country. Today, visitors from all over can tour the Meeting House and cemetery.
Downtown Kennett Square
Kennett Square
Less than 10 minutes from the Meeting House, find yourself in Downtown Kennett Square where you'll come across more than just mushrooms. Shop the quaint boutiques, browse beautiful galleries of local artwork, grab a cup of coffee – or two – from a cafe, and explore the streets of this historic town.
Kennett Underground Railroad
Kennett Square
Steps away from the downtown is the Kennett Underground Railroad Center. Pennsylvania is home to many prominent stops along the Underground Railroad. Explore, educate, and discover some of the land hundreds of enslaved African Americans traveled on to find freedom.
Talula's Table
Kennett Square
Don't leave Downtown Kennett Square on an empty stomach. Stop down the street and dine at Talula's Table, a modern-day general store by day that transforms into an elegant culinary experience by night. Book a tasting dinner far in advance to try their seasonal menus made with the freshest, local ingredients. Make sure to stop by the wine store before your reservation – they are a licensed BYOB. Check out their recommended wine pairings on their website before shopping!
Inn at Whitewing Farm
West Chester
Only 5 miles from the downtown, cross into the countryside and cozy up during your stay at the Inn at Whitewing Farm. Known as "one of the most beautiful farms in Chester County," this 18th century farmhouse features 10 elegant guest rooms and suites, stunning panoramic views, a custom wine cellar, and Har-tru tennis courts. Get a good night's rest to gear up for more adventures during Day 2.
Day 2
Day 2:
Longwood Gardens
Kennett Square
Step into Kennett Square's hidden wonderland and spend the day exploring the enchanting Longwood Gardens, a botanical garden of more than 1,077 acres. This can't-miss garden oasis is open year-round and is considered one of the top display gardens in the country. Visitors can catch an awe-inspiring fountain show, stroll through the seasonal displays and exhibitions, or even take a workshop to enhance understanding with gardening and nature. Before you head to lunch, make sure to stop by Longwood's newest attraction, The Orchid House, a century-old space filled with hundreds of hand-selected orchids.
The Café
Kennett Square
Take a breather and explore Longwood's The Café for a relaxing lunch inside the garden itself. With a selection of ready-to-eat, freshly prepared sandwiches and salads, everyone in the family will find something they love. Visitors can even check out their seasonal menu for some famous Kennett Square Mushroom Soup or vegan chili.
The Creamery of Kennett Square
Kennett Square
After a long day of exploring, let loose at The Creamery of Kennett Square, a historic milk plant turned into a pop-up beer garden in 2016. The converted creamery is now a high energy indoor/outdoor experience that invites visitors to engage in the community and embrace the arts, culture, and history of Kennett Square. The Creamery is an ideal spot to enjoy beers, cocktails, and locally sourced foods. If you visit in warmer months, you might even catch some live music on the outdoor performance stage.
Inn at Whitewing Farm
West Chester
Spend the night just twenty minutes away from Kennett Square in the escape of Wester Chester, Pennsylvania. Tucked away on a country road, The Inn at Whitewing Farm is one of Brandywine Valley's most charming bed and breakfasts. Stay in a 1700s farmhouse with breathtaking panoramic views of beautiful rolling land. After a long day of sightseeing, head outside to the Whitewing Inn's spring-fed Jacuzzi for a welcoming spot to relax before getting some rest.
Day 3
Natural Lands' Stroud Preserve
West Chester
Kick off your final day on the Brandywine Valley Scenic Byway with more than 571 acres of beautiful grasslands, farmlands, and woodlands at Stroud Preserve. With recreational and educational activities onsite, visitors can get a glimpse into the balance of people and nature. Explore cultivated and "wild" areas helping to maintain and restore the original habitat of surrounding wildlife, and the protected watersheds which continue to provide drinking water for the communities in the area.
Antique Ice Tool Museum
West Chester
Travel minutes down the road for some historical frosty fun at the Antique Ice Tool Museum. Make sure to bundle up before exploring this fully renovated 1834 stone bank barn to learn about the coldest history in Pennsylvania. While on your tour, listen to stories and facts about the natural ice trade, in addition to the harvest and the delivery of ice cream. Yum!
Baldwin's Book Barn
West Chester
Hop in your car and drive two miles to arrive at Baldwin's Book Barn! This historical five-story building was built in 1822 and lets guests cozy up with the classics. Browse their selection of books, maps, and various cool prints within their ageless stone walls. Make sure to check out their old-fashioned wood-burning stove before heading to your next destination. Next stop – lunchtime at Roots Café!
Roots Café
West Chester
Within eight minutes of Baldwin's Book Barn, you'll arrive at Roots Café. Since 2013, Roots Café has taken pride in "going green" and providing sustainable, fresh breakfast and lunch options to the West Chester area. They support local farmers and artisans, while also making sure to source eco-conscious, locally grown ingredients. Try the gnocchi and meatballs or the bacon and arugula breakfast sandwich – and be sure to wash it down with a tasty mimosa!
West Chester University
West Chester
Travel 10 minutes down the road and you'll find yourself cheering on the Golden Rams at West Chester University! Take yourself on a self-guided tour where you'll stop at some of the main attractions on campus such as the Merion Science Center, Old Library, Frederick Douglass Statue, and John A. Farrell Stadium. And don't forget to pick up some university swag at the WCU Campus Store on your way out.
Downtown West Chester
West Chester
Next venture minutes away to Downtown West Chester! Take in the sights and visit the hotspots of this charming small town. Shop 'til you drop with more than 100-independently owned businesses or grab a bite to eat at one of the 65 restaurants in the area. Put a historic touch to your downtown trip and visit various sites, such as the Brandywine Battle Museum, Valley Forge National Park, and Chester County History Center.
Limoncello
West Chester
There's always time for extraordinary, authentic Italian cuisine at Limoncello! This multi-generational restaurant is family-friendly and ready to serve you classic, delicious dishes. At Limoncello, their specialty is pizza and you can be a part of the experience by making your own! Try one of their specialty pies, such as the meatball and ricotta pizza or Frank's Favorite with crumbled sausage and chopped Italian long hots.
Faunbrook Bed & Breakfast
West Chester
Wrap up your third and final day on the byway by sleeping within the walls of the historic Faunbrook Bed & Breakfast. History oozes from every turn you take when you explore the picturesque scenery or wander through the Victorian-style halls. The amenities are just as luxurious as the suites. Receive full access to their patio and fireplace or cozy up in their library while sipping a complimentary glass of wine. Make your final night on the Brandywine Valley Scenic Byway a night to remember at this stay!