Grain Destinations in Northeast PA
13 stops
Grain Destinations in Northeast PA
2 Days - 13 Stops
Upper Mill Grist Mill
150 Water Street, Milford , PA 18337
The Jervis Gordon Grist Mill, now called Upper Mill Grist Mill (1), was built in the early 1880s and is now a restored water-powered mill. Free self-guided tours are available from May to November. After your tour, enjoy a sweet cafe on the premises.
The Village Farmer and Bakery
13 Broad Street, Delaware Water Gap, PA 18327
The Village Farmer and Bakery (2) in Delaware Water Gap has been around since 1976, and there is nothing better than enjoying a homemade pot pie followed by a slice of warm peach crumb pie by a mountain stream.
Pocono Café, La Parada Latina Restaurant, and Ledges Hotel
5237 Milford Road, E Stroudsburg, PA 18302
2177 Route 611, Swiftwater, PA 18370
119 Falls Avenue, Hawley, PA 18428
A trip to the northeastern part of the state has to include some of the diverse treats available from Central and South America. Two top picks: Colombian goodies at the Pocono Café (3) in East Stroudsburg and then head a few miles west into the Pocono Mountains to La Parada Latina Restaurant (4) for some of the best empanadas around. An overnight stay at the former 1890 glass factory Ledges Hotel (5), an eco-friendly residence perched on a rocky cliff, is a good reminder of the manufacturing history of the area.
Ferri's Pizza
106 Church Street, Moscow, PA 18444
The only word many people know about food in Northeast Pennsylvania up near Scranton is pizza. Yes, this area, especially near the town of Old Forge, has designated itself the Pizza Capital of the World. But first, make a stop that will help you understand the area better. A twist on the NEPA pizza is the potato pizza, called Pagash, at Ferri's Pizza (6) in Moscow, which has been in business since 1936. Note, this pizza is only served during Lent, but it is worth waiting for. Light, puffy crust with potatoes on top. A fun touch: guests walk through an Anthracite Coal Museum to get to the dining area.
Maroni's, Arcaro and Gennell, and Revello's
1345 St Ann Street, Scranton, PA 18504
443 S Main Street, Old Forge, PA 18518
502 S Main Street, Old Forge, PA 18518
Old Forge Pizza, situated in an area with barely more than 8,000 residents, is different than any other pizza. Italian immigrants who moved to the Scranton area to work in the coal mines and in the textile mills would often get together to play cards and drink beer in the evening. One of our favorite spots was Ghigiarellis, now called Elio G's, which opened in 1926, where the owner's wife is credited with the first Old Forge-style pizza. There are more than a dozen "cafes," as they are called here, and they all serve a similar style of pizza. The language of Old Forge pizza is important. A whole pizza is called a tray, and individual pieces are called cuts, not slices. The crust is light and crusty, with a chewy center, and the sauce is sweeter than other styles of pizza (and sometimes includes diced onions). Then there is the cheese. It is often a mix of mozzarella, American, and cheddar, all adding to the one-of-a-kind flavor of Old Forge Pizza. Whether it's Maroni's (7), Arcaro and Gennell (8), Revello's (9), or one of the other dozen or so Old Forge-style pizzas, you can't go wrong. Sampling all of them is the way to go. One would think that all of the pizza establishments would be competitors, but they all get along and encourage everyone to try all of the pizza on South Main Street.
Senape's Tavern
835 North Vine Street, Hazleton, PA 18201
And if the pizza from Scranton and Old Forge wasn't enough, there's another must-try pizza (called pitza or pita for short) in the Hazleton area that is unique to that former coal mining region. At Senape's Tavern (10), the pitz is topped with "scamutz," which seems to be like scamorza cheese, a saltier mozzarella. Oh, and it is also served cold. Senape's started cold-cut pizza with the first oven built in his backyard. Legend has it that the salty cheese makes people drink more. As the story goes, supposedly someone from the bakery and cafe asked someone to paint the bakery truck and they painted the phonetic spelling, creating the word "pitza."
Castillo's Bakery
20 North Vine Street, Hazleton, PA 18201
For a break from pizza, head to Castillo's Bakery (11) in Hazleton for some Mexican and Dominican pastries for the road. Their arepas, flan, and sweet potato bread will fill you with happiness. Hazleton also has a significant Dominican population with people of Dominican descent making up more than half of the population.
Columbia Bakers Guild Café
1229 Columbia Blvd, Bloomsburg, PA 17815
The drive to Bloomsburg might be all highway, but once you arrive at the Columbia Bakers Guild Café (12), you won't be thinking about I-80 anymore. They feature many varieties of bread: flourless, sprouted, naturally leavened, whole grain, pita, and flatbreads. Their flax granola is life-changing, and their newest offering is sprouted pizza crusts. Have a sandwich at the cafe and snag some breads and flours to go.
Turkey Hill Brewing Company
991 Central Road, Bloomsburg, PA 17815
The day ends with some local brews at Turkey Hill Brewing Company (13), housed in a replica of the English Barns Barn that was built there in 1835. Downstairs, the beer taps are on replicas of the original grain bins. Spend the night in the beautiful Inn at Turkey Hill right on the property.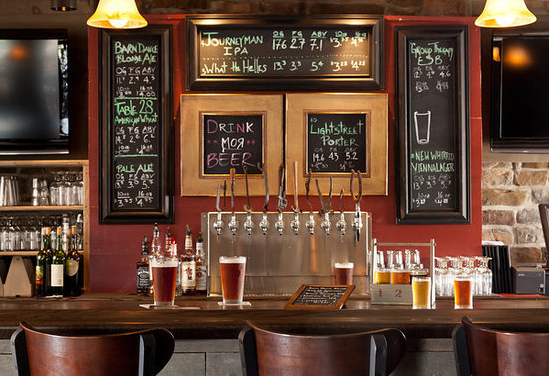 Explore our other regions
Select a region to view an itinerary