Grain Destinations Throughout Southeastern PA
21 stops
Grain Destinations Throughout Southeastern PA
3 Days - 21 Stops
The Philadelphia, Dutch Country & Lehigh trail showcases Pennsylvania's deep grain history. Agricultural records dating back to the 1700s indicate that this region of the state had the best land for farming grains due to the relatively mild climate, moderate rainfall, and limestone-packed soil. During this period, farmers grew some of the most desirable and money-making grains in the world. By 1750, the Delaware Valley, anchored by its proximity to Philadelphia, the largest British North American city, produced so much wheat and flour that it essentially constituted the entire grain market in the United States with excess to export to Europe, Africa, and the Caribbean. For example, in 1771 alone, Philadelphia exported five million pounds of grain products.
Newlin Grist Mill
219 S. Cheyney Road, Glen Mills, PA 19342
Because of this rich history in grain cultivation, visiting an old grist mill in Delaware County's fertile valley is the perfect way to begin a grain-focused trip. The beautiful and historic Newlin Grist Mill (1), southeast of Philadelphia, is run by a non-profit foundation and is a perfect opportunity to visit an early American grain mill. Originally a land grant to the Newlin family from William Penn, this 160-acre swath of land has something to please all generations. The water-powered mill was constructed circa 1704 and once ground wheat, corn, oats, buckwheat and rye, although today, cornmeal is primarily produced. Coarse ground Newlin Grist Mill cornmeal can be purchased in the gift shop. A blacksmithing shop, nature trails, miller's house, barn, and a beehive oven are also on the grounds. Many of the areas, such as the blacksmith shop, are staffed with docents, and visitors are able to watch demonstrations and ask questions. For those who enjoy fishing, trout fishing is available in season in both the stream and the pond. If this is not already enough for a fun few hours, the land here is also a Certified Monarch Waystation. A visit during the fall can be a wonderland of these orange and black beauties making their way south for the winter. A visit to the bucolic Newlin Grist Mill complex educates young and old about how grains were grown and ground centuries ago, as well as about the work it still takes to get them from farm to table.
Isgro's Pasticcera
1009 Christian Street, Philadelphia, PA 19197
Next, drive northeast from Newlin Grist Mill into the Italian Market neighborhood of South Philadelphia to Isgro's Pasticcera (2), the oldest family-owned pastry shop in the city. Founded in 1904 by Gus Isgro, this bakery has some of the best cannoli, biscotti, and Pesca a la Cremes in the region. The Pesca a la Creme is a small peach-shaped cake filled with cream and soaked in peach schnapps. It is gorgeous and delicious with just a touch of booziness. Visitors shouldn't leave without at least one. Remember to order a cannoli kit ahead of time (try the ricotta and mascarpone filling) and take it with you for a late night snack in your hotel or at home. Visitors to Isgro's will also get a flavor of the old Ninth Street Italian market area. Once primarily filled with Italian shops and street vendors, today, the shopping district has transformed into a multi-cultural destination with the addition of many Latin American and Asian street vendors, stores, and restaurants.
Lost Bread
1313 N. Howard Street, Philadelphia, PA 19122
Take a short drive north to Lost Bread (3) in Philadelphia's artsy Kensington neighborhood. Focused on responsible sourcing and accessibility, the folks at Lost Bread grind their own grains, donate or re-purpose their extra bread, and try to ensure everyone has access to their unique and stunning loaves. Try the fluffy Japanese-style milk bread, whole grain sunflower potato bread, or pretzel shortbread, and notice the difference that freshly ground grains make in the flavor and texture of baked goods.
Crime and Punishment Brewing Company
2711 W. Girard Ave, Philadelphia, PA 19130
The North Central Philadelphia neighborhood of Brewerytown is the fourth suggested stop in this cluster. This area, once filled with German immigrants, was the brewery capital of America in the late 19th century, with more than twenty breweries. Today, the Russian-influenced Crime and Punishment Brewing Company (4) named after the book by Dostoevsky is the place to visit for some creative brews and Russian-inspired snacks. Menu items include the Captain Baker, a smooth cold fermented Baltic porter, and the Georgian Green Ajika salsa-like dip (the country, not the US state). The Ajika is a mix of pickled peppers, pumpkin seeds, tomato, and other savory delights. Afterwards, consider a walk around the area to admire the old German architecture in the surrounding streets or take a longer, twenty-minute stroll down to the Art Museum to run up the steps Rocky-style.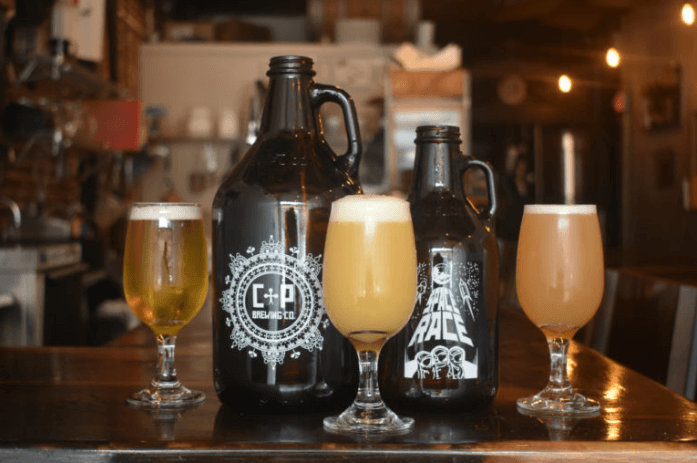 Driving north and west from Philadelphia, visitors enter an area once populated primarily by German and Swiss immigrants. Millet, barley, oats, spelt, and buckwheat were popular in these countries, so when these groups arrived in the States in the early 1700s, they often tried to produce those grains with which they were most familiar. Spelt, an ancient relative of wheat, was especially popular with the early German immigrants to Pennsylvania. It was the preferred flour for pretzels, bread, and gingerbread. William Woys Weaver, Pennsylvania food historian, contends that the secret to Pennsylvania German rye bread was the spelt. Spelt has a slightly nutty, almost oaty, and subtle sweet taste. It also has slightly fewer calories than regular wheat and can be easier for people with wheat or gluten sensitivities to digest due to its water solubility, although it is not gluten free.
For fresh, locally milled flour, Buck's County Castle Valley Mill produces some of the best stone ground flour in the state. The Doylestown mill built in 1730 isn't open to the public, but Castle Valley's flours and grains can be purchased at a few sites in the area, such as Oragananon's Market in New Britain or ordered from the website. Owned by Mark and Fran Fischer, Mark's grandfather bought and refurbished the original building so that grains could once again be ground there. The Fischers grind spelt, emmer wheat, corn, and rye at this historic mill, and they also sell whole berry spelt, emmer, and rye.
Dave's Backyard Farms
7909 High School Road, Elkins Park, PA 19012
A truly "Pennsylvania" way to try Castle Valley's flours is by stopping at a local farmer's market where products from Ursa Bakery, which use Castle Valley's flours exclusively, are sold. Owner of Ursa Bakery Claire McWilliams, who once ran the baking and milling program at the highly regarded Vetri Cucina in Center City Philadelphia, bakes some of the most creative and beautiful loaves in the region. Stop at Dave's Backyard Farms (5) in Elkins Park (Saturdays 9am-3pm), where you can buy some of Ursa Bakery's breads, along with accompaniments such as local pickles, cheese, and produce. Buy a loaf of Ursa's sunflower Apricot Couronne and bag of her granola and let your tastebuds awaken to the taste of freshly stone-ground flours and whole grains prepared by a truly talented baker.
Vituperio Artisan Breads and Studio
1820 West Point Pike, Lansdale, PA 19446
If you are interested in a hands-on experience, drive just a bit north into Montgomery County where Vituperio Artisan Breads and Studio (6) head baker Javiera Montoya will show you the ins and outs of baking bread. Do check Vituperio's website ahead of time to sign up. Javi also does online workshops, in case the timing of her workshops do not coincide with your travels. A few times per week, she also sells her house-made breads, including a delicious Raisin and Walnut Sourdough. There's nothing like digging your hands into some freshly risen dough to appreciate the time, effort, and talent that goes into a loaf of handmade bread.
Thompson Neely Grist Mill
1112 River Road, Washington's Crossing, PA 18977
Next, continue driving northward into the pristinely maintained farm-lined roads of Bucks County to the Thompson Neely Grist Mill (7), where guests can take a walking tour of the village, the house, and the mill. The Thompson-Neely House, which is on the National Register of Historic Places, was originally a one room home that was later expanded into a two-story home and is a perfect example of 18th-century farmhouse architecture. The Thompson family acquired great wealth from growing and milling grains for export on this rich land. The grist mill on site was recently restored in 2018 and now hosts demonstrations and a display of artifacts for visitors. A visit here provides another look at Eastern Pennsylvania grist mills with a very different feel from the simple Newlin Grist Mill.
This rich land on which the Thompson family once accrued their wealth was formerly inhabited by natives of the Lenni Lenape nation and called Winnehawcnunick. Some of the land here was purchased from the Lenape by Swedish settlers, and then again by William Penn in 1682. After a third sale in 1737 with the British left the Lenape feeling cheated, they ended peaceful cooperation with the British. This was a significant event to the French and Indian War, because the Lenni Lenape and other neighboring indigenous groups consequently aligned themselves with the French. Eventually, this area lost all of its indigenous residents as these exploitative land deals forced them out from their homes and westward in search of a new beginning.
Bucks County Playhouse
70 S. Main Street, New Hope, PA 18938
Head two and a half miles north to the artists enclave of New Hope, where streets are lined with shops and restaurants, and visitors can take in gorgeous views of the meandering Delaware River. One of the town treasures is the Bucks County Playhouse (8). Travelers should try to catch a play while visiting the area. Located on the site of a former grist mill built in 1790 and originally called New Hope Mills, the playhouse is right on the banks of this historic river. While the river was once very polluted, it is now filled with American shad, river herring, and striped bass. The playhouse opened in 1939 as a summer stock theater. At the time, theaters were popping up in semi-rural areas all over the Northeast as both artists and audiences looked for a way to escape the heat of Manhattan only ninety minutes away. Many famous actors came to act and live in New Hope for the summer, including Helen Hayes, Grace Kelly, Robert Redford, Walter Matthau, and Larry Hagman. Have a meal at The Deck Restaurant and Bar at the Playhouse, where your dollars help to support this non-profit regional theater.
Wedgewood Inn
111 W. Bridge Street, New Hope, PA 18938
Relax and watch the fisherman and boats before checking into the Wedgwood Inn (9) for the evening. The land where the inn is located once served as a campsite for General George Washington and his 1200 Continental Army soldiers in December 1776, just prior to the famous Christmas Eve Crossing of the Delaware River, which took place a few miles from the Inn. Additionally, in the 1800s, the house on the grounds was a part of the Underground Railroad.
Eight Oaks Distillery
7189 Route 309, New Tripoli, PA 18066
After a restful night's sleep and a hearty breakfast at the Inn, walk around New Hope and window shop at the art galleries before driving about an hour northward to Eight Oaks Distillery (10). This family-run and veteran-owned distillery grows, mills, and distills their own grains on-site in a beautiful copper pot still. Their aged and unaged whiskeys, rum, and applejack are delicious. According to the Butters family who owns the distillery, apple jack is Pennsylvina's original moonshine. A "jacked" beverage is one that is first frozen and then the ice is chipped away, allowing a high alcohol liquid to remain. During colonial times, hard cider producers left their bottles outside on bitter cold nights and then removed the ice from the liquid in the morning. The distillery has a large outdoor seating area with fire pits and music on the weekends. While at Eight Oaks, pick up a few bags of grains grown and milled by Teena Bailey of Red Cat Milling. Teena grows organic vegetables, herbs, and heritage grains, such as rye berries, spelt flour, wheat berries, and oatmeal on her farm in Germansville.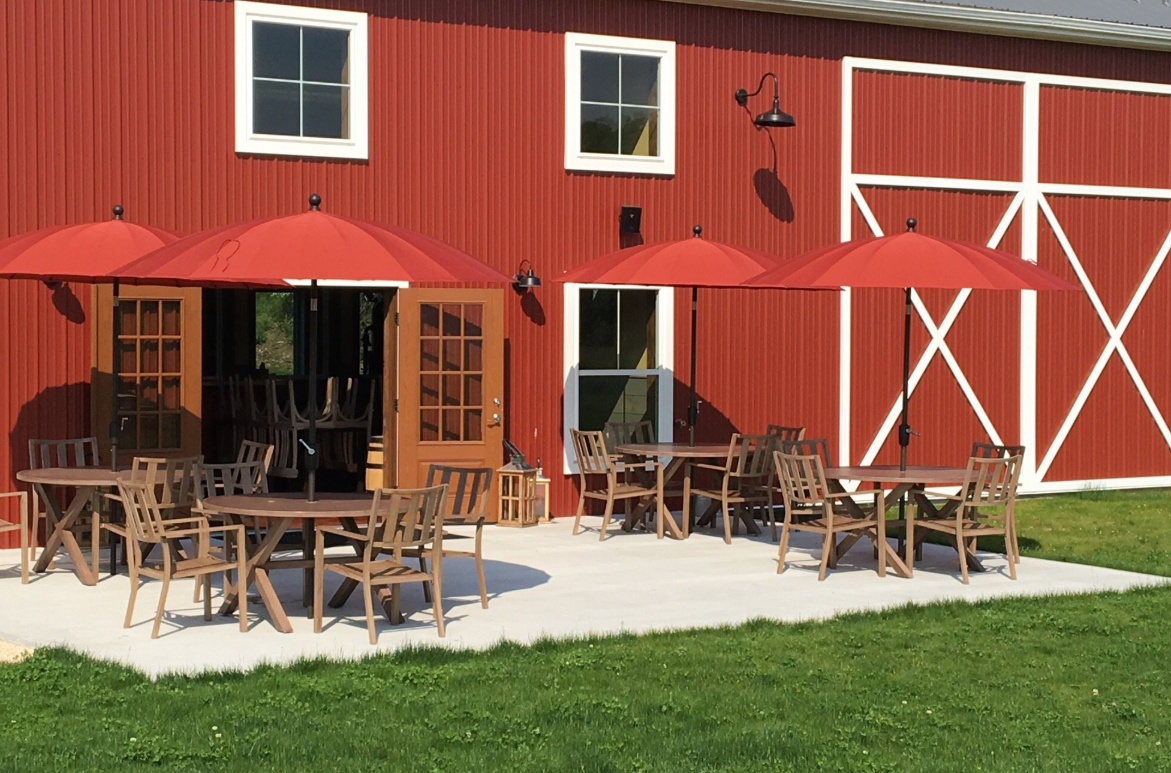 The Mill in Hershey
810 Old W. Chocolate Avenue, Hershey, PA 17033
Next, drive westward to the town of Hershey, which is known mostly for the chocolate goodness that comes out of the factories here, but there is more than chocolate to savor in Hershey. Stop at the Old Curry Flour Mill, now carefully restored and called The Mill in Hershey (11), for lunch. The original mill, built in 1858, is one of many flour and feed mills in the Hershey area that were owned by John Curry. Today, diners can sip on creative cocktails, including their house-made lemonade or Bloody Mary mix, and enjoy delicious food while taking in this historic building. Try their strawberry salad, if it is on the seasonal menu, and save room for their warm and gooey daily bread pudding selection for dessert.
Radish and Rye Food Hub & Broad Street Market
1308 3rd Street, Harrisburg, PA 17033
Hershey is just a short drive from Harrisburg, the capital of Pennsylvania. In Harrisburg, Radish and Rye Food Hub (12) is located across the street from the oldest continuously operating market house in the country—Broad Street Market. At Radish and Rye, shoppers can find all sorts of grain-based Pennsylvania treasures, including artisan breads from McGrath Brick Oven Bakehouse; sesame, sunflower, canola, and hemp oils from Susquehanna Mills; tasty and crisp State College-made Rip Rap Crackers; an array of Amaranth Gluten Free Bakery breads; and Grandview Granola Company's mouth-watering bark and bars. Stock up on flours and grains from Small Valley Milling in the small Pennsylvania town of Halifax, too.
Broad Street Market
1233 N 3rd St, Harrisburg, PA 17102
Either before or after visiting Radish and Rye Food Hub, take some time to visit the two historic Broad Street Market (13) buildings where there were once 725 indoor and outdoor vendors and where the farmers here helped to feed the 300,000 Union soldiers at nearby Camp Curtin during the Civil War. If in need of apple butter, cheese, or any of a million other bread accompaniments, shoppers can find it at Broad Street Market.
Ever Grain Brewery
13th and Market Streets, Harrisburg, PA 17104
The next Harrisburg stop is Ever Grain Brewery (14), where guests cannot only try Ever Grain's local brews but sample some from the new Harris Family Brewery that is not yet open for retail. Harris Family Brewery is Pennsylvania's first black-owned brewery. In partnership with Wolf Brewing and Ever Grain, the brewery has created a delicious Black is Beautiful Imperial Stout. Ever Grain also serves food at the brewery, so be sure to give their Nachos with IPA Cheese Sauce a try and end the meal with a brew from their Sorbet series of fruity sours. The seasonal summer ale selection often includes fun flavors such as pineapple with coconut; tangerine, peach, and strawberry; and red raspberry with Marshmallow Fluff.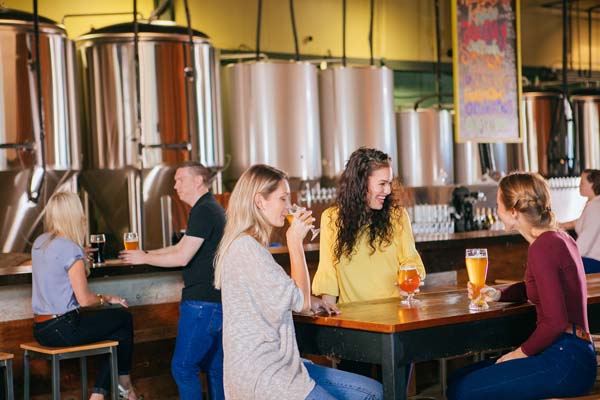 Talking Breads Bakery and Café
1619 W. Lisburn Road, Mechanicsburg, PA 17055
From Harrisburg, drive southwest along the farm-lined Route 15 to Talking Breads Bakery and Cafe (15), a rural artisan bakery and cafe, which has their own stone mill attached to the building where they grind whole wheat, spelt, and rye. Some of the grains are grown right there on their small farm. Watch owners and bakers Shana and Joe Amsterdam grind the grains into fresh flours and look on as they bake gorgeous goodies like brioche, pumpernickel, ciabatta, fruit tarts, and sticky buns. Located on their farm, this charming location also offers produce, herbs, pickled foods, and deli items. Take a break from driving and order one of their platters, such as their German Board: a savory compilation of hard-cooked eggs from one of their own chickens, smoked local ham, house-made pickles, Newport-based and award-winning Keswick Creamery cheese, and honey mustard from Dawg Gone bees. Take your tray out back to enjoy by the gardens. Since you might have quite a few loaves of bread to take home at the end of this trip, make sure to purchase one of Lisburn Wood Works beautiful bread knives available here in a variety of woods, including cherry and black walnut.
Hanover Foods Outlet
1175 Wilson Avenue, Hanover, PA 17331
A unique Pennsylvania grain Product is dried corn, specifically John Cope's Toasted Dried Sweet Corn. The product originated in 1900 near Manheim in a town named Rheems when Martin Cope, grandfather of John, began using coal-burning stoves to dry corn kernels. This drying process concentrated the flavor by slowly caramelizing the sugars in the corn. When ready to eat, the kernels are soaked, cooked, and made into corn pudding, stews, cereal, or soups. No Pennsylvania German Thanksgiving meal is complete without a dried corn dish. Some local farmers smoke and dry their own corn. If you come across this at any local markets, be sure to grab a few bags. Today, the Hanover Company, which started as a small canning business in the 1920s, owns John Cope's Dried Corn products. You can head south into York County and the Hanover Foods Outlet (16) to pick up a few bags of this beloved product.
Bird in Hand Bake Shop
542 Gibbons Road, Bird in Hand, PA 17505
Heading east towards the Lancaster area is the Bird in Hand Bake Shop (17) for the last stop of the day. Here, the Groff family's whoopie pies, two types of shoofly pie (dry and wet), soft pretzels, and sticky buns must make their way into your shopping basket. This quaint shop has bulk foods, Lancaster-made crafts, and a large array of Amish cookbooks. The outdoor area has a petting zoo, swing set, picnic area, ice cream stand, and ample space for letting off some steam before bed. Like many retail spots and restaurants in Central Pennsylvania, Bird in Hand Bake Shop is closed on Sundays, so arrange your travels accordingly to avoid disappointment.
A note about Shoofly Pie: a mixture of molasses, sugar, egg, and shortening. The "wet" version has a gooey, sticky bottom topped with a crumbly mixture on top. The "dry" version is more like gingerbread. Some say Shoofly is part of the name because flies would be attracted to the sticky sweet molasses filling that would bubble up during baking. Others say it is named after the Shoofly brand of molasses. We may never know the truth, but there are diehard fans of Shoofly Pie all over the country and Bird in Hand Bake Shop is a great place to give it a try.
Osceola Mill House Bed and Breakfast
313 Osceola Mill Road, Gordonville, PA 17529
Time for some rest at the serene Osceola Mill House Bed and Breakfast (18) in the Pequea Valley south of the city of Lancaster. With views of rolling hills and beautiful farmland that once produced a lot of corn, hay, oats, and wheat, it is the picturesque overnight stop. In 1756, Samuel Patterson built the mill across the street from the current home. The original grist mill is still there though, so make sure to take a look. Also, ask the current owners to see the original owners' initials and year of construction carved into this charming, locally-mined limestone home.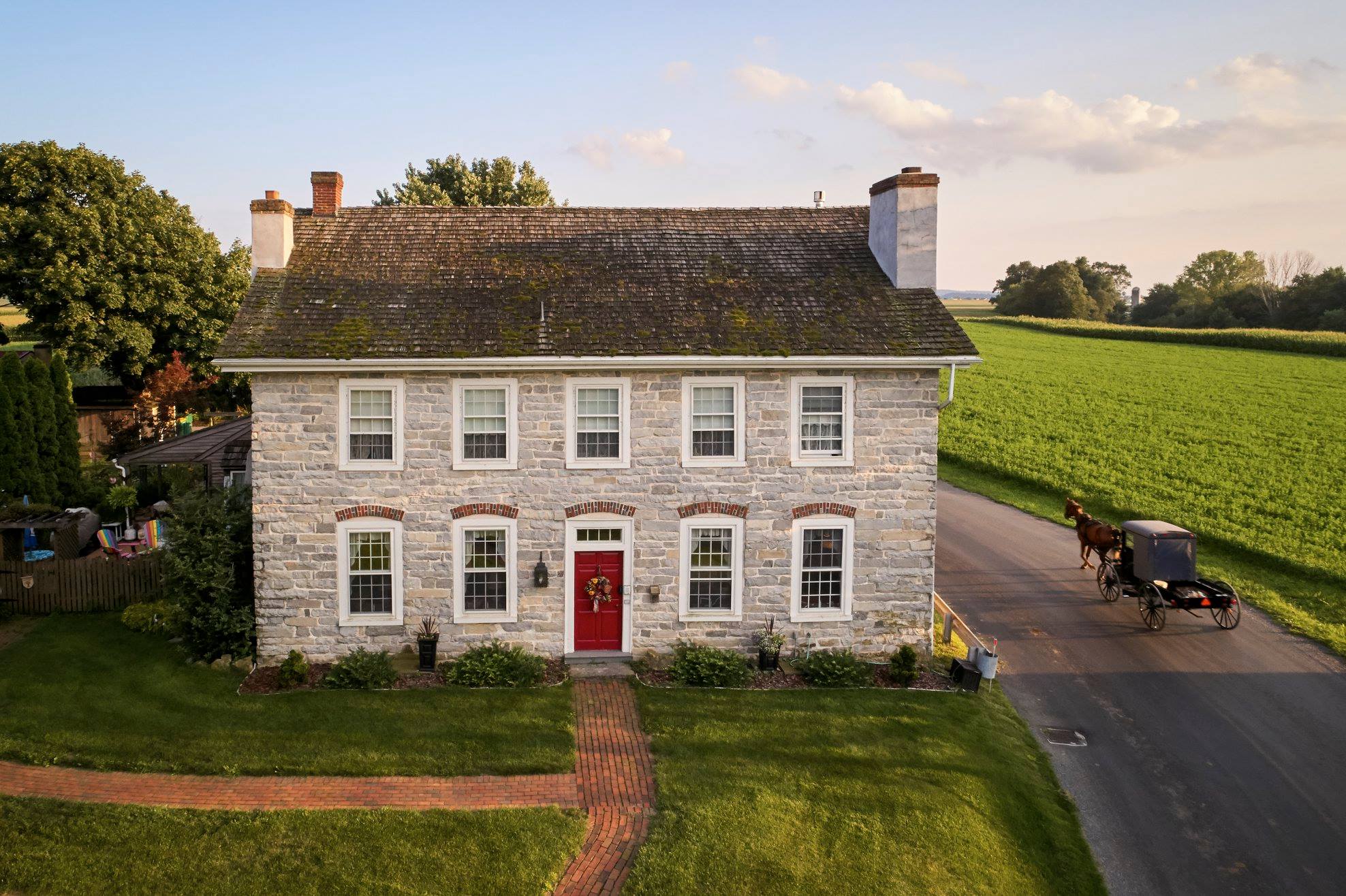 The Susquehannock who were part of the Iroquois nation originally inhabited this area. The name Osceola was possibly given to the area by a later landowner Marin Rohrer in 1875. Osceola was the name of a Seminole Nation leader who was well-known in the country, but not indigenous to this specific region. No visible remnants of the Susquehannock remain in this area, but corn was a prominent crop among almost all indigenous groups, so it is likely that they can be credited with the popularity of corn in this part of the state.
Stoltzfus Meats
14 Center Street, Intercourse, PA 17534
The next morning, take the short drive up to the touristy town of Intercourse to Stoltzfus Meats (19). Stoltzfus makes and serves some of the most delicious scrapple in the state. Scrapple is a mixture of pork bits (think snout-to-tail cooking) mixed with grains, which could include cornmeal, wheat, or buckwheat and spices. It is most commonly eaten like breakfast meat. The mixture is cooked, poured into loaf pans, and cooled, then sliced and fried. The "grandparent" of scrapple is something called panhaas, which some argue should only be made with buckwheat, giving it that earthy and slightly bitter flavor characteristic of this pseudo-grain. If you see either scrapple or panhaas at Stoltzfus, give it a try.
Both panhaas and scrapple are examples of European, namely Dutch and Swedish, recipes adapted by settlers in colonial America. In both cases, it was the addition of natively-grown corn that transitioned these from European recipes to American ones. Originally packed in stone crocks sealed with lard, today scrapple can be purchased whole in 9 x 5 pan-shaped slabs, or in slices to take home and fry. Scrapple made its way from mid-state Pennsylvania to the big city of Philadelphia in the mid 1800s where it became known as "Philadelphia scrapple." The growth of urban scrapple sales was closely tied to the economic history of the city. Scrapple was inexpensive, nourishing, and filling, making it accessible for almost all of the city's residents. In addition, it became popular among the city's black residents who had migrated to the city from the South after the abolition of slavery, as it is similar to a well-loved Southern dish called liver pudding. Where there was no stigma associated with purchasing scrapple in rural areas, it became unacceptable for middle or upper class groups in Philadelphia to admit their love of scrapple due to racism and classism. While at Stoltzfus Meats, sit for a while at Amos' Place Restaurant where scrapple is on the menu in delicious breakfast wraps with egg and cheese, as well as part of a traditional egg and toast breakfast. Don't leave this part of Pennsylvania without giving scrapple a try and take time to reflect on the food's complex history. 
Mill at Anselma
1730 Conestoga Road, Chester Springs, PA 19425
Continue your Pennsylvania tour of Breads and Grains with one last stop at a historic Pennsylvania grist mill—The Mill at Anselma (20), a national historic landmark with a small grist mill dating back to around 1747. Along with the mill, powered by the nearby Pickering Spring, there are walking trails, areas for picnics, and the ruins of an old general store on the premises. This mill was operational until the late 1970s and is possibly the only colonial-era power train system still intact in a grist mill, which simply means that all of the original components for generating power to the mill are still in place. Like many mills in Pennsylvania, by the mid 19th century, it was also used to grind animal feed. Today, visitors can still watch demonstrations of the milling process. There is also a weekely farmer's market here, so time it right on Fridays in season to visit the mill and pick up some local produce and other artisan treats.
Deer Creek Malthouse
1629 Street Road, Glen Mills, PA 19342
One last stop at Deer Creek Malthouse (21) for those who want to take some local grains home for brewing, baking, or fermenting and distilling. Pennsylvania's first malthouse since prohibition, Deer Creek sells handcrafted malt, distilling and brewery ingredients, buckwheat, corn, and more. Deer Creek also sells buckwheat pancake mix, heritage grain mix, and crunchy treats, including a malty granola. This is the perfect last stop for a Breads and Grains Trail, as you can get all set to brew, bake, or just eat some Pennsylvania grain goodness once home.
Explore our other regions
Select a region to view an itinerary