By Emily Kovach from PAeats.com
The most epic feast of the year is on its way and although Thanksgiving may look different again this year, that shouldn't stop you from preparing the ultimate meal. You might be staying put instead of traveling to visit family, or maybe you're hosting an intimate gathering at your place. Maybe it will just be dinner for two!
As we continue to adjust our expectations around the ritual meal that is Thanksgiving dinner, it's more important than ever to hold on to and share traditions. The smallest things, like noshing on a batch of pickled eggs (your mom-mom's recipe, of course) or crushing multiple pieces of pie even though you're way too full, can help anchor us to a sense of steadiness and predictability, which feels very comforting right now.
However you choose to celebrate, we urge you to support local farms and producers this Thanksgiving. They need our help now more than ever (and the big supermarkets are doing just fine)! Plus, the quality of the veggies, meats, sweets, and so on, are bound to be so much higher when they're sourced locally. Ready to rock your Pennsylvania Thanksgiving spread? We've got all the inspiration and recipes you need right here:
The Turkey
Let's get right to it: the bird. Chances are you might not need an enormous bird again this year to feed your entire extended family. Depending on the size of your gathering, PA's heritage turkey farms generally produce smaller birds than factory farms, this turkey might outweigh the size of your gathering once again. While these heritage breed birds may cost a little extra, but when prepared properly the result is mouthwatering. The lighter meat results in a more tender, flavorful bird – plus you'll be supporting local farms that weren't able to produce as grand of a feast last Thanksgiving. The first major step of every Thanksgiving meal is cooking the bird to perfection. We suggest brining the bird for the most tender, succulent results. The poultry experts at the family-owned, Pennsylvania-based company Bell & Evans show us how to master this fool-proof trick:
Once the turkey has been carved and served, you'll likely have leftovers. No problem! Leftovers are truly one of the best parts of Thanksgiving. There are so many ways to use up leftovers, but one of our favorite clever recipes is Loaded Thanksgiving Nachos! Check out the technique here:
Sides
All hail Thanksgiving sides! Veggies, when prepared properly, can steal the show. Our love for PA produce is boundless, and Thanksgiving is one of our favorite times to embrace the seasonal bounty of our beautiful agricultural landscape.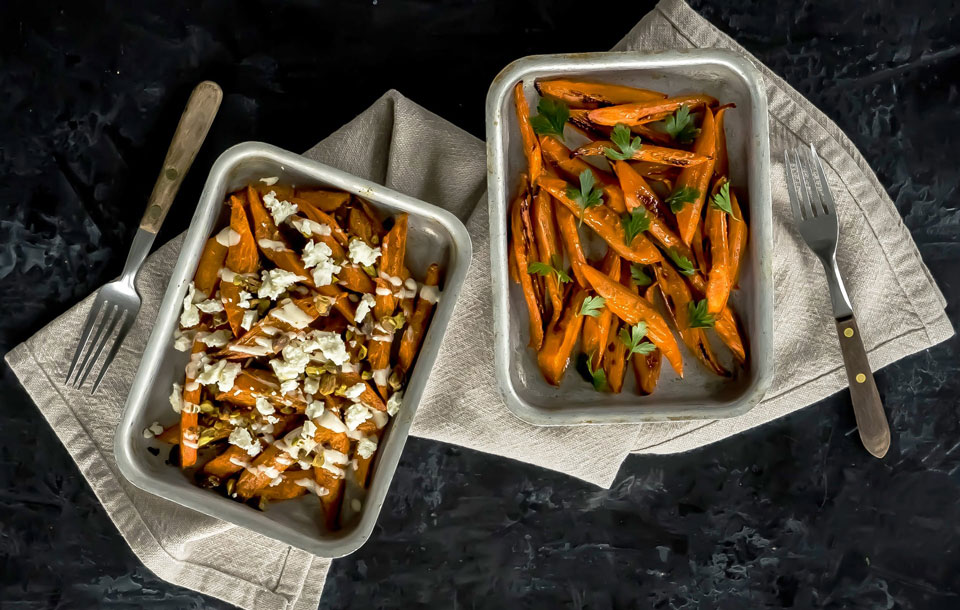 One of the simplest and most delicious ways to up the veg ante is roasting. A relatively high oven temperature helps caramelize vegetables, especially root veggies, and draw out their natural sweetness.
Check out recipes for:
Gratins — essentially mac-and-cheese's and vegetable's love child — are also a supremely easy and satisfying side dish. Essentially, a gratin is a casserole, enriched with cream, eggs and/or cheese, and topped with a crunchy crust, usually breadcrumbs. You can "gratin" almost anything, from macaroni to Brussels sprouts to crab to eggplant. In a quintessentially French way, this method takes the main ingredient and bathes it under a silky blanket of creamy goodness, and tops it with a savory, crispy layer for extra textural delight.
Check out recipes for:
Mashed potatoes are an absolute must for the spread. To not include this iconic Thanksgiving dish is something like sacrilege! Many families use their own special mashed potato recipes and techniques, but if you're looking for a creative twist, consider loaded baked mashed potatoes, with all the flavors of a classic loaded baked potato; poutine mashed potatoes, which channel the classic Canadian pub appetizer; and pumpkin Parmesan mashed potatoes, a perfect marriage of fall flavors.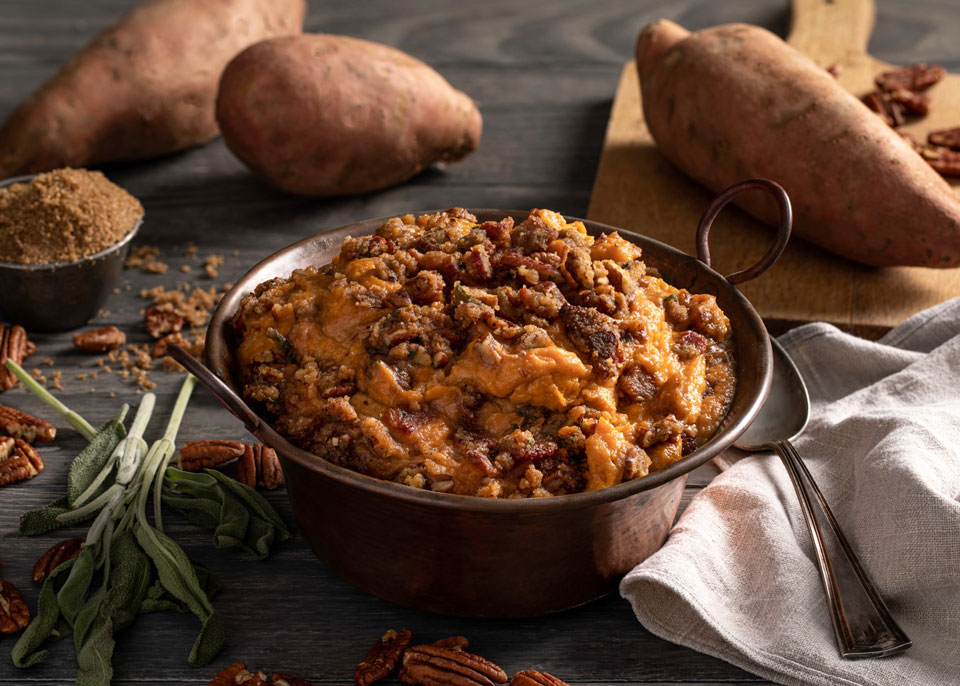 Mashed sweet potatoes are a delicious addition, as well! You'll find heaps of sweet potatoes during this time of year at farmers markets; heirloom jewel and garnet varieties add an extra-vivid pop of flavor.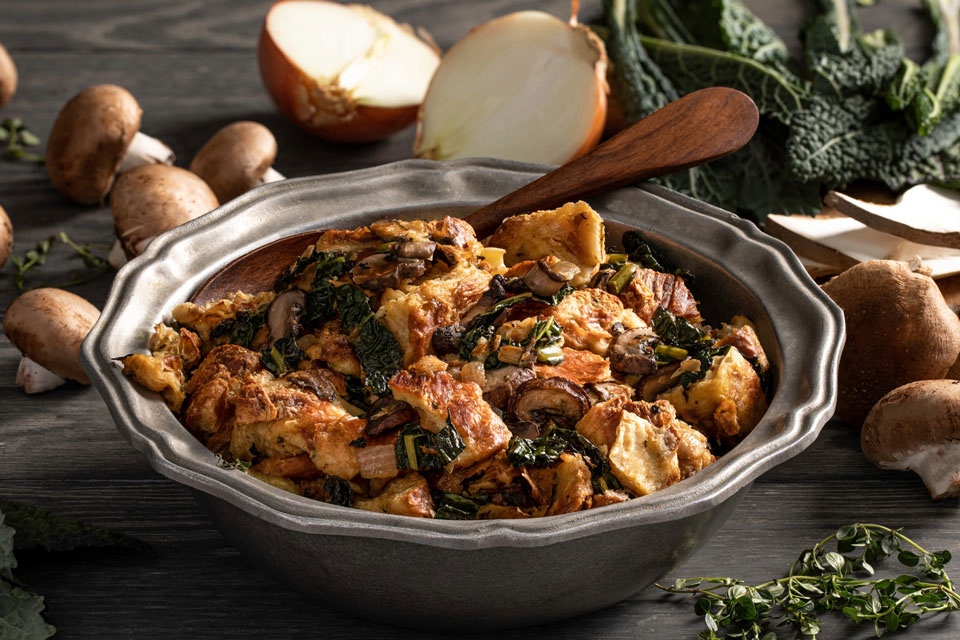 Stuffing — or dressing, which is stuffing cooked outside of the bird — is another traditional side that you can spin a number of awesome directions that go well above and beyond average. Try paw-paw stuffing, which uses a native Pennsylvania fruit, or Dutch-style potato stuffing for homestyle comfort food vibes. You can also swap in different kinds of bread to update the dish, like brioche, corn bread or baguette. Want to take it over the top? Try croissant stuffing! Ask your favorite local cafe or bakery if they have any day-olds for sale, because when it comes to stuffing, stale is actually a good thing!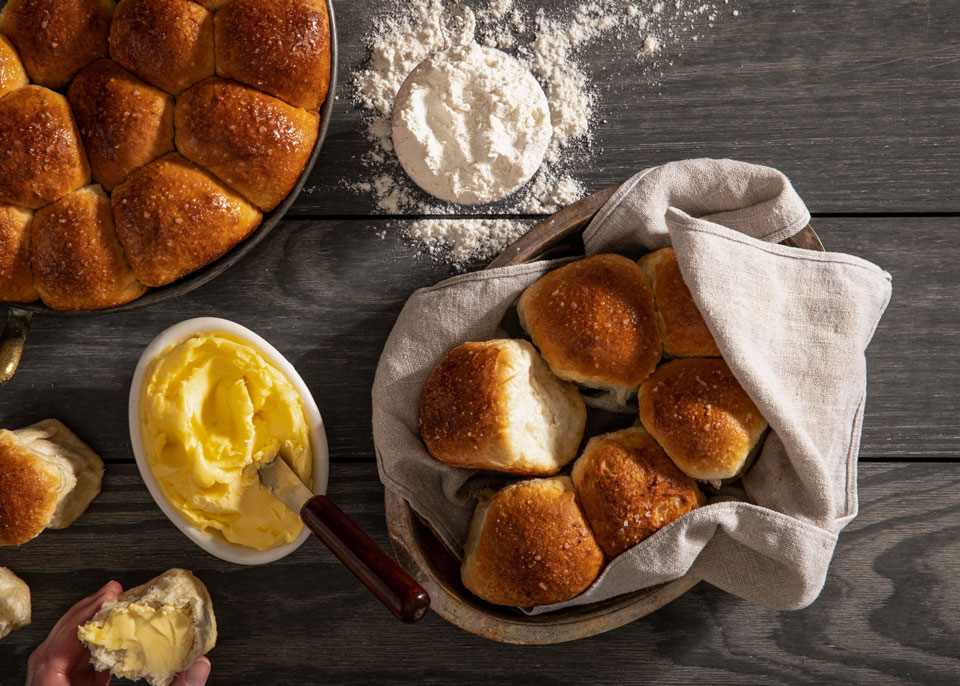 Who doesn't love a good bread basket? Tender, fluffy Parker House rolls are a crowd-pleaser (made with PA dairy, of course), as are biscuits and corn bread. Our maple cider bread and herbed potato foccacia would also be slam dunks.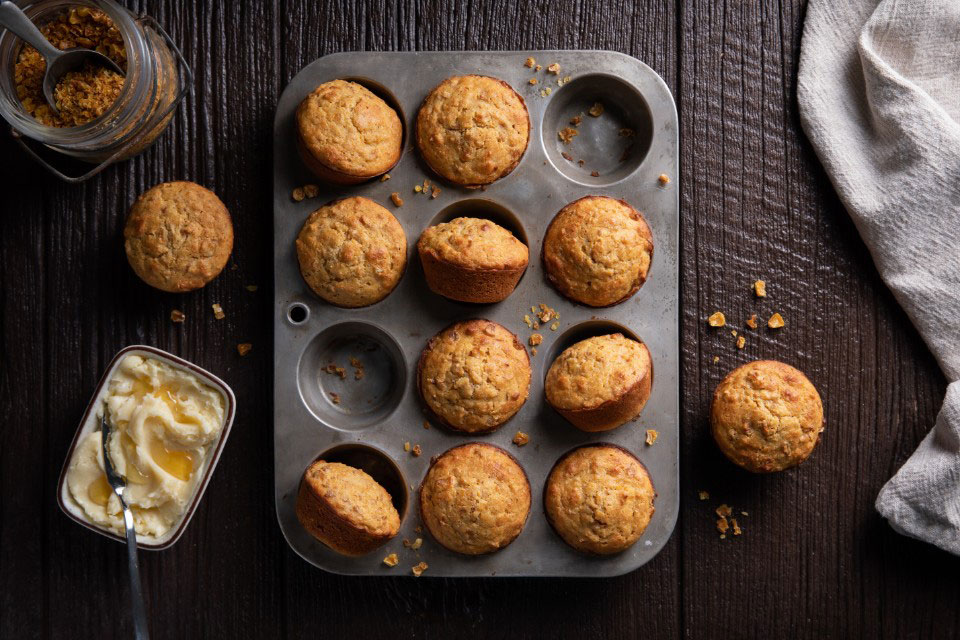 Double down on your PA pride with our dried sweet corn muffins with salted honey butter, which use John Cope's Dried Sweet Corn, a sweet, grassy, intensely corn-y dried corn product from a Lancaster-based company. The traditional way of cooking Cope's Dried Sweet Corn is to give it an overnight soak, then simmer on the stovetop with its soaking liquid, butter, salt, pepper and a bit of diced onion. There is an alternate method, which some call Pennsylvania Dutch Risotto, where the dried corn is cooked, much like risotto, over a low flame, with frequent additions of milk and lots of stirring. The result is a smooth, polenta-like porridge that for many Pennsylvanians is pure comfort.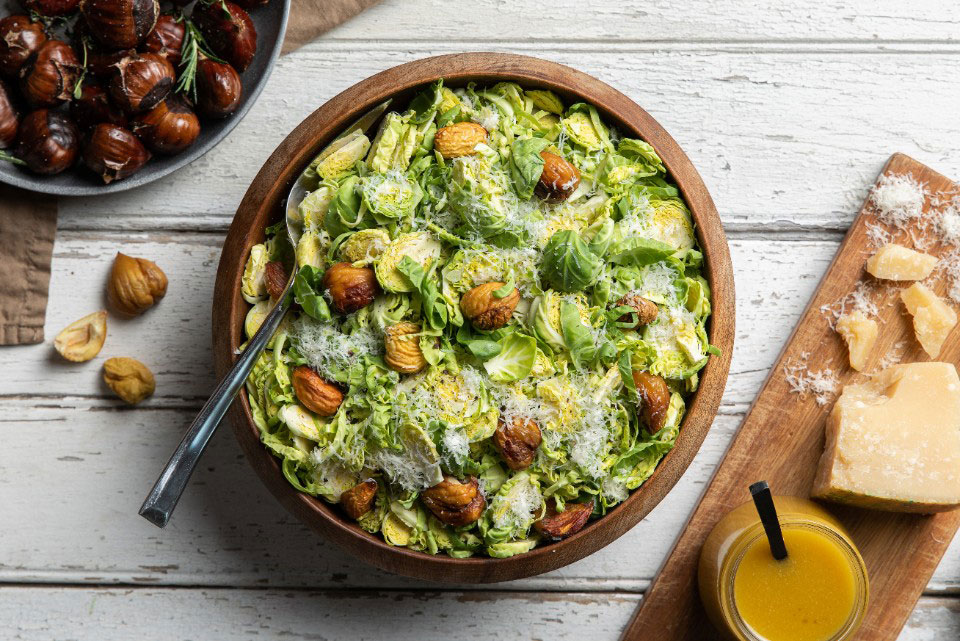 To accompany all of those rich dishes, be sure to include a few other veggies on the table. Keep it on-season with a Brussels sprouts salad topped with PA chestnuts and parm, or a roasted Brussels, squash and lentil salad. Wine-infused quinoa salad with butternut squash and radicchio is packed with protein, and doubles as a hearty vegan main dish.
Cheese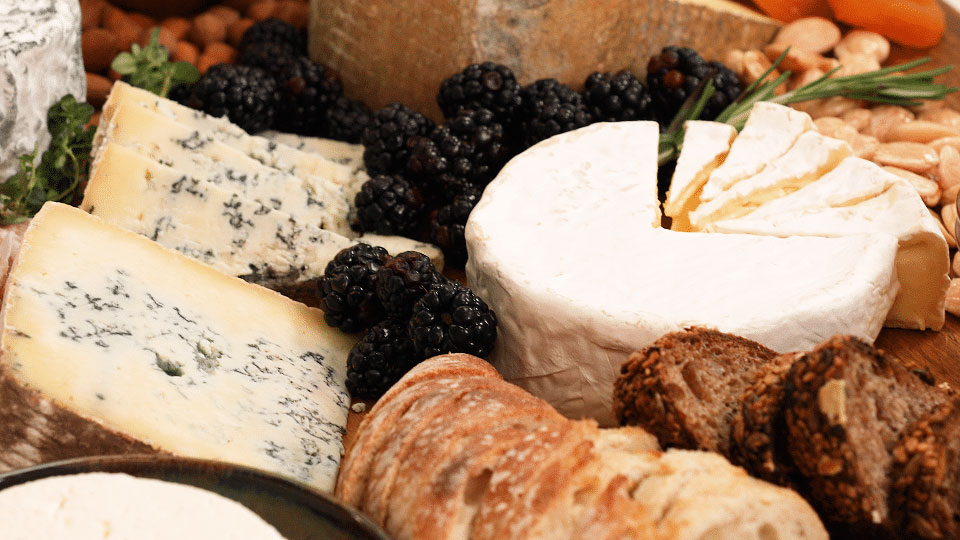 If you need a little something extra to offer before Thanksgiving dinner, you cannot go wrong with a cheeseboard. It looks stunning, offers a little something for everyone, and gives you a chance to show off the incredible array of styles and flavors that Pennsylvania cheeses have to offer. Follow our handy guide to building a local cheese board, or watch as PA dairy queens Sue Miller and Stefanie Angstadt of Collective Creamery show you how it's done:
If there isn't a cheese shop or gourmet market in your area, or you'd rather avoid the crowds, take a look at our guide to buying Pennsylvania cheese from home!
Dessert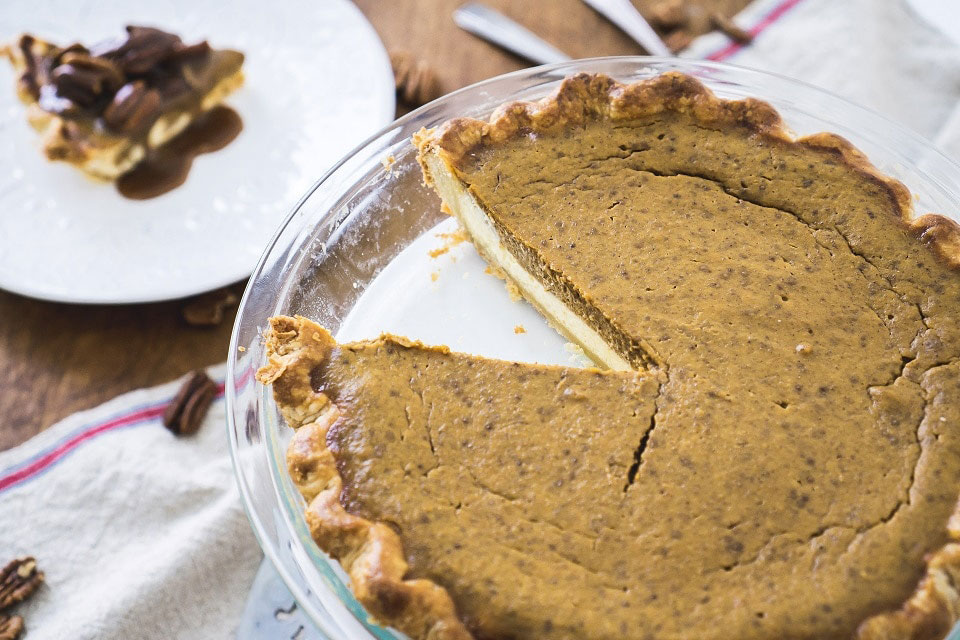 If you love to bake, Thanksgiving is your time to shine! Bring home a few pounds of local apples and make Pennsylvania apple wine pie or beer caramel apple pie (can you tell we enjoy cooking with booze?) for a fun twist on an old classic. A galette (a rustic, freeform tart that's a lot easier than a pie) is a low-stress option; try one with tart Granny Smith apples and cream cheese. If you aren't a huge fan of pumpkin pie but still love the earthy richness of pumpkins, try cute single-serve pumpkin tiramisu, spiked with local riesling.
Of course, dessert is one of the most forgivable ways to outsource some of the Thanksgiving meal. If you're a guest at someone else's gathering, it's also one of the best ways to contribute! We found 22 places in PA to buy fabulous holiday pies (and other desserts) to help de-stress your meal planning.
Drinks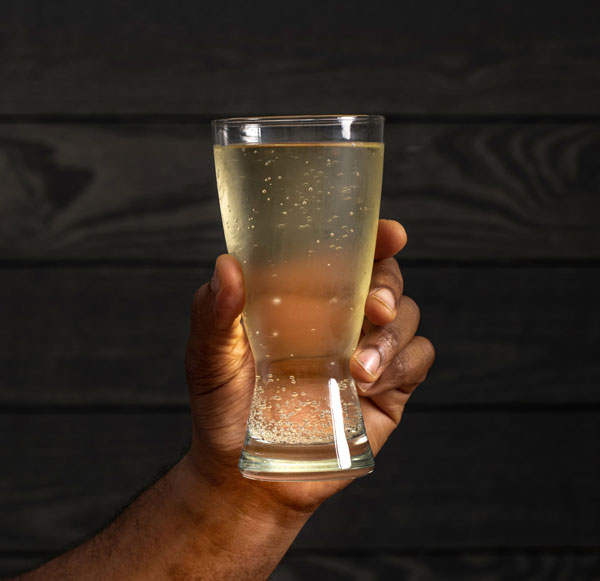 For many, Thanksgiving is a drinking holiday. Unwinding with a libation (or three) might help everyone get in a more grateful state-of-mind this Thanksgiving holiday. If you are going to stock up on adult beverages, we urge you to keep it local — literally, almost anything you'd like to sip is made right here in Pennsylvania.
Mixing up pre- or post-dinner cocktails? Visit your local distillery or order online to pick up a couple of bottles. Then try one of these eight festive cocktails designed by local mixologists.
For wine lovers, there is something for every taste made in our state. From zesty Grüner Veltliner to bold Cab Sauv to acid-driven rosé, the depth and breadth of wines being made in Pennsylvania have truly grown and improved, year after year. To find a winery near you, check out the Pennsylvania Wines website. Craft beer fans also have no shortage of options with over 350 breweries across the state!
And there is perhaps no other drink better suited for Thanksgiving than local hard cider. Not only do ciders pair well with classic Thanksgiving dishes, helping to balance out the savory richness and refreshing the palate, but apples hold an important place in our local fall harvest. To take a deep-dive into Pennsylvania cider, head over to our comprehensive guide and brush up on different cider styles and terminology with our cider style primer. You can even shop for local cider from your couch!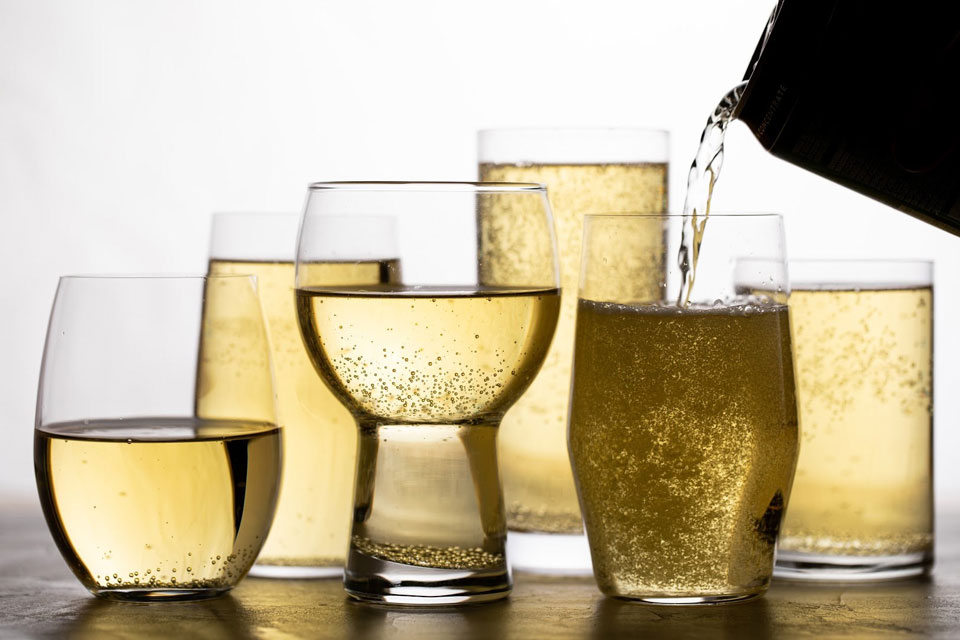 Now, it's time to put together your shopping list, break out your best apron, and get down to business! No matter what kind of Thanksgiving you're preparing for, with local ingredients in your fridge, everything you make is bound to be delicious.
This article first appeared on PAeats.com, whose mission is to showcase the stories of people, places, and products that make PA food culture exceptional, and create educational resources that support and empower food insecure Pennsylvanians. To learn more, visit PAeats.com.
You might also like:  14 Must-Visit Markets to Assemble your Thanksgiving Meal