There's no need to keep your feet on the ground on your next overnight. Whether you're seeking a woodland adventure or a waterfront retreat, these treehouses will lift your spirits (and you) as you explore Pennsylvania's greater-than-great outdoors.
1. Off-the-Grid Romantic Treehouse
Winfield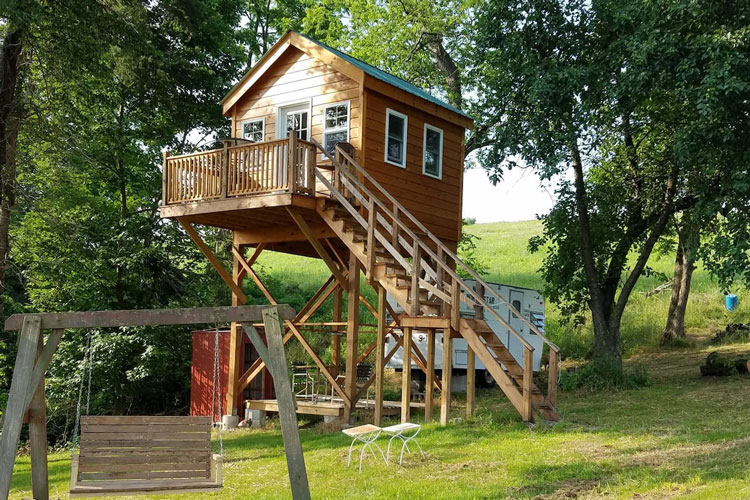 Nestled three-quarters of a mile from the road, this spectacular treehouse is perfect for Happy Travelers seeking peace and serenity in the great outdoors. Set high in a tree, the small house offers incredible panoramic views of fields and farmland, mountains and valleys, sunsets and starry nights. Along with deer, turkey, rabbits, and eagles, there is even a resident hawk that has made its home in the woods nearby.
2. The Stabbur, a Unique Scandinavian Cabin/Treehouse
Huntingdon
For those seeking the ultimate in secluded lodging, the Stabbur on the grounds of The Inn at Solvang provides the ideal setting. Nestled on an 80-acre farm complete with forests, streams, and hiking trails, the Stabbur is modeled after a Norwegian storehouse, but with a lavish interior complete with all the modern amenities including Wi-Fi, cable tv, air conditioning, and heat making for a quite luxurious escape in the great outdoors.
3. Ohiopyle Treehouse
Farmington
You are never far from chirping birds and the peaceful sounds of nature as you unwind on one of the three covered porches at this one-of-a-kind Ohiopyle Treehouse. Located more than a quarter mile off the road, the secluded, ADA-accessible treehouse is equipped with all the modern amenities. The mile long, private hiking trail makes it easy to get outdoors and enjoy nature, taking you across a clear mountain stream and into a canopy of mountain laurels.
4. The Bridal Treehouse at Fernstone Retreat
Farmington
Whether you're newly married, on a romantic getaway, or simply looking for a cool place to stay, the Bridal Treehouse at Fernstone Retreat provides the perfect escape. Wake up to the sounds of whispering pines and singing birds right outside your window. Hand-crafted from the area's natural timber with beautiful hardwood floors, a grand, vaulted ceiling, a pebble stone-floor shower, and kitchenette, the treehouse is the epitome of rustic elegance. Be sure to explore the hiking trails, waterfall, and fishing ponds of this 450-acre slice of paradise.
5. The Treehouse at Camp Caitlin
Beach Lake
Perched atop a hill and set amongst nine acres of private forests, the Treehouse at Camp Caitlin provides the ultimate in woodland relaxation. With incredible views from the floor-to-ceiling windows gracing all sides of this uniquely shaped, octagonal tree house and its surrounding porch, the beautiful clawfoot tub – the ideal spot to unwind with a glass of wine, the stunning and massive woodstove promising cozy evenings, and no shortage of modern amenities, the treehouse promises a perfect getaway.
6. Treehouse at Bridgeton House
Upper Black Eddy
Prepare to be pampered at the Treehouse at Bridgeton House! The luxurious king suite features soaring ceilings, a beautiful marble bathroom featuring a round rain shower and two-person jetted tub, a stunning gas fireplace, wet bar, and Wi-Fi. Each morning wake to a basket filled with delicious breakfast treats delivered right to your door and enjoyed from your private, tree-top riverside deck with its phenomenal views of the Delaware River and hillside.