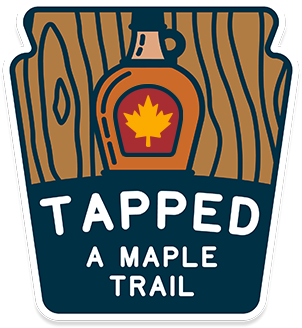 Maple Destinations Throughout the PA Wilds
2 days - 10 stops
Experience the maple tradition with the Annual Maple Weekend in Potter and Tioga counties. The massive two-county festival takes place every March and includes 17 participating farms. Explore as many of the listed maple farms your sweet tooth can handle!
Day 1
Farm Hopping
Start your day with farm tours, demonstrations, and pure maple products in the Pennsylvania Wilds. Learn about each farm's history, hear about their maple processes, and discover recipes that have been passed down through generations. Peruse a varied selection of maple products, such as maple salad dressing, barbecue sauce, jellies, homemade cookies, milkshakes, and cotton candy.
Pop's Culture Shoppe
Travel to Wellsboro, just off scenic Route 6 to discover Pop's Culture Shoppe - a draw for both new and seasoned gamers and hobbyists. From classic board games, role playing games, and trading card games to comics, books, and puzzles. You can also test drive games in the shop's demo-library, and purchase exclusive scenic puzzles features photos by regional photographers.
State Parks
Just 20 minutes west is Leonard Harrison State Park and its scenic overlook. Stop by the 585-acre natural beauty to take in the most famous scenic views from the east rim of the Pennsylvania Grand Canyon. Waiting for you on the other side of the canyon is Colton Point State Park which features a gift shop, visitor center, and food concession.
The Pennsylvania Lumber Museum
Your PA Wilds journey continues with a visit to the Pennsylvania Lumber Museum. Explore Pennsylvania's rich lumbering history and learn about the ongoing care, management, and recreational use of its forests. After your brief history lesson, visit the museum store, which is known as the Foreman's Room, to browse souvenir items, handmade wooden objects, and natural products unique to the area. Some of the most popular items in the store include Smokey the Bear patches and pins, wooden toys, clothing, and books.
Laurelwood Inn & Steakhouse
We hope you've worked up an appetite, because your next stop is at the Laurelwood Inn & Steakhouse. Order the Black Angus charbroiled steaks — the house specialty— and enjoy live music, pool, and darts in the lounge. Once you've had your fill, spend the night at the attached inn to rest up for day two.
Day 2
Farm Exploration
Continue your maple adventure weekend with more farm tours, demonstrations, and pure maple products in Potter and Tioga counties. The Annual Maple Weekend gives you an opportunity to delve into farm history, get a behind-the-scenes look at maple production, and see how your favorite maple goods are made in the Keystone State.
Pine Creek Outfitters
Experience the natural wonders of the great PA Wilds with the help of Pine Creek Outfitters, which is conveniently on Route 6 at the entrance to the Pine Creek George. Rent a boat or take a guided rafting, canoeing, kayaking, or biking trip. Hiking shuttles are also available to trek the West Rim Trail and Mid State Trail.
Emerge Healing Arts and Spa/Boutique and Gallery
Are your muscles sore from all that hard work? Relaxation awaits! Treat yourself and book an appointment in advance at Emerge Healing Arts and Spa. While you're there, also check out the boutique and gallery, which features a diverse offering of more than 20 local artisans' handcrafted works, including photography, paintings, sculpture, jewelry, fibers, and ceramics; a selection of Jane Iredale Mineral Makeup, Emerge Botanicals — the store's signature wild crafted skin care — and organic salon products. The three-story spa overlooks the gaslight boulevard of Wellsboro and offers therapeutic massage, advanced skin therapy, body treatments, natural nails, and an organic salon.
Wellsboro House Restaurant & Brewery
Relax, refuel, and step back in time while enjoying a hot meal. Less than a mile away sits the Wellsboro House Restaurant & Brewery, Wellsboro's microbrewery, where you can enjoy dinner in a renovated 1862 building. Opened in 2008, the relaxed restaurant features a substantial menu and numerous flagship beers on tap representing various styles.
Bear Mountain Lodge
Conclude your maple-infused getaway with a stay at the Bear Mountain Lodge where modern amenities are embraced by rustic charm. In the morning you'll be greeted with a in-room brunch basket, replenished daily, which includes muffins, fresh fruit, yogurt, orange juice, trail bars, and hot drinks.