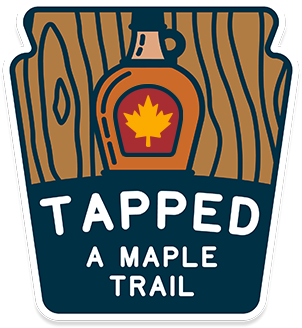 Maple Destinations Throughout Laurel Highlands
2 days - 13 stops
Get your maple fix in the Laurel Highlands, a region bustling with maple production. In this neck of the woods, more than 90 maple farms and nearly 120,500 taps produce approximately 27,000 gallons of maple syrup every year! Local businesses — including distilleries, cafés, and restaurants — take pride in these sweet riches and incorporate maple syrup into their recipes, products, and experiences. In this road trip, you'll get to explore the Laurel Highlands from tree to table. From learning the ins and outs of maple production and its history to indulging in specialty bites at local eateries, you'll find there's no such thing as too much maple.
Day 1
Silver Horse Coffee
Start your morning right at Silver Horse Coffee, a coffee shop tucked into the trails of the Laurel Highlands. You'll have ample options to get energized, including burritos, pastries, jerky, protein bars, and a variety of specialty coffee and tea drinks. Definitely try their maple latté, which is made with local maple syrup, to get a taste of what lies ahead on your maple-packed itinerary.
Somerset Historical Center
What better way to learn about maple syrup then to see how the production process has evolved during the last century? Pay a visit to the Somerset Historical Center's Maple Sugar Camp, a recreation of a typical 1860s permanent sugar camp which highlights the  historical techniques used in maple syrup production from colonial times to present day.
Baer Brothers Camp
Continue your maple adventure at Baer Brothers Maple Camp, a working sugar camp that makes syrup much as it was done for the past century on local farms (with a little new technology mixed in). You can watch maple syrup boil over a wood-fired evaporator, learn how to make spotza — a special maple treat — during the sugaring process. Each spring, Baer Brothers place 4,000 new taps in their trees as winter ends and spring begins. Many of their maple delicacies, including maple cream, sugar, and candy are available for purchase.
Pine Grill
It would be great if you could subsist on only maple sugar all day, but it's time to enjoy a savory lunch. Head to Pine Grill, it's less than 5 miles south of the maple camp. In operation since 1941, this family-run restaurant offers a casual dining atmosphere with reasonable prices. Its broad menu ranges from crab cakes to some of the finest New York strip steaks.
Flight 93 National Memorial
After dining, drive northeast to Flight 93 National Memorial to learn about the 40 passengers and crew members aboard Flight 93 on September 11, 2001, whose actions thwarted hijackers' plans to fly the plane to Washington, D.C. Stroll along the 40 memorial groves and memorial plaza at the crash site and view the exhibits at the visitor center. It's a place to honor the heroes, contemplate their sacrifice, and walk beside their final resting place.
Whitehorse Brewing
Cap off your busy day with a cold one at Whitehorse Brewing, where you can relax and grab a bite. While you're there, try their Maple's Last Run and Sugar Camp Saison brews while they are still in season. Both brews pay tribute to the area's maple-tapping tradition and are infused with maple syrup from local farms!
Yoder's Guest House
As the day draws to a close, it's time to curl up and rest for tomorrow's big adventure. Luckily, it's only a quick drive to Yoder's Guest House, a cozy turn-of-the-century bed and breakfast on the Great Allegheny Passage. Not quite ready to turn in? Unwind with a book in the doctor's library, play games in the dining room, or mingle with other guests. Make a note to sip your morning coffee on their spacious front porch lounge, and to pay their newly added bakery a visit.
Additional nearby accommodations less than half an hour from Whitehorse Brewing include: Levi Deal Mansion Bed & Breakfast, which was once home to local coal and timber baron Levi Deal and his family; and Huddleson Court, whose rooms, suites, and cottages echo a rural environment, offering a closeness to the natural beauty of the Laurel Highlands
Day 2
For Foodies & History Buffs: Maple Weekend Taste and Tour (March 11 & 12, 2023)
Go north to the Somerset Historical Center's annual Maple Weekend Taste and Tour, a free two-day event with 16 recreated 17th century Somerset County sugar camps to promote the maple industry. Learn about tapping, gathering, and boiling sap while you sample delicious maple concoctions and products. If you're a foodie, this taste and tour is surely for you.
OR
For Families & Festival Lovers: PA Maple Festival (April 22 & 23 and April 26-30, 2023)
Right in Yoder's Guest House's backyard is the Pennsylvania Maple Festival. You're invited to celebrate spring and the tradition that comes with the season: the tapping of maple syrup from local maple trees. The seven-day festival includes tapping demonstrations, live entertainment, and activities for kids.
Brantview Farms
Craving more maple production in action? Get your fix at Brantview Farms. The maple camp comes alive as the trees are tapped, tubing is placed, and the gathering begins. Visitors have the chance to see the process firsthand, attend product demonstrations, and stock up on maple products like maple cotton candy and pure syrup!
Quecreek Mine Rescue Site
History awaits you at the Quecreek Mine Rescue Site, located just off Somerset Pike. Experience the miraculous story where nine miners were trapped underground for over 77 hours in July 2002. Hear how rescue workers freed the miners from 240 feet beneath the earth, and see artifacts like the rescue capsule and broken drill bit used in the rescue operation
Levi Deal Mansion Bed & Breakfast
Your final stop is the opulent yet comfortable Levi Deal Mansion. Crowning Meyer's Avenue, a tree-lined thoroughfare hosting some of the oldest and grandest houses in Meyersdale, the Deal Mansion was home to local coal and timber baron Levi Deal and his family. Completed in 1900, the 15-room house features a ballroom on the top floor, reception hall, parlors, drawing rooms, a dining room, and library all trimmed in light, native hardwoods, including birch, oak, and maple.
We hope you enjoyed your time in the Laurel Highlands. Share your memories with us on Facebook, Twitter, and Instagram! #PursueYourHappiness