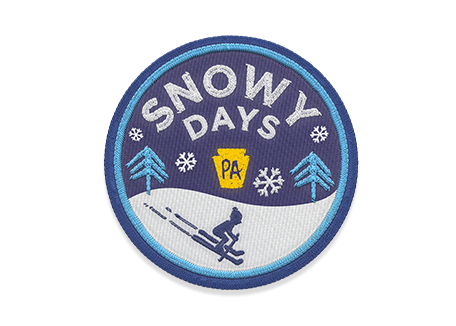 Winter Destinations in Philadelphia
2 days - 12 Stops
As one of America's oldest cities, Philadelphia delights history buffs and art enthusiasts alike — even in the dead of winter. This is where Betsy Ross stitched the nation's flag. It's the city where Rocky ran to the top of the Art Museum stairs. And it's a land of countless museums, theaters and murals. Fill your Thermos to the brim with a warm cup of joe and get ready to hit the art and cultural destinations of Philadelphia.
Day 1
Philadelphia Museum of Art
Fairmount
Start your day with a trip down the Ben Franklin Parkway. This wide-open street flanked with colorful flags will guide you to the foot of the Philadelphia Museum of Art, a museum so great that even its stairs are famous. After you've done your best Rocky impersonation, step inside the historic halls and take a look around. You'll see exhibits on Art in Revolutionary Philadelphia, costumes and textiles, and more than 200,000 pieces of art from throughout the world.

Comcast Center
Center City
You don't have to be in the city limits to get a glimpse of the Comcast Center towering over Philadelphia. Once you reach this 975-foot tall building, you'll notice the giant 2,000 square-foot HD video screen. During the holiday season it puts on a merry display, a 15-minute spectacle filled with sights and sounds of the season. If you're feeling hungry, stop by the Concourse for markets and shops at Comcast Center for a sit-down snack.

Pennsylvania Academy of the Fine Arts
Center City
The Pennsylvania Academy of the Fine Arts is housed in one of the city's most historic buildings. Known for its collection of 19th and 20th-century American paintings and sculptures, the work of the region's top contemporary artists hangs on the walls and sits on display waiting for your appreciation and admiration. Stop by and embrace your inner art critic — the artwork loves the attention. Then grab your gloves and hat as we head east toward the river to our next destination.

Dream Garden at the Curtis Center
Washington Square
Just a short trip down Walnut Street takes you to our next stop. More than 100,000 pieces of hand-fired Favrile glass come together to make the enormous glass mosaic, Dream Garden. Artist Maxfield Parrish designed this Tiffany-produced work of art in 1916 to be displayed in Philadelphia's Curtis Building. Aficionados from around the world visit every day to get a glance at the masterpiece — join them and enjoy this one-of-a-kind piece of art.
Mural Mile
Layer up and grab a warm cup of hot chocolate for this next stop, a unique walking tour of Center City's 17 most iconic murals. Walk the streets of Philadelphia's bustling commercial district and quaint residential alleys while soaking in the beauty of these vibrant murals. You can download a free podcast to listen to the story behind the paintings told through the eyes of the muralist or community members.

The Kimmel Center for Performing Arts
Avenue of the Arts
There's no better way to end a night in Philadelphia than with a show at The Kimmel Center for Performing Arts. From internationally acclaimed Broadway shows to world-famous musicians, its stage is graced by unimaginable talent. Find out who's on stage tonight and grab a ticket — you're in for an amazing show.
Day 2
Exploring Old City's Arts & Cultural Scene
Philadelphia is a big, friendly city with a lot of stories to tell. Surely, you'll need a second day to get a better idea of what the City of Brotherly Love is all about. The art scene here has been bustling for over 200 years. And that means you'll never know where the next great masterpiece will pop up. Grab a pair of sturdy walking shoes and bundle up with your warmest jacket. We're taking you on a tour of our founding fathers' stomping grounds.

Elfreth's Alley
Old City
Elfreth's Alley is one of the nation's oldest residential streets. But don't let the age fool you, there's a lot of hustle and bustle happening here. This little cobblestone alley dates all the way back to the early 18th century. Travel back a few hundred years and you would find a variety of artisans and craftsmen residing here, often working and living in the same building.

Betsy Ross House
Old City
To get an inside peek into the woman who created our Stars and Stripes, meander over to the Betsy Ross House a few blocks away. This historic home is full of artifacts and stories interpreting the life of Betsy Ross. Tour the house and then stay awhile longer to meet Betsy in her upholstery shop and learn more about her exciting life and times through the interactive, historical programming.
Philadelphia Magic Gardens
Washington Square West
To experience the eclectic flavor of the infamous South Street, hop on over to Philadelphia's Magic Gardens. Not your traditional masterpiece, the gardens take the shape of artist's Isaiah Zagar's unique mosaic sculpture. It spans half a block and is full of hand-made tiles, glittering mirrors, bicycle wheels and folk-art statues – a work of art you won't want to miss. Mosey back to Old City afterwards for a chance to warm up.

Old City Coffee
Old City
Take a break from the winter chills and grab a steaming cup of coffee at this Old City establishment. This grab and go system will keep you fueled and thaw from the warm beverage in your hand. Recharged with some caffeine and a bite to eat, you'll be ready to hit the road in no time.

Old City
Old City has an abundance of boutique shops and art galleries full of local treasures. Take a stroll down 2nd and 3rd Streets between Race Street and Market Street and you'll find an abundance of cool things to buy, eat, or gawk at. More Than Old, a small shop along 3rd Street, is full of an eclectic blend of collectibles and antiques.