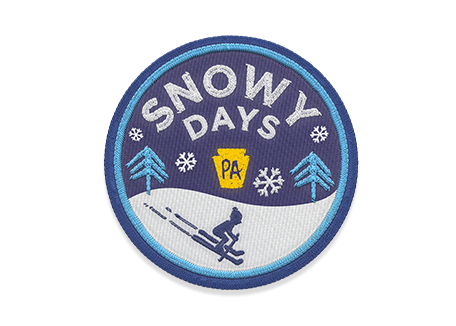 Laurel Highlands
3 days - 7 Stops
Home to several ski resorts, the Laurel Highlands boasts winter fun and countless options sure to please any powder hound! With the highest peaks in Pennsylvania and, on average, the largest amount of natural snowfall in the state, conditions are ideal for skiing and snowboarding. The region's ski resorts are some of the largest in the state, offering skiing, snowboarding, snow tubing and cross-country skiing trails offsite with a side of charming small towns and plenty of hot chocolate along the way. Road trippers taking this journey will find plenty to keep them busy as they pick and choose from resorts to fit their schedule!
Day 1
Hidden Valley Resort
Hidden Valley
The first day of your winter excursion begins at Hidden Valley Resort. A popular ski location, Hidden Valley is the ideal winter destination for families. With 26 slopes and trails, nine lifts, two terrain parks on 110 skiable acres, and a first-class snow sports school, Hidden Valley offers a comfortable and family-friendly environment to learn to ski or snowboard. For the novice, Hidden Valley also provides thrilling rides down its snow tube chutes.

Ligonier | Abigail's Coffeehouse
Ligonier
After your day on the slopes, continue your wintery exploration in the historic town of Ligonier - just a short 13-mile drive from Hidden Valley. While you're there, support the dozens of cozy specialty shops and eateries, like Abigail's Coffeehouse, that surround the picturesque town with takeout or delivery meals.

The Inn at Hidden Valley
Hidden Valley
After exploring Ligonier, head back to the resort and spend the night at The Inn at Hidden Valley or in on-mountain townhomes and condos. Book an overnight stay at The Inn and prepare for ultimate coziness — suites include a living room area and fireplace! Ideally located, guests can easily access all the fun and exciting surrounding attractions of the Laurel Highlands.
Day 2
Seven Springs Mountain Resort
Champion
One of the most exciting things about the Laurel Highlands is that the skiing, tubing, and snowboarding fun never ends! Snowsports enthusiasts will love The Highlands Ticket, which provides unlimited winter adventure between Hidden Valley, Seven Springs Mountain Resort, and Laurel Mountain Ski Area. You've already experienced Hidden Valley, so day two of this excursion gives you even more options!
Just a fifteen-minute drive from Hidden Valley is PA's largest ski resort, Seven Springs Mountain Resort. Seven Springs boasts 33 slopes and trails, seven terrain parks, and 10 lifts on 285 skiable acres, and the Laurel Highlands' largest snow tubing park. Unique to this resort, guests can tag along with the Seven Springs' mountain crew for an unforgettable midnight trip. Ride in a snowcat groomer as it prepares the mountains in the late evening and early morning hours, creating impeccable skiing conditions for the next day. Guests can also hit the trails and see the snow-capped Laurel Highlands on a guided snowmobile tour. Offered several times throughout the day, drivers follow one of Seven Springs' experienced tour guides on a winter adventure into the deep snowy forest. Challenge your ski racing skills on the NASTAR Course or, located on moderate terrain, the 12-14 gate slalom course is set for all levels of racers. There's even a bevy of shopping options onsite if you decide to go on a ski resort shopping spree.
Laurel Mountain Ski Area
Boswell
You can also experience the iconic slopes of Laurel Mountain Ski Area on day two! Straddling Westmoreland and Somerset counties in Laurel Mountain State Park, the ski area is famous for its double diamond Lower Wildcat Slope, the steepest slope in Pennsylvania. Once known as the Ski Capital of PA, Laurel Mountain has a rich history and is a true skier's mountain — at 761 feet, it boasts the highest vertical drop on the Laurel Ridge.
After a long day in the cold and snow, check into your guest room at the Seven Springs Mountain Resort for some much-needed relaxation. The resort offers comfortable guest rooms and gorgeous slope side townhomes — perfect for the ultimate family vacation or a romantic weekend.
Day 3
Nemacolin
Farmington
Your next stop is at Nemacolin, a 50-minute drive south from Seven Springs, offering you a welcome opportunity to unwind and rejuvenate. Nemacolin is a peaceful getaway surrounded by scenic woodlands that offers a true winter escape. The resort features an internationally acclaimed spa and fitness center that offer a relaxing setting for all to enjoy their treatments.
When you're recharged, head outside and explore some of Nemacolin's 2,000 wooded acres. This time of year, there's snowshoeing, skiing and snowboarding, tubing, and cross-country skiing that will give you an unforgettable ride through the scenic landscape of the Laurel Highlands.

Rockwell's
Farmington
If you're looking for a great meal, it doesn't get fresher than takeout from Nemacolin's main lodge restaurant, Rockwell's. In addition to reimagined recipes, inspired meals, and courteous staff, Rockwell's also features ingredients from local farms. That means you'll have the freshest fruits, veggies, dairy, and meats on your plate. Bon appétit!
Nemacolin's six lodging options cater to everyone's personal choice, each sporting a variety of amenities.