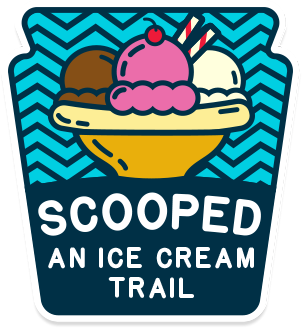 East
Meet the Creameries: Eastern PA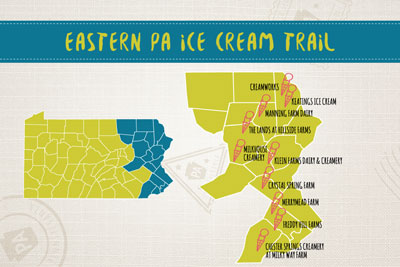 Chocolate, vanilla, strawberry, no matter what your flavor, Pennsylvania has a creamery just for you. Eight more ice cream shops on the Eastern side of Pennsylvania make up the Scooped: An Ice Cream Trail. What could be more fun this year than putting your taste buds to work?!
Creamery Image
Chester Springs Creamery at Milky Way Farm
Address
521 E Uwchlan Ave
Chester Springs, PA 19425
Description
Chester Springs Creamery at Milky Way Farm has been voted among the top ice cream destinations in Pennsylvania. Visit the creamery for a delicious ice cream cone, sundae, or milkshake made from fresh milk right from the farm. The more than 40 different flavors of "moolicious" ice cream, such as Bessie's Black Raspberry and Molly's Mint Chip, are named after the farm's cows.
Creamery Image
Address
1557 Creek Drive
Waymart, PA 19472
Description
At one time, almost every community had a small milk bottling or ice cream plant nearby. With this in mind, Creamworks opened its own dairy and creamery in 2010, bottling milk and churning out ice cream. More than 16 flavors of ice cream and other dairy products are available through the farm's self-serve store. Payment is accepted by check or correct change.
Creamery Image
Address
3550 Bellview Road
Schnecksville, PA 18078
Description
Crystal Spring Farm's ice cream is made with fresh milk and cream from the farm's own dairy herd, using Grandpa Sell's time-tested recipes. Grandpa Sell still enjoys refining his recipes, using a variety of flavorings and fresh ingredients. In addition to hand-dipped ice cream from the creamery, the farm's retail store sells pre-packaged ice cream in half gallons, quarts, pints, Dixie cups, ice cream sandwiches, and ice cream cakes.
Creamery Image
Address
1440 Sumneytown Pike
Lansdale, PA 19446
Description
With two miniature golf courses, batting cages, driving range, and delicious homemade ice cream, everyone is sure to find something to love about Freddy Hill Farm. Named "Best of Philly" by Philadelphia Magazine, Freddy Hill Farm offers more than 30 flavors of farm fresh ice cream, along with milkshakes, sundaes, flurries, floats and homemade waffle cones.
Creamery Image
Address
1642 Archbald Mountain Road
Lake Ariel, PA 18436
Description
Located on Keating's Heavens Gate Farm, Keatings Ice Cream is family-friendly with outdoor seating. Using one-of-a-kind, family-owned recipes, Keatings has several different flavors of ice cream available throughout the summer. From old time favorites with some additional new flavors, like French Toast Bacon, there's a delicious concoction for everyone to enjoy. In a cozy storefront adjacent to their dairy farm, Keatings also sells their own beef for a true farm-to-table experience.
Creamery Image
Klein Farms Dairy and Creamery
Address
410 Klein Road
Easton, PA 18040
Description
Klein Farms Dairy and Creamery is home to Happy Holstein Ice Cream. This family-owned farm was founded in 1935, opened its first dairy store in 2004, and moved to its new facility in 2016. The creamery offers more than 20 flavors of homemade ice cream, crafted with the best of ingredients. Along with its year-round mainstay flavors, Happy Holstein Ice Cream offers seasonal favorites that celebrate upcoming seasons.
Creamery Image
Address
RR#1 Manning Road
Dalton, PA 18414
Description
Manning Farm Dairy is a fourth generation family farm in North Abington Township, Pennsylvania. Their homemade ice cream starts well before the cream and sugar. They start with the quality crops that are grown on the farm and are fed to their cows - since happy cows are productive cows. Then they milk the cows twice a day and bottle that milk to make ice cream that is delivered to their stores daily. Manning's homemade starts with the farm first.
You'll will fall in love with their wide range of over 50 ice cream flavors, ice cream pies, and ice cream cakes. Stop by for your milk and have a cone to brighten your day. Treat yourself, you deserve it.
Creamery Image
Address
2222 S Valley Forge Road
Lansdale, PA 19446
Description
Merrymead Farm, located in the heart of Montgomery County, opened its doors to the public in 1971, producing and processing milk onsite from its own herd of Holstein cows. Recognized among Pennsylvania's Century Farms, Merrymead is now managed by the fifth generation of the Rothenberger family. The farm features more than 32 flavors of hand-dipped premium ice cream, quality award winning milk, and freshly made pies and other baked goods.
Creamery Image
Address
99 Pecora Road
Drums, PA 18222
Description
Get ready for a taste of old-fashioned ice cream handmade onsite at Milkhouse Creamery LLC. Paying tribute to northeast Pennsylvania's dairy industry, Milkhouse Creamery prides itself on offering more than 30 creative flavors that are often inspired by dreams and childhood memories. With stores in Drums, Mountain Top, and Berwick, it's even easier to try their delicious ice cream flavors and other tasty dairy products. You'll feel like a kid again the moment you walk through the door.
Creamery Image
The Lands at Hillside Farms
Address
65 Hillside Road
Shavertown, PA 18708
Description
The Lands at Hillside Farms is more than an ice cream shop — it's an experience. With more than 400 acres, The Lands at Hillside Farms provides farm-based educational programming and a unique Dairy Store that serves as a local food hub. Ice cream is made on-site and sold in cones, dishes, and half gallons, with a wide selection of original flavors available throughout the summer. While you're at the Dairy Store, browse their selection of local, Pennsylvania Preferred® dairy products, including milk, cheese and butter. The Lands at Hillside Farms also has a charming mercantile and greenhouse with a variety of plants, vegetables, local goods and artwork.