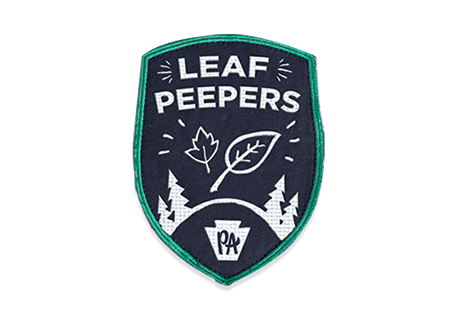 Fall Foliage Destinations Throughout the Pocono Mountains
3 days - 9 Stops
Encompassing 2,400 square miles of rolling mountain terrain, breathtakingly beautiful waterfalls, verdant forests, and 170 miles of winding rivers, the Pocono Mountains region of northeast Pennsylvania is a woodland paradise. Colorful leaves blanket and illuminate the countryside, creating a dramatic backdrop for outdoor activities of all kinds.
The varied landscape presents scenic views in every season, but few sights compare to the breathtaking fall foliage. The Pocono Mountains are home to 127 indigenous species of trees, plants, and shrubs that burst into bold hues every autumn.
Stay, explore, and experience the beauty of autumn in the Pocono Mountains.
Day 1
Lehigh Gorge
Start the morning with a scenic train ride up the Lehigh Gorge for 25 miles, and then bike back down at your own pace. Pairing leisure with adventure, this all-day outing is an exhilarating way to see the trees around Jim Thorpe. The Lehigh Gorge Scenic Railway offers Autumn Leaf excursions on weekdays and weekends through October.
Jim Thorpe
Take the afternoon to tour and explore! Visit mansions, museums, and galleries around Jim Thorpe. A background of fall foliage makes these beauties stand out. We suggest: the Harry Packer Mansion and the Old Jail Museum.
While in Jim Thorpe, stop into one of the pubs for dinner. Both the Broadway Grille & Pub and Molly Maguires Pub & Steakhouse feature tasty comfort food with a historic flair.
In the evening, step back in time by taking a self-guided a walking tour of the town, enjoying sightseeing, shopping, and culture. Popular merchants and restaurants offer seasonal sales and special menu items to enjoy. And end your day cozied up at a local bed and breakfast, like Times House and Rosemary Remembrances II.
Day 2
Delaware River
Take leaf peeping to the next level with fall fun on the Delaware River. Travel north on route 209 for an hour and a half to Kittatinny Canoes, Inc and start with a river trip. Canoe, kayak, or raft down the Delaware for unmatched views of the autumn leaves. Kittatinny also offers an opportunity to fly through the trees on a 3,000-foot mountain zip line. Ride solo or race a friend; you'll reach speeds up to 60mph!
Milford's Black Bear Film Festival
In the afternoon, travel 15 minutes north to celebrate the arts. Milford's Black Bear Film Festival is scheduled in October — peak fall foliage time! Enjoy three days of back-to-back independent film screens, drive-in style, from the safety of your own vehicle.
Downtown Milford
Grab lunch in Downtown Milford, which stands out against a backdrop of autumn leaves. Bar Louis at Hotel Fauchere is a chic spot for good food and drinks. Driven by culinary extravagance, Hotel Fauchere also offers luxurious lodging.
Iconic Waterfalls
When evening comes, take a walk to a waterfall! The central color fall foliage zone is home to many of the Pocono Mountains' most iconic waterfalls. The trails to Dingmans Falls and Raymondskill Falls (tallest waterfall in the state!) are relatively easy and appropriate for children. Bushkill Falls is another top spot for waterfall viewing. Take a look through the Fall Foliage Map to find more waterfalls to explore.
Looking to spend the night away from home? Unwind in a luxurious Bed and Breakfast, like Cherry Valley Manor. Tucked away on a quiet hill, find bliss and serenity in this hidden gem, and wake up to the quiet rustling of leaves and bird-singing with the smell of a gourmet breakfast.
Day 3
Hawley
Kick off the day with a scenic drive on historic Route 6 toward Hawley for award-winning views of the fall foliage. Route 507 around Lake Wallenpaupack was named one of Travel Channel's Best Fall Foliage Road Trips. The massive lake covers 52 miles of shoreline and is home to some of the best fishing in Pennsylvania. Imagine walking around the lake on an autumn day with the vibrant colors of the trees reflecting off the water all around you — time for an Instagram selfie!
Indulge in farm-to-table restaurants in the Pocono Mountains. Fresh ingredients enhance handcrafted dishes at The Settlers Inn at Bingham Park, Cocoon Coffeehouse & Catering Company, and French Manor Inn and Spa. Delicious dishes aren't all these inns have to offer. Stay the night and experience an enchanting atmosphere at both The Settlers Inn at Bingham Park and French Manor Inn and Spa.
Dorflinger-Suydam Wildlife Sanctuary
Take a stroll through the sanctuary to wind down. Encompassing almost 600 acres, the Dorflinger-Suydam Wildlife Sanctuary is a wonderful place for a fall walk. The Sanctuary is dedicated to the preservation of woodlands and open spaces — the well-maintained walking trails will clear the mind and refresh the soul. The preserve is open daily, 8:00 a.m. to dusk, year-round.
Silk Mill
Spend the night in a bluestone beauty. While you're near Hawley, visiting the Silk Mill is a must. This 75,000-square-foot stunner is home to shops and galleries, and it's just steps from fine accommodations and farm-to-table dining. Then tuck into the neighboring Ledges Hotel where tumbling waterfalls complement autumn foliage. In the morning, perk up at café Cocoon Coffeehouse & Catering Company.
Explore more fall foliage across the state on visitpa.com and be sure follow us on Facebook, Twitter, and Instagram to stay up-to-date on even more great trip ideas and places to visit around our state. Don't forget to never miss an update and sign up for our monthly Happy Thoughts e-newsletter.