The Happy Traveler is a proud leaf peeper and tours the commonwealth to capture the vibrant colors of fall. From soaring over the Allegheny National Forest in an open cockpit biplane to canoeing along Pennsylvania's only seashore, there are many ways to Pursue Your Happiness during the commonwealth's most beautiful season.
1. Northern Zone: Peaks in early October
2. Central Zone: Peaks in mid-October
3. Southern Zone: Peaks in late October
1. Pine Creek Gorge
Wellsboro
Northern Zone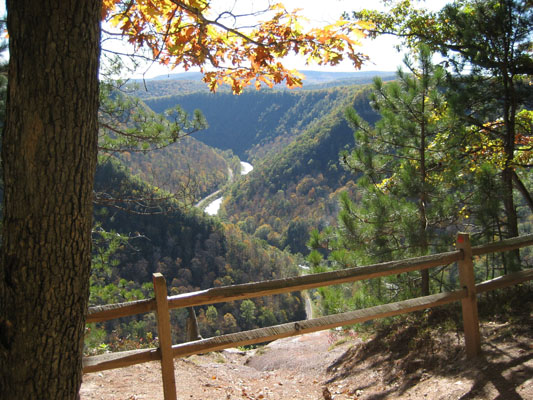 Almost 50 miles long and 1,450 feet deep, Pine Creek Gorge features a brilliant fall display of deep reds, yellows, and purples in early October. Some of the best fall views of the canyon can be found at Leonard Harrison and Colton Point State Park.
Fall Foliage Insider's Tip
The historic Pine Creek Rail Trail is a gem of the Pine Creek Gorge and offers a tremendous way to view fall foliage. Voted by USA Today as one of the "10 great places to take a bike tour," this 62-mile plus long trail travels through the gorge for an up-close and personal look at foliage for hikers, bikers, and equestrians.
2. Big Pocono State Park
Tannersville
Central Zone
Big Pocono State Park, located at the top of Camelback Mountain, is home to breathtaking views in the fall season by foot or by car. The best place for viewing foliage is at the park's summit, where a scenic overlook offers views for miles of the popular Delaware Water Gap National Recreation Area and beyond.
Fall Foliage Insider's Tip
Ride the Pocono Express through charming Pocono Mountain towns and see scenery that changes with the seasons. These fall foliage train excursions are a wonderful way to celebrate autumn in the Poconos.
3. Allegheny National Forest
Bradford
Northern Zone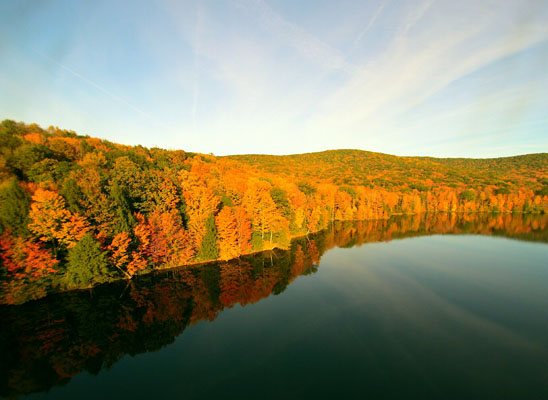 Scenic drives through the hardwoods of Elk, Forest, McKean, and Warren counties in northern Pennsylvania provide spectacular fall foliage touring. In the Allegheny National Forest, visitors can hike hundreds of acres of trail ways ranging from short birding trails to the challenging North Country Trail. Throughout, the Allegheny National Forest offers a variety of scenic vistas, mountains, brilliant colors, and wildlife viewing opportunities.
Fall Foliage Insider's Tip
For a unique way to experience the awe-inspiring views of the Allegheny National Forest, visit the Kinzua Sky Walk, a walk that extends out 624 feet into the Kinzua George or float along the Allegheny River by boat, kayak, or canoe and sightsee along 107 miles of water trails.