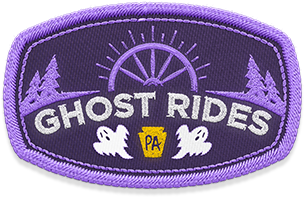 Ghost Rides – Eastern PA
4 days - 21 Stops
Whether you're hunting ghosts or history, this road trip is not for the faint of heart. It's autumn, the season of harvest and hauntings, and we've picked out some destinations that will complement the chill in the air. Along your journey, you'll encounter spooky hotels, haunted prisons, and maybe even the ghosts of a couple of Founding Fathers. We hope you brought your camera, and your running shoes, because you're in for a spooky ride.
Day 1
1. Old Jail Museum
Jim Thorpe
Let's start off your trip with a stop at the notorious Carbon County Jail. If these walls could talk, they'd be telling goosebump-worthy stories of murder, violence, and centuries-old hauntings. But since walls can't talk, you'll have to count on the guides who'll be happy to share all the sordid details of this old prison, built in 1871. Along your way, be sure to make a stop at infamous Cell 17.
2. Asa Packer Mansion Museum
Jim Thorpe
While you're walking around Jim Thorpe, you may notice a gigantic mansion looming over the town. That red-roofed giant would be the Asa Packer Mansion, built in 1861. Don't let its overwhelming presence scare you. There's no Doctor Frankenstein living up there peering out the windows, but you will find room after room of classic furniture and antiques from centuries past.
3. Historic Stone Row
Jim Thorpe
Next, take a walk through the historic streets of Jim Thorpe and you'll see that not much has changed over the past century. Back in the mining days, this area used to be known as Millionaire's Row because of the dozen or so wealthy Pennsylvanians who took up residence here. Today, you'll find a series of beautiful and sturdily built stone houses remaining as a throwback to the old days. Take a look around and be sure to make a stop at some of the quaint shops that pepper the area.
4. Inn at Jim Thorpe
Jim Thorpe
Stroll down Main Street from the Historic Stone Row past the colorful trees to the Inn at Jim Thorpe. Built in 1849, it is known as one of the most beautiful structures in town. It is so beautiful, in fact, that some of its guests decided to stay there in the afterlife. Over the years, there have been tales of moving objects, cold spots, and even overturned furniture. Guests in room 310 have reported feeling the icy grip of a nurse who occupied the room over a century ago.
5. Old Moravian Cemetery Walks
Bethlehem
An hour's drive south will lead you to our next destination, a detour from Bethlehem's Main Street, where you'll come across the Old Moravian Cemetery. The first things you'll notice on this brisk autumn afternoon (other than the general creepiness) are the flat gravestones lining the ground. The town's old Moravian inhabitants were strong believers in simple, not-too-flashy architecture. The cemetery itself is Bethlehem's oldest and was in use from 1742-1910.
6. Sun Inn
Bethlehem
After your stroll, head to Historic Main St. Bethlehem and tour the 1758 Sun Inn where guests like George Washington, Alexander Hamilton, and Ben Franklin once stayed. Famously haunted, this hot spot is a favored place for paranormal investigators, gaining fame after its feature on "Ghost Hunters," a popular cable TV show. After your tour, enjoy a drink at the Biergarten In The Sun Inn Courtyard before you head to your next stop.
7. Donegal Square
Bethlehem
Donegal Square is where Bethlehem comes for authentic Irish music, clothes, and gifts. It's also where they come for some creepy ghost tales. This is the site where General Lafayette rehabilitated from battle wounds he suffered in the Revolutionary War. According to legend, his caretaker's daughter was so in love with him that even to this day she wanders the site looking for him. Visitors have reported experiencing poltergeist activity like faucets turning on and furniture moving.
8. Brethren's House
Bethlehem
Finally, we have a stop for folks who like some history with their hauntings. The Brethren's House was built in 1748 as a home for single men and a place of work and worship. During the Revolutionary War, George Washington had more than 5,000 of his sick and wounded troops housed here. He even paid a visit himself some years later. With so much tragedy and history here, you're not wrong to think a place like this would have some spirits floating around.
Bonus: Enjoy your time in Bethlehem and want to stay the night? Book a room at the Hotel Bethlehem! Bethlehem's famous "first house," built in 1741, was located on this site until 1823, when the Eagle Hotel replaced it. Then in 1921, Hotel Bethlehem took the Eagle's place, at the direction of controversial multi-millionaire industrialist, Charles M. Schwab, the president of Bethlehem Steel in its heyday. Visit their site to learn more about the friendly ghosts of Historic Hotel Bethlehem.
Day 2
1. D And L Trail - Delaware Canal Towpath
Upper Black Eddy
After your day in Jim Thorpe and Bethlehem, head 40 miles and start your day with a delightfully un-spooky stroll along the Delaware River, you'll replace ghost and goblins with bright autumn leaves and crisp fall air. The Delaware Towpath is the only remaining and intact canal of the Great Towpath Building Era of the 19th century. The surroundings paint a beautiful picture of cool flowing waters against the backdrop of the orange and red fall foliage. This is definitely a camera-worthy occasion.
2. Van Sant Covered Bridge
New Hope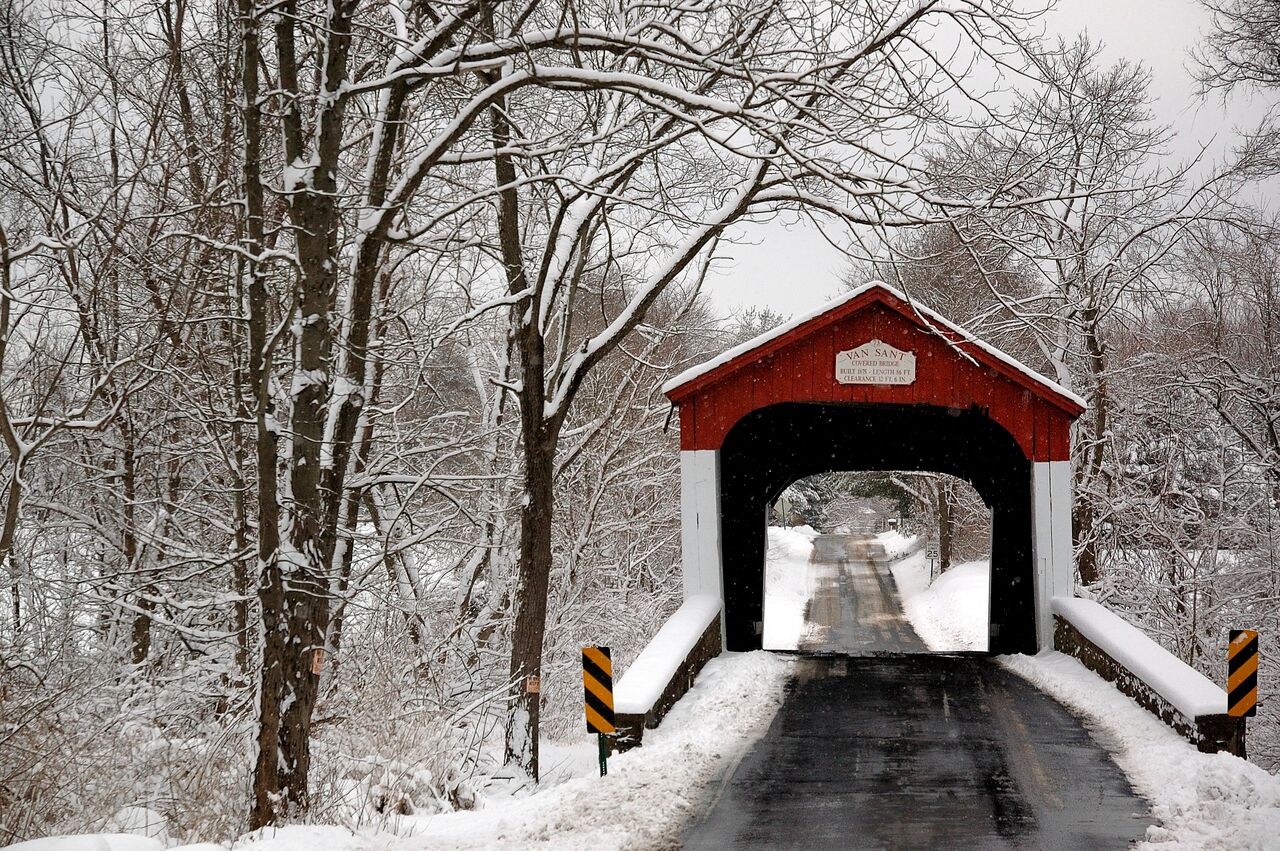 Stop two brings you into the beautifully historic town of New Hope to find the Van Sant Covered Bridge. As you enter into town, you'll want to take a moment to drive over the charming bridge that looks like it stepped out of a different century. The Van Sant Bridge was built in 1875 to help locals cross the Pidcock Creek. Aside from its picturesque beauty, the bridge is also known for never disappointing curious ghost hunters.
3. Logan Inn
New Hope
The next on stop on your trip is the Logan Inn. Established in 1727, this is one of the nation's oldest inns. And with an old inn comes old spirits. In fact, Logan Inn has been noted as one of America's most haunted buildings. Guests and workers have become familiar with at least four different spirits who make this inn their home. Whether you meet the Revolutionary War soldiers or the ghostly little girl who greets you in the parking lot, there's a good chance you'll leave here with a cool ghost story to tell.
4. The Ghost Tours of New Hope
New Hope
While you're in town, participate in a ghost tour of New Hope. Follow this lantern-led "walk" through the picturesque streets of New Hope to learn about the places and spaces that haunt its locals. From the Phantom Hitchhiker who may pass you in the moonlight to the historic inn where Aaron Burr appears from time to time, you'll want to bring sensible walking shoes and a flashlight and be ready to discover the mystery and history of New Hope.
5. New Hope & Ivyland Railroad
New Hope
All aboard! Your final stop for today is a spooky ride on the Haunted New Hope & Ivyland Railroad Haunted Halloween Trail, where you'll find ghosts, goblins, and other ghouls on the nine-mile trip to Lahaska. For something less scary, take your kids on the Trick or Treat Train where assorted toys and candy will be given out as children enter in their costumes.
Bonus: Enjoying New Hope? Book a stay at the haunted Logan Inn before you head into day 3!
Day 3
1. Eastern State Penitentiary
Philadelphia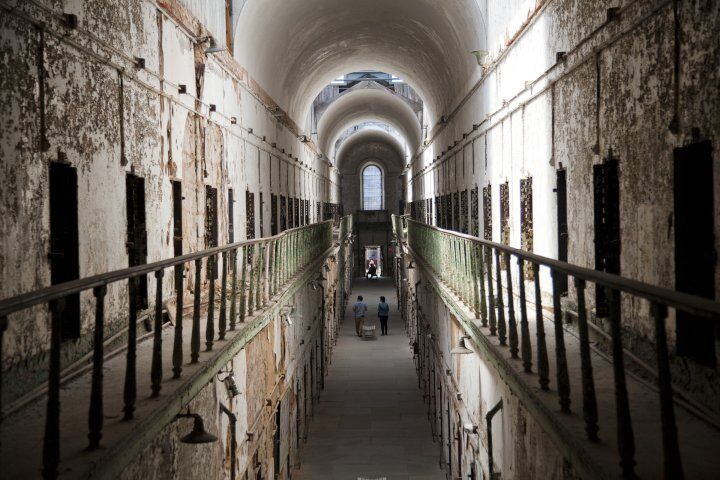 After a one-hour trip south, you'll find the Eastern State Penitentiary, ranked the "nation's 5th best haunted attraction" by America Online. One look at the brick towers peering over the walls and you know that this place means business — ghostly business. The penitentiary opened in 1829 and operated until the 1970's. Today it's a famous destination for ghost hunters around the globe. Stop by for a guided tour through the building. Spiritual activity seems to run the gamut.
2. Old City
Philadelphia
Just a few miles south of the Penitentiary is Old City. An area rich in tradition, nightlife, and oh yeah, ghosts. In this upscale area, you'll find yourself immersed in boutique stores and restaurants. But as with anything in Philly, there are centuries of history lurking beneath the surface. And with so many creepy destinations in Old City, you'll have trouble finding them all in one day. Lucky for you, there are plenty of ghost tours for you to choose from.
3. St. Peter's Cemetery
Philadelphia
Scared enough yet? If not, head west into Society Hill to St. Peter's Episcopal Church. This church first opened its doors on September 4, 1761. Over the centuries, it has hosted some of Colonial America's most important figures. George Washington even had a pew here. The cemetery has some intriguing stories of its own, sharing this final resting place with Revolutionary War heroes, Indian chiefs, and painters.
4. Washington Square Park
Philadelphia
Stroll along the cobblestone streets to Washington Square, once used as a burial ground from 1706 to 1825. More than 2,000 Revolutionary War soldiers who passed from diseases or wounds were buried here. Then during British occupation, prisoners of the Walnut Street Jail were also buried here. And finally, the grounds were used to bury the victims of the 1793 yellow fever epidemic that claimed the lives of 5,000 Philadelphians.
Bonus: Spend the night at Old City's Morris House Hotel before heading into day 4! Built in 1787, the Morris House Hotel is a National Historic Landmark that has been renovated into one of the best boutique hotels in Philadelphia Historic District.
Day 4
1. Colonial Pennsylvania Plantation
Newtown Square
Hopefully you didn't have nightmares and got some sleep to gear up for the final day of this trail. Less than an hour from the city, The Lantern Tours at Colonial Plantation invite you to an evening of ghostly stories with scary and true tales of terror. Transport yourself through history on their torch-lit path and discover the strange ways that colonists interacted with the dead. Finish at a bonfire — if you dare- for one last tale of scares.
2. Bates Motel
Head less than five miles west and check into the Bates Motel or the most incredible display of terror and mayhem. Considered one of the best haunted houses in America, the motel is filled with high-tech special effects and lighting. The Bates Motel takes Halloween to a new level.
3. Haunted Hayride at Arasapha Farm
Glenn Mills
Featured on the Travel Channel and rated as the number one haunted attraction in America by Haunteworld Magazine and USA Today, the hayride has been scaring visitors for more than 20 years. The Haunted Hayride is a 25-minute, action-packed, heart-pounding ride through the dark forest of Arasapha Farm. With scenes like a 100-foot long, 40-foot-tall drive through an insane asylum, the hayride is sure to scare.
Spring City
Continue on your spooky ride 24 miles north at the Pennhurst Asylum to send chills down your spine. The hospital-themed walk-thru attraction features items and artifacts that were part of the original state school. The attraction combines high-tech animatronics, digital sound, and motivated actors, as well as fine detail and realism. Walk through the dungeon of lost souls that features a labyrinth of old cells and a series of human experiments that have gone wrong.