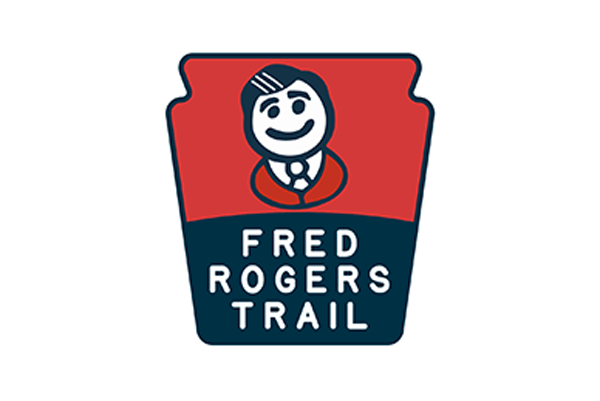 Pittsburgh & Its Countryside
Laurel Highlands
3 days - 10 Stops
Hey, Happy Travelers! Lace up your tennis shoes, zip up your cardigan, and get ready to walk a mile in the shoes of a PA legend! The Fred Rogers Trail is packed with engaging activities inspired by the universally-beloved children's television figure.
Known as Mister Rogers to little ones across the globe, Latrobe native Fred Rogers gained fame for creating and hosting the children's television show Mister Rogers' Neighborhood in Pittsburgh. This year marks the 54th anniversary of the series, so it's the perfect time for Happy Travelers to take a carefree journey and experience these iconic only-in-PA destinations with special ties to our favorite neighbor.
Day 1 - Latrobe & Ligonier
Idlewild & SoakZone (Ligonier)
Spend an adventurous day at Idlewild & SoakZone, recognized as the "Best Children's Park in the World" by Amusement Today.
The original Mister Rogers' Neighborhood of Make-Believe attraction operated in the park from 1989 through 2013. After the 2013 season, it was closed and replaced by the current Daniel Tiger's Neighborhood ride, where Daniel and friends create smiles for a whole new generation of children. The new ride uses the same trolley, tracks, and some of the sets as the original ride, giving Mister Rogers' Neighborhood fans a bit of nostalgia.
Did you know that Daniel Tiger's Neighborhood is the first television series inspired by the original Mister Rogers' Neighborhood? The animated show features the son of the original program's Daniel Striped Tiger!
Experience the Neighborhood of Make-Believe, where Daniel Tiger invites you to take a trolley ride through Daniel Tiger's Neighborhood. Next, explore the park's collection of vintage children's rides and the beloved StoryBook Forest, then enjoy the beautiful scenery of the magnificent Laurel Highlands.
Bonus tip: On your way from Idlewild to Latrobe on Route 30, keep an eye out for an overhead bridge with a familiar quote – "It's a Beautiful Day in the Neighborhood."
Fred Rogers Center at Saint Vincent College (Latrobe)
The Fred Rogers Exhibit, a public, interactive display situated on the upper level of the Fred M. Rogers Center building at Saint Vincent College. Here, trace the life, work, and influence of Fred Rogers, beginning with his hometown roots in Latrobe and continuing through the mission and vision for his pioneering legacy in children's media.
The exhibit includes many iconic artifacts from Mister Rogers' Neighborhood, including the Neighborhood Trolley, puppets from the show, Daniel Tiger's clock, and Rogers' iconic sweaters and sneakers. You'll find a "Speedy Delivery" letter-writing station, informative wall panels, and four video screens playing programs about or featuring Rogers. The exhibit is only open to the public Monday through Friday, so plan your road trip accordingly.
Worthy detour: Before you leave, take a quick stroll across campus to the St. Vincent Basilica and Archabbey— the oldest Benedictine monastery in the United States and the largest in the Western Hemisphere — for a beautiful example of monastic architecture and incredible views. If you time your visit just right, you can even be on-campus during the Pittsburgh Steelers' summer training camp!
Latrobe High School (Latrobe)
Turn back the time to Fred Rogers' own upbringing. Long before Mister Rogers brought children into his television make-believe neighborhood, he was born in his grandparents' home — 705 Main St., the home of Fred B. and Nancy McFeely — in Latrobe. He was raised by his parents, James H. and Nancy McFeely Rogers, at 737 Weldon St. Rogers graduated in 1946 from Latrobe High School where he was the yearbook editor; served as president of the student council and roamed the halls with Arnold Palmer (Class of 1947), who would become a legendary professional golfer.
The building at 1501 Ligonier St. that once housed Rogers' high school is now privately owned, but to honor its famous graduate, the new high school, located across town close to Palmer's Latrobe Country Club, houses a large display of items from Rogers' school years, Mister Rogers' Neighborhood production memorabilia, and other items that show the impact that his family has and continues to have on the Latrobe community. The display is only open to the public during scheduled school activities.
Latrobe Area Historical Society (Latrobe)
Explore the history of Fred Rogers birthplace, Latrobe, its heritage firsts, and famous citizens including Fred and golf legend Arnold Palmer. The Latrobe Area Historical Society building is open Tuesdays 1 to 3:30 p.m., Fridays 9 a.m. to 1 p.m., Saturdays 9 a.m. to 11 a.m., and by appointment (724-539-8889).
Latrobe Presbyterian Church (Latrobe)
Fred Rogers was an ordained Presbyterian Minister, so stop by and see where he attended as a child. Reflect for a moment in its beautiful prayer garden, then view the preserved school bell on the very site where Second Ward School — Rogers' elementary school — once stood.
Fred Rogers' Place of Burial (Latrobe)
Take a moment to visit Fred Rogers' final resting place and reflect on his legacy at Unity Cemetery, which sits about a mile west of Latrobe and offers panoramic views of the Chestnut Ridge of the Laurel Highlands at the foot of the Allegheny Mountains. Rogers lies in a family mausoleum along with his father, James Hillis Rogers, and his mother, Nancy McFeely Rogers, among other family members. The mausoleum bears the name "Given" and sits atop a hill near the back of the cemetery. Unity was established March 1, 1774 via a land grant from William Penn's grandson, John Penn, as a burial ground and meeting place for the Presbyterian Congregation at Unity. Unity Church was the first Presbyterian Church west of the Allegheny Mountains. Just inside the cemetery gates is Unity Chapel, which was built in 1874 and is the third Presbyterian Church build on the grounds. A plaque to the left of the chapel front provides a historical background of this special place of worship and celebration.
Fred Rogers Statue in James H. Rogers Park (Latrobe)
Named in memory of Fred's father James H. Rogers, continue revisiting fond memories with a pit stop to James H. Rogers Park at the corner of Jefferson and Main streets in downtown Latrobe, which features a statue of Fred Rogers sitting on a bench inviting you to take a seat and stay a while. Sit next to his statue — whose artist was so detail-oriented that he wanted to know the sizes of Rogers' clothing when creating it — and snap the perfect selfie of you and the country's most cherished neighbor. You can even visit the Pennsylvania State Historical Marker of Mister Rogers on the Main Street side of the park, which was installed in June 2016.
Latrobe Art Center (Latrobe)
Inside the Rogers Building next to James H. Rogers Park on the corner of Main and Ligonier streets, you'll find the Latrobe Art Center and Ricolita's Café, where you can enjoy breakfast or lunch. There is Mister Rogers' Neighborhood and Daniel Tiger's Neighborhood merchandise available for sale, along with inspiring artwork and crafts by artists throughout the region. We recommend trying a caprese panini at the café, an option that Mister Rogers — a vegetarian — likely would have selected for himself.
Inside scoop:
Banana Split (Latrobe)
Next door to the Latrobe Art Center at 805 Ligonier Street is the birthplace of the Banana Split with a larger-than-life size Banana Split sculpture and the Pennsylvania State Historical Marker explaining its origin. This site is a great opportunity for a photograph, so get your camera ready! We recommend Valley Dairy Restaurant nearby to get your very own "All American Banana Split", a boat filled with one scoop each of vanilla, chocolate, and strawberry ice cream.
Day 2 - Pittsburgh
Duquesne Incline (Station Square)
Ever wanted to take a ride in the Neighborhood Trolley? You can (sort of!) by riding the look-alike Duquesne Incline, one of the most Instagrammed photos in Pittsburgh. Take a step back in time on this century-old cable car and see the best views of downtown Pittsburgh while riding one of the few remaining inclines in the country. You can also visit the interior of the incline and watch the machinery while it operates. The Duquesne Incline's upper station houses a museum of Pittsburgh history, including photos and a storehouse of information on inclines from around the world.
Senator John Heinz History Center (Strip District)
After a restful night, venture over to the Senator John Heinz History Center to view the largest collection of original items from the Mister Rogers' Neighborhood television set. Get close-up looks at select artifacts from the series, including the entryway and living room set that Mister Rogers walked through to begin each show, plus King Friday XIII's Castle, the Great Oak Tree, Picture Picture, and Mr. McFeely's "Speedy Delivery" tricycle.
Tribute to Children (North Shore)
Enjoy the views of downtown Pittsburgh from the "Tribute to Children" monument on the North Shore. The 7,000-pound memorial is surrounded by a circular walkway and framed by a keyhole opening in the old Manchester Bridge pier. The tribute showcases a 10-foot bronze statue of Rogers sitting down and tying his sneakers — just as he did at the beginning of each episode of the show — and is a great photo opportunity for the kids. The riverfront location reflects Fred's love for the water and swimming.
Worthy detour:
The Maverick by Kasa (Pittsburgh)
If you're looking for a friendly neighborhood hotel experience with unique ties to Fred Rogers and his beloved show, check into The Maverick by Kasa housed in a century-old former YMCA in the heart of East Liberty. Fred worked with local YMCAs throughout his life to improve the lives of children, and the Fred Rogers Company has continued to partner with local YMCAs and other organizations since 2012 as part of its mission to positively impact children and their families.
The property is also a short distance from the city's best restaurants, shops, galleries, and museums.
WQED (Oakland)
Take a selfie outside WQED Studios, where Mister Rogers Neighborhood, was produced and filmed by Family Communications, Inc. WQED was the nation's first community-supported television station and went on the air on April 1, 1954. The largest production space, where hundreds of episodes were filmed, was renamed the Fred Rogers Studio in his honor.
Day 3 - Museums & Wonders
Children's Museum of Pittsburgh (North Side)
Explore the Children's Museum of Pittsburgh and be sure to include the Kindness Gallery during your visit. In this interactive exhibit, kids have the opportunity to try different forms of communication to send messages of kindbness, drawing from the work of the beloved Fred Rogers and lessons from Daniel Tiger's Neighorhood. The permanent exhibit also includes other family favorite activities such as the Gravity Room and Animateering station! Other must-do activities include Waterplay, The Garden, The Nursery, The Limb Bender and an abundance of exhibitions to stimulate young minds.
Pennsylvania Trolley Museum (Washington, PA)
For Daniel Tiger fans who want to ride a trolley, the Pennsylvania Trolley Museum can deliver. Here, you'll also discover where Mister Rogers' Neighborhood filmed the iconic episode "Grandparents." Uncover the legacy of streetcar lines as you tour the same trolley cars as Rogers did and take a ride on a vintage trolley along a track line that once ran from Pittsburgh to Washington.
Worthy Detour (1hr., 45 min. West):
Buttermilk Falls Natural Area (Armagh)
Growing up, Fred and his family would retreat from their neighborhood to Buttermilk Falls, which Fred's grandfather owned from 1931 to 1956. This site features an impressive 45-foot waterfall, scenic woodland hiking trails, and a picnic area. The stone foundations and retaining walls from the former McFeely residence can be explored.