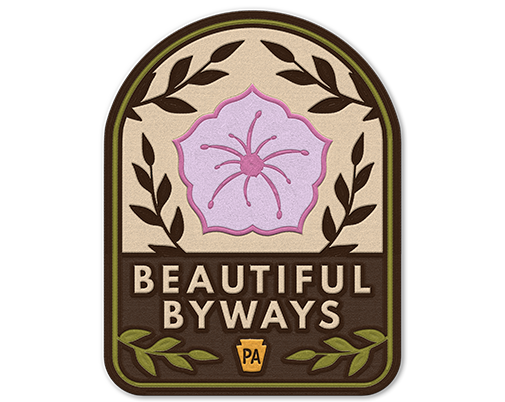 Historic National Road Byway: Laurel Highlands
4 Days – 20 Stops
There's a reason why the Historic National Road Byway has its name. Home to the sights and landmarks of arguably the most important revolutionary events in our nation's history, this byway is packed with adventure and education. Experience the best of both worlds as you transport yourself through history, find epic outdoor adventures, and dine at some of the best local eats on this road trip.
Day 1
Fort Necessity National Battlefield
Farmington
Begin your day with a stop at the Fort Necessity National Battlefield– once the site for the French and Indian War to take place back in the summer of 1754. Not only will you find this prominent piece of history during your time here, but you will also be able to explore the other various sites this place has to offer, including the Interpretive and Education Center, the Mount Washington Tavern, Jumonville Glen, and Braddock's Grave.
Ohiopyle Bakery and Sandwich Shoppe
Ohiopyle
When you're done touring the Fort Necessity National Battlefield, the Ohiopyle Bakery and Sandwich Shoppeshould be next on your list. Founded in 2011, this must-stop shoppe offers healthy and filling grab-and-go meals to fuel the rest of the day with delicious sandwiches and freshly baked cookies and muffins.
Ohiopyle State Park
Ohiopyle
Once you've gotten some grub from the Ohiopyle Bakery and Sandwich Shoppe, you should then visit Ohiopyle State Park where you will find more than 20,500 acres of beautiful natural landscapes. The park is not only full of natural views but is also close to many metropolitan areas. There are some pretty cool activities for people to do during their time there. Be sure to also check out the Youghiogheny River Gorge that provides visitors the opportunity to do some whitewater boating with friends or family.
Braddock's Restaurant & Tavern
Farmington
After seeing the exciting views of the day, you'll want to end the night viewing and enjoying some of the best mountaintop country cooking from Braddock's Restaurant & Tavern. You will want to try their signature "Mama Wendy's Biscuits & Gravy" for breakfast or one of their signature Paninis in various flavor combinations.
The Lodge at Chalk Hill
Chalk Hill
With the day being full of wonderful sights and food, you should check yourself into The Lodge at Chalk Hill. They are open all year long and offer guests very affordable rooms and provide well thought of accommodations, along with impressionable amenities that will make you want to return each year.
Day 2
Wharton Furnace
Farmington
Heat up Day 2 of your road trip with a tour of Wharton Furnace. One of the best maintained furnaces in the state, drive through the sights of Forbes State Park and come across this historical gem. Get an up-close look of the inner works of the furnace with educational and interactive media experiences. Continue to learn about the area's history by making your way to Frank Lloyd Wright's Kentuck Knob just 13 minutes down the road.
Kentuck Knob
Dunbar
You can't leave the area without seeing Frank Lloyd Wright's iconic Kentuck Knob.Tour this National Historical Landmark and discover Wright's taste and personality of the interior. You'll hear stories, learn about the history, and get a unique insight into the wonderous house. Make sure to stop at the gift shop for a souvenir or grab a cup of coffee at The Coffee Shop before you venture to your next destination.
Falls City Pub
Ohiopyle
Less than 10 minutes away, refuel with a delicious lunch from Falls City Pub. Located in the heart of Ohiopyle, the restaurant offers pub classics including their Pub Wings with endless options of sauces or the Smokehouse Sandwich with brisket or pulled pork. Be sure to browse their full beer list for a refreshing beverage to pair with your meal. Then venture to your next destination – hint: we hope you packed an umbrella.
Fallingwater
Mill Run
You'll fall in love (pun intended) with the picturesque views as you explore another Frank Lloyd Wright iconic attraction. Fallingwater is another National Historic Landmark house designed by Frank Lloyd Wright back in 1939. He designed the space for the Kauffman family, the owners of Pittsburgh's largest department store, when it soon became famous because of the unique architecture. The house continues to show Wright's philosophy of harmonizing art and nature.
Meloni's Restaurant
Uniontown
Find a piece of Italy in downtown Uniontown's Historic District when you dine at Meloni's Restaurant. Get a taste of tradition with homemade classics, such as homemade ravioli or the famous veal parmigiana. Save room for dessert – you'll want to finish your meal with their tiramisu imported from Italy. After dinner, make the most of downtown and stroll the streets taking in sites such as the National Roads Heritage Corridor, State Theatre Center for the Arts, and the Uniontown Masonic Building.
Inne at Watson's Choice
Uniontown
Get a good night's sleep before the final day of the road trip and check in at the Inne at Watson's Choice. This beautifully secluded and lovingly restored country bed and breakfast lets guests discover the charm and serene scenes of the area. Book The Inne or Harvest House for an array of sleeping options that will transport you back to 18th century America.
Day 3
Searight's Tollhouse
North of Uniontown
Start your morning with a drive by the Searight's Tollhouse, a National Historic Landmark built in 1835. Spend time exploring the now restored landmark, which is one of two surviving tollhouses built by the state of Pennsylvania. If you stop by Tuesday to Sunday during select months you may even get a tour inside the octagonal house to see the living quarters.
Flat Iron Building Heritage Center
Brownsville
After visiting Searight's Tollhouse, make a stop at the Brownsville Area Revitalization Corporation (BARC), a non-profit community development corporation housing the Flat Iron Building Heritage Center. Take a walk through the Industrial Era in the Heritage Center and stroll through the exhibits as they depict the history of Brownsville and tell the story of the town's creation.
Bownman's Castle/Nemacolin Castle
Brownsville
Before heading to lunch, take one more step back in time by visiting Nemacolin Castle, a trading post built after the American Revolutionary War. Also known as "Bowman's Castle," named after its original owner, this home sits above the Monongahela River and is one of the most popular sights in Brownsville. If you visit Friday to Sunday, you can get a guided tour of the castle and its grounds.
Pickers Pub & Grub
Brownsville
Located just a short walk from Nemacolin Castle, visitors can get a real taste of local Brownsville at Pickers Pub & Grub.The restaurant is covered in vintage signs and memorabilia, making it the perfect place to get the Brownville hometown feel. After a morning of touring, fuel up with the Nemacolin Nachos or one of their fabulous flatbreads.
Bradford House Museum and Whiskey Rebellion Education & Visitor Center
Washington
After grabbing a bite to eat, visit the Bradford House Museum that was once the home of David Bradford, a lawyer and leader of the Whiskey Rebellion in the late 1700s. The David Bradford House is located on South Main Street and is known for its status as an 18th Century architectural showpiece. Visitors who tour the house will notice the stone exterior and showstopping mahogany staircase. After touring the home, check out the Whiskey Rebellion Education & Visitor Center adjacent to the museum for a more in-depth education about the significance of the Whiskey Rebellion and its importance in Pennsylvania's history.
Pennsylvania Trolley Museum
Washington
Travel back to the 1880s and board a restored trolley at the Pennsylvania Trolley Museum. Take a four-mile scenic round trip through the original section of the Washington interurban line, which was converted into the Museum's main line in 1952. During the ride, you'll stop at the Trolley Display Building for a guided tour of streetcars in the Trolley Era (1890-1950). After the trolley trip, visitors will end up in the Visitor Education Center, where you can explore interactive exhibits and even see a short film.
Solomon's Seafood & Grille
Washington
Take load off at Solomon's Seafood & Grille, an American restaurant offering a combination of traditional menu items and seasonal offerings. From seafood risotto to lemon rosemary chicken breast, everyone in the family will find something they love. Make sure to order "Solomon's Signature Wings" to get the full Solomon's experience.
George Washington Hotel
Washington
Relax and recharge at the historic George Washington Hotel after a long day of touring. The boutique hotel opened in 1923 and is conveniently located right off Main Street. The historic hotel was originally known as the "most modern hotel in America" and is fit with restaurants, luxurious rooms, and even a fitness center. Visitors are within walking distance to the town's restaurants, shops, and historic landmarks including the Bradford House Museum and the Duncan Miller Glass Museum.
Day 4
Meadowcroft Rockshelter and Historic Village
Avella
End your trip with one last stop at Meadowcroft Rockshelter and Historic Village. This unique museum is the oldest site of human habitation in North America and is less than 20 miles from the George Washington Hotel. The National Historic Landmark is a must see as it features 19,000-year-old evidence of the region's earliest inhabitants. While you're there, be sure to check out the three other outdoor historic areas, including an Indian village and Frontier Trading Post to end your epic road trip on the byway.