As the birthplace of American rye whiskey, Pennsylvania has a lot to celebrate! Join in the celebration by exploring distilleries located in some of PA's most historic and unique buildings. From firehouses to underground speakeasies, these reimagined spaces offer award-winning spirits and an unmatched atmosphere in which to unwind, relax, and enjoy some great tasting, craft spirits!
1. Five Saints Distilling
Norristown
Dating back to 1888, the horse stables of the historic Humane Fire Engine Co. #1 have been converted into the award-winning Five Saints Distilling micro-distillery. Using locally grown ingredients, this "grain to glass" distillery crafts a variety of premium spirits. Bestsellers include their small batch vodka and white whiskey, as well as a number of more adventurous concoctions, such as maple bourbon butter pecan flavored rum. Book a tour to learn more about the history of the building and enjoy a free tasting.
2. New Liberty Distilling
Philadelphia
Located in a beautifully converted, former horse stable just minutes from Center City, New Liberty Distillery is passionate about making Pennsylvania rye whiskey once again world famous. With its custom-made still and using local ingredients, New Liberty handcrafts its award-winning, barrel-aged Heritage Collection and New Liberty whiskeys. Stop in to admire the restored interior, which retains much of the stable's original character – including the original horse stalls, while sampling their whiskeys or enjoying a craft cocktail.
3. Social Still
Bethlehem
Where one great institution ends, another begins – from the industrial revolution that put the Lehigh Valley on the map to the thriving micro-distillery industry of today. This prohibition era, former bank is now home to Social Still, a distillery, bar, and restaurant all mixed into one! Inside find a one-of-a-kind tasting room and enjoy signature cocktails paired perfectly with an incredible food menu. Its sophisticated environment is elevated by the stunning view of their state-of-the-art distilling equipment.
4. Dad's Hat
Bristol
Located in the historic Grundy Commons Complex with its iconic clock tower and Whisky Magazine's "International Craft Producer of the Year" for 2020, Dad's Hat Pennsylvania Rye Whiskey draws on over two centuries of this country's distilling heritage in crafting its award-winning, small-batch distilled spirits from the finest of locally grown rye. Rye whiskey is their specialty! Along with their classic Pennsylvania Rye Whiskey, you'll find their distinctive Vermouth Finish Rye and Four-Year-Old Straight Rye, as well as whiskeys aged in port wine or honey casks and a variety of "pocket cocktails" all made with their award-winning whiskey.
5. Wigle Whiskey
Pittsburgh
During the past decade, Wigle Whiskey has become practically synonymous with the revival of America's distilled spirits movement. A James Beard semi-finalist and the most awarded craft whiskey distillery in the U.S., they craft their spirits from the finest of organic regional grains that are milled on site, then fermented and distilled in their copper pot still in the beautifully restored former Pittsburgh Wool Co. building. Feeling adventurous? Be sure to try their Eau de Pickle or Saffron Amaro – both National Innovation Award winners!
6. Mason Dixon Distillery
Gettysburg
Housed in the century-old, former Gettysburg Furniture Factory building, Mason Dixon Distillery produces a variety of distilled spirits and you never know what tasty spirit they'll be whipping up next! Their tasting room and restaurant are modeled after a German beer hall and feature beautifully restored brick walls and the building's original wood beams. An official stop on the Adams County Pour Tour, stop in to enjoy a glass of their finely distilled rum, gin, corn whiskey, and vodka in their new warm and inviting courtyard.
7. Hidden Still Spirits
Hershey
The owner of Hidden Still Spirits, PA's largest producer of straight bourbon, has an eye for revitalization. Hidden is located in a former Hershey Company recycling facility on Chocolate Ave. While bourbon is clearly their specialty and comes in red, black, yellow, and double-oaked varieties, they also craft award-winning rye and corn whiskeys, rum – both spiced and aged varieties, as well as vodka, moonshine, and gin.
8. Silverback Distillery
East Stroudsburg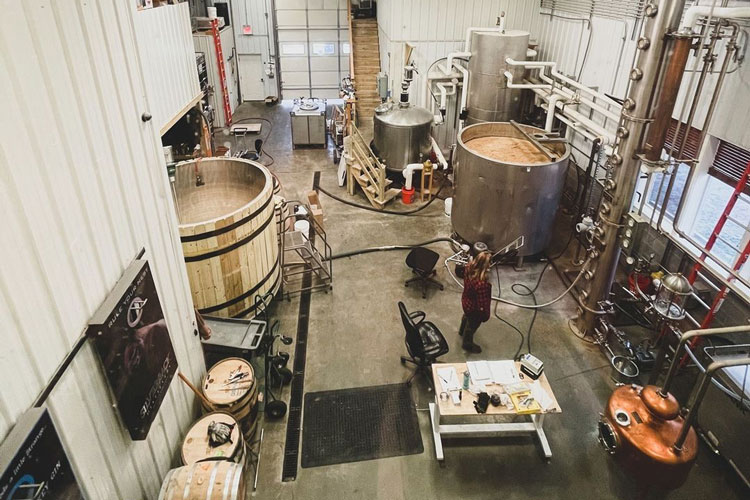 If distilling in a former airplane hangar wasn't cool enough, Silverback Distillery is the only mother-daughter distilling duo in the nation! As inductees in ABV Network's Hall of Fame, these two clearly know their craft -- proving that producing award-winning distilled spirits isn't just a man's game! Transforming the hanger into a production facility and tasting room, they produce distinct, flavorful spirits from a unique mix of local grains, mountain water, and good ol' American craft(woman)ship – including the refreshing, citrus-forward Strange Monkey Gin and real honey-liqueur infused Blackback Rye Whiskey.
9. West Overton Distilling
Scottdale
The distilling legacy at West Overton Village dates back to 1803. The farm is the original site of one of America's oldest and most renowned rye whiskey brands, Old Farm Pure Rye. After a 100-year hiatus following prohibition, whiskey is flowing once again under the name West Overton Distilling. While tours and tastings are currently on hold due to COVID19, once reopened, whiskey lovers can visit the two-story brick stock barn facility to learn how whiskey goes from grain to glass.
10. Main Street Moonshine Distillery & Pub
Schuylkill Haven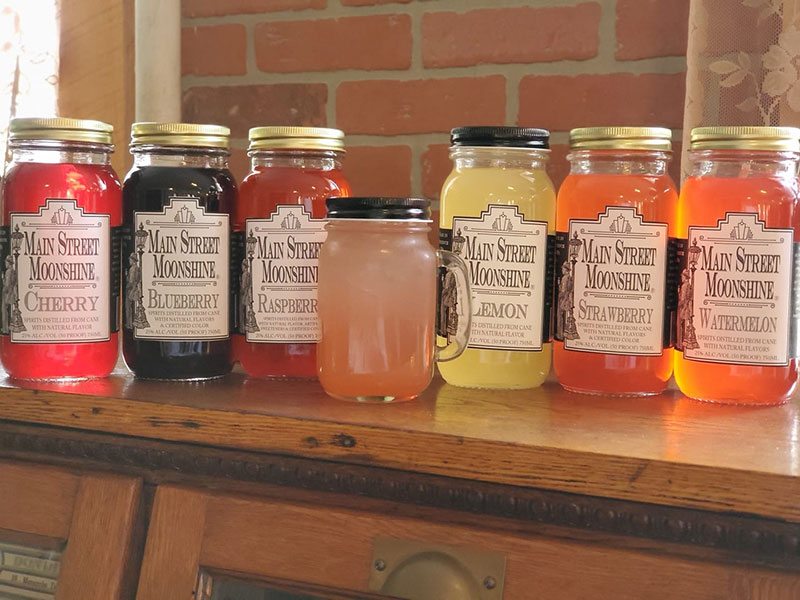 Step back in time and experience the prohibition era when alcohol was illegal and speakeasies flourished! The historic Meck Knitting Mill in downtown Schuylkill Haven has been transformed into Main Street Moonshine, complete with handmade spirits distilled and bottled on-site. With their blended style of early industrial and vintage antiques, visitors get a sense of the speakeasy atmosphere and a history lesson, too!
11. Brandywine Branch Distillery
Elverson
Housed within a lovingly restored 130-year-old stone barn and voted USA Today's #1 Readers' Choice craft gin distillery of 2020, Brandywine Branch Distillery creates a selection of amazing gins and whiskeys. Their Revivalist Botanical Gins echo the natural progression of the seasons, while their award-winning Resurgent Whiskeys are aged for several years in custom-charred, virgin American White Oak casks, giving the whiskeys a character that invokes America's rebellious beginnings and love for pushing the envelope. The barn also houses their spectacular bistro restaurant serving the finest in local, fresh fare and creative cocktails.
12. Hazard's Distillery
Mifflintown
Peer through the windows of the former Peterson's Garage and you may think it's still an auto mechanic shop, but look closer. A large, gleaming, copper still dominates the space, now home to Hazard's Distillery where they produce hand-crafted artisan whiskey and moonshine. Peruse vintage license plates, hub caps, and automotive advertisements while sipping their delicious line of flavored moonshine – blackberry, peach, sweet tea, lemonade, apple pie, butterscotch and root beer – bottled in Mason Jars, of course! The Hazard's line of whiskey includes Unaged Corn Whiskey, Salted Caramel Whiskey, and Blowtorch (their hot cinnamon flavor).
If you are thirsty for more, discover even more craft distilleries in Pennsylvania on the visitPA website. Be sure to follow us on Facebook, Twitter, and Instagram for more PA inspiration. Don't forget to sign up for our monthly Happy Thoughts e-newsletter so you never miss an update.