Happy Travelers, fall is the perfect time to get out and enjoy a scenic drive past picturesque landscapes, historical sites, rustic roadside stands, and stunning fall foliage. Pennsylvania has several routes which put postcard-worthy fall sights on full display for experiences that will leave you happily immersed in the harvest season. No matter your destination, there's a picturesque byway for you to explore. Pack your bags and buckle up for these PA fall road trips: you're in for some of the most beautiful rides of your life!
Get Exclusive PA Travel Content Join PA's Travel Newsletter
The Most Scenic Fall Drives in PA
1. Cumberland Valley's Parks
Carlisle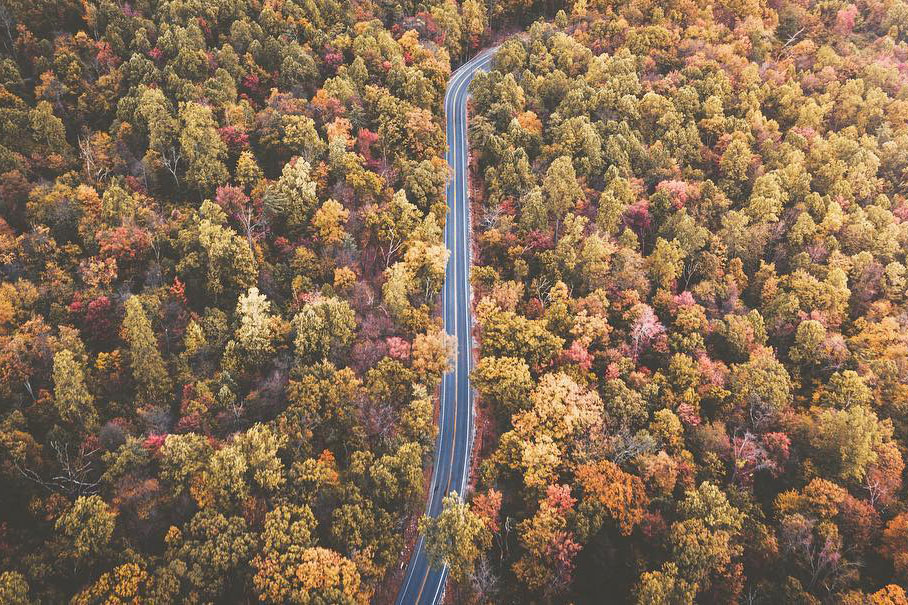 Explore scenic routes throughout Cumberland Valley's Parks. Start at Waggoner's Gap Hawk Watch that's situated on Kittatinny Ridge, a 125-acre, hawk-watching site with one of the largest concentrations of raptors in the United States. From there, travel to Colonel Denning State Park for autumn charm and some great fall foliage photos. Another must-see stop is Kings Gap Environmental Education Center. As this fall drive takes you along PA-233 south, stop by one of the pull-off areas for fantastic views of the valley as bright reds and oranges take over in the fall!
2. Pennsylvania Route 6
Galeton
Named "One of America's most scenic drives" by National Geographic, Pennsylvania's Route 6 is a magical journey through the northern tier of the state. You'll experience history and heritage, small towns, and wondrous sights along this 427-mile route. Fall here has a magic all its own as 19 state parks, a half-dozen state forests, and the Allegheny National Forest are all bedecked in their best and most brilliant fall foliage. The awe-inspiring Pine Creek Gorge and Kinzua Viaduct — with its 600-foot glass pedestrian walkway high atop the trees — are just two of the natural and man-made wonders you'll encounter as you travel along this storied road.
3. Pennsylvania Route 30
Philadelphia
Not to be outdone, southern Pennsylvania has its own long-distance east-west drive on Route 30, complete with plenty of stop-worthy attractions to visit along the way. Start in Philadelphia near the Philadelphia Zoo, then follow the route west to Lancaster where you'll come across scenic farmland, numerous downtown galleries, and an outlet mall. Your next stop is historic Gettysburg, where you can tour the battlefield on horseback with Confederate Trails. Then, take in the picturesque and quaint town of Ligonier. Just north of Route 30, visit Latrobe and tour the sites of Pennsylvania's beloved Fred Rogers — after which, the sights and sounds of Pittsburgh await.
4. Laurel Highlands Scenic Byway
Normalville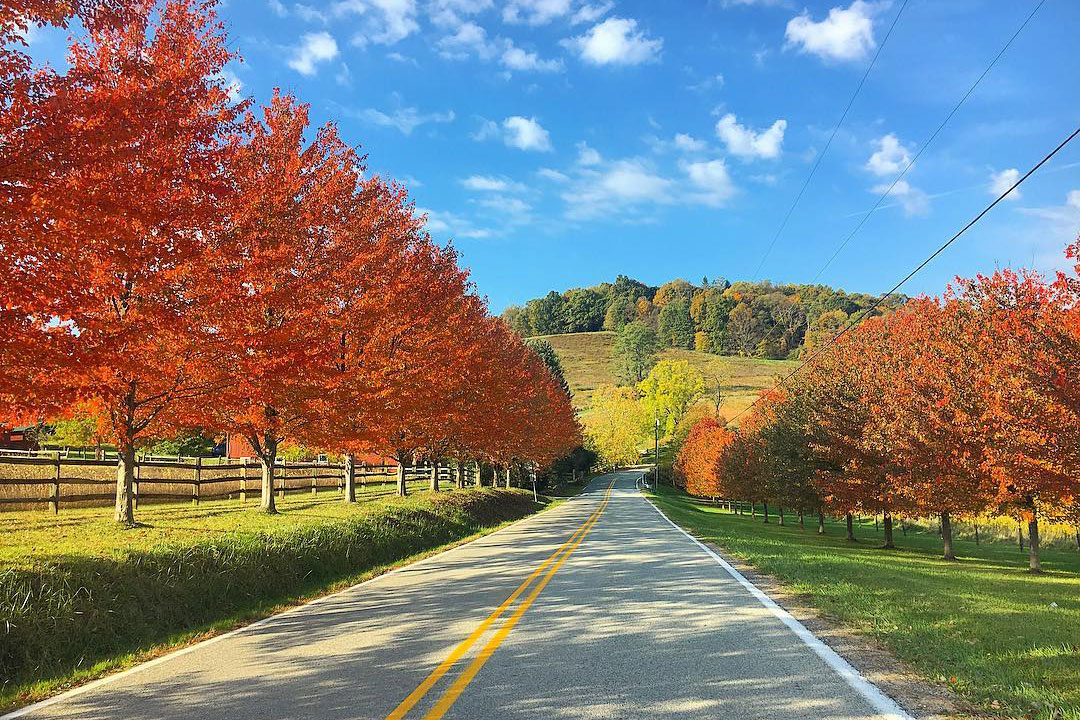 You'll want to take your time taking in the sights on the 68-mile Laurel Highlands Scenic Byway. Bring along your bike to enjoy some of the best biking and pedestrian trails in the nation, or simply get out of the car to stretch your legs at Ohiopyle State Park. Since you're so close, plan to visit famous architect Frank Lloyd Wright's Fallingwater or Kentuck Knob — each in their own breathtaking setting. Don't forget to stop at one of the roadside stands to pick up some wonderful local produce, delicious home-baked goodies, and pumpkins to complete your fall road trip.
5. Washington's Trail 1753
Zelienople
Happy Traveler history buffs, this one's for you. Washington's Trail 1753, a driving route through western Pennsylvania, commemorates young George Washington's first military and diplomatic venture. In the fall and winter of 1753-1754, 21-year-old Major George Washington traversed the region under orders to deliver a diplomatic message to the French ordering them to evacuate the region. The route takes you to several iconic destinations, including Fort Necessity National Battlefield, which saw the opening action of the French and Indian War in 1754.
6. Allegheny Forest and Beyond
Benezette
The mountain forests of northwestern Pennsylvania are simply breathtaking any time of year, but autumn is a must! This fall scenic drives take you through winding roads painted with orange, gold, and scarlet foliage. The 105-mile Eagle's Flight is a must-drive route this time of year, passing through dense forests, peaceful rivers, and quaint small towns with many interesting and unique stops along the way. You can't leave the region without seeing elk! Take the 86-mile Wapiti Way drive and get your cameras ready for a stop at the Elk Country Visitor Center where you just might get some up-close shots of the more than 1,000 elk that call this region home!
7. Covered Bridge Tour
Lenhartsville
What better way to enjoy a beautiful fall day than by taking a step back in time on the Covered Bridge Tour? You're in for a real treat driving through four of Berks County's five covered bridges, all built in the 1800s! Then, plan to walk or bike through the 218-foot long Wertz's Covered Bridge, which happens to be the longest single-span covered bridge in Pennsylvania. Simply known as the "Red Covered Bridge," it now serves as the walkway entrance to the Berks County Heritage Center. Take a ride on roads less traveled for these fall foliage scenic drives and discover these rustic architectural wonders surrounded by the splendid imagery of autumn.
Be sure to follow us on Facebook, X, and Instagram for more fall in PA inspiration. Don't forget to sign up for our monthly Happy Thoughts e-newsletter so you never miss an update.