Ice-Cold, Heart-Pounding, Pure Pennsylvania Fun
Are you the type of happy traveler that's looking for something a little more…let's say…intrepid this winter? There are hundreds of reasons to get out of town in Pennsylvania when it's cold, but there's only one that combines the beauty of waterfalls and elegance of ice. Two words: Ice climbing. 
Yes, this is something that people do for fun, or at least for thrill. Climbers scale waterfalls and groundwater seeps along cliffs and road cuts after the water freezes and accumulates into towering columns and craggy sheets of solid ice. Or at least, solid-ish. Because waterfalls are slightly easier to climb after they freeze.
And you thought knocking icicles from gutters was dangerous. 
Disclaimer: Ice climbing is not something you just do — not without the proper instruction and equipment — and even then, there is a high level of risk.
So if you want to do it, start out with an outfitter, an outdoors club, or experienced climbers who literally can show you the ropes. Most ice climbers start out learning on ice-free rocks and climbing gyms.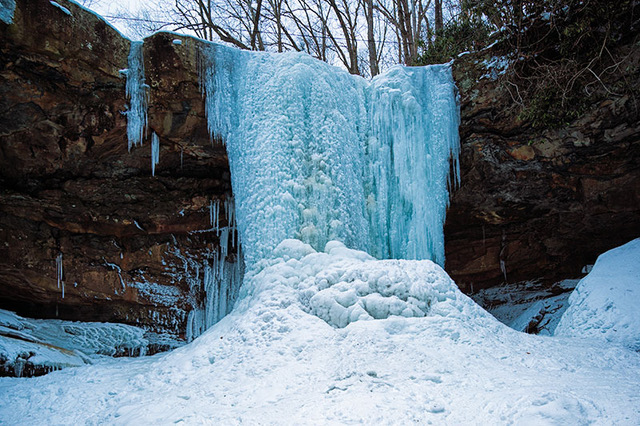 The basics of getting started with ice climbing.
There are two basic ways to ice climb. Both involve wearing spikes (crampons) on one's feet and gripping spikes (ice axes) in one's hands. The climber either follows a top rope — a rope anchored at the top and dropped down the route — or starts out at the bottom anchoring a rope into the ice as he or she climbs. In either case, the climber is harnessed to the rope, so the climber or a companion can arrest a climber's fall. 
It's all very difficult and dicey.
And it's made more so by the fact that ice climbing requires just the right wintry weather so the flowing/dripping water freezes — and stays frozen. That can be fleeting.
But every winter, dedicated climbers find ice from one end of Pennsylvania to the other. The most oft-cited not-hot spot is Ricketts Glen State Park. Its 3,050 acres, near Wilkes-Barre, hold many charms, one of which is the National Natural Landmark that is Glens Natural Area. Trails there link 22 named waterfalls, including the 94-feet-high Canoga Falls, to which hikers flock spring through fall.
When it's icy, the park posts an alert saying that that Falls Trail system is closed to all but properly equipped and experienced climbers and "ice hikers," all of whom must sign in and out with the park office. A workaround: Outfitter Valley to Summit offers everything from helmets to hand lines on guided half- and full-day winter "waterfall ice hike excursions."
Additional Commonwealth climbs.
There also are climbable cascades in the Delaware Water Gap National Recreation Area, also in the northeast. You always should check in with the park, as some do not approve of ice climbing.
Lifelong climber and Pennsylvania native Rob "Griz" Ginieczki wrote and self-published the book on "Ice Climbing Pennsylvania" in 2006. As he'll tell you, Pennsylvania has a lot of ice climbing possibilities. The book describes, in words and photographs, 200 ice and mixed routes from the Lehigh Valley to the Laurel Highlands that are popular with East Coast ice climbing aficionados.
His book notes Birdsboro Climbing Quarry outside Reading, as well as Cucumber Falls and several climbing areas in Ohiopyle State Park in and many more.
Even if ice-picking your way up Cucumber Falls isn't for you this winter, there are plenty of other lower-impact winter activities to be explored. Cross-country skiing, snowshoeing, snowmobiling. It's all available in Pennsylvania this winter. Just make sure to bundle up!