Strap on your hiking boots, grab some trail mix and a water bottle, then recharge your soul and spirit with the breathtaking splendor of Pennsylvania's natural wonders. Our dazzling waterfalls, towering trees, and picturesque viewpoints from majestic peaks have inspired generations of people of all ages and ability levels to get trekking. From state parks to boulder fields, we've identified our favorite trails where Happy Travelers can explore a few of Pennsylvania's natural wonders.
Know before you go: We recommend contacting your destination before your visit for their latest rules and regulations. Find up-to-date COVID-19 traveler resources on visitPA.com
Ringing Rocks Park
Upper Black Eddy
Must-see natural wonder: Musical rocks that ring when struck
Embark on a trekking adventure through Ringing Rocks Park, nestled in the wooded hills of historic Bucks County. If you're in a mood to solve a geological mystery, then this destination is certainly for you. On this trip you'll want to swap that magnifying glass for a hammer to strike the rocks in the park's boulder field.
Follow the single, flat Ringing Rocks Ramble Trail for just under a mile and you'll end up at Bridgeton Boulder Field, a seven-acre field that is home to 10-foot high rock piles that fill the air with ringing tones. No one knows why the rocks make such an interesting metallic sound when hit, but what we do know is this playful adventure is a bucket-list must for "rock music" lovers!
Delaware Water Gap
Bushkill
Must-see natural wonder: Raymondskill Falls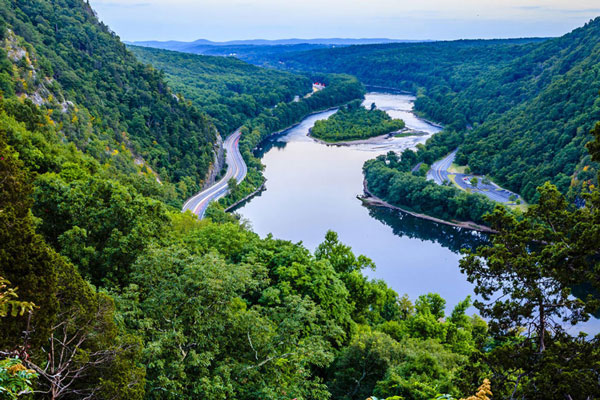 The Delaware Water Gap in the Pocono Mountains, once touted as the world's eighth scenic wonder, is formed by the distinct notch which cuts into low-forested mountains and the rocky Kittatinny Ridge by way of the Delaware River.
Check out the Raymondskill Creek Trail, a moderately easy hike that leads to the raging waters of three cascading waterfalls. After trekking through the steep and rocky terrain, celebrate your shared accomplishment with a photo-worthy moment of Raymondskill Falls, the state's highest waterfall.
Fun fact: this three-tiered beauty tumbles 150 feet, which is just slightly less than Niagara Falls.
Hawk Mountain Sanctuary
Kempton
Must-see natural wonder: Boulder fields formed during the last Ice Age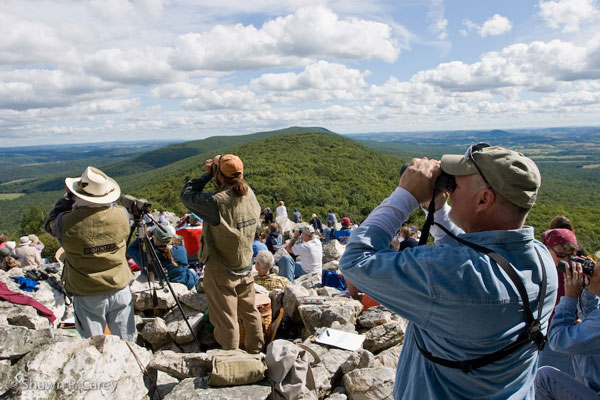 Be sure to pack the binoculars to spot bird wildlife as you hike your way through Hawk Mountain Sanctuary. This 2,600-acre raptor conservation center provides trails and overlooks, giving nature enthusiasts an opportunity to spy kestrels and migrating hawks, eagles, and falcons passing through during the late summer and fall.
Watch your step when you descend the aptly named River of Rocks Trail, a 4-mile loop trail which consists of rocky terrain, steep stone, but also some beautiful wildflowers. Stay on track with the blazes until you reach the naturally occurring Ice-Age boulder fields. As you walk, see if you can hear water flowing beneath you and the rocks.
Pine Creek Gorge
Wellsboro
Must-see natural wonder: Hidden waterfalls along the Pine Creek Rail Trail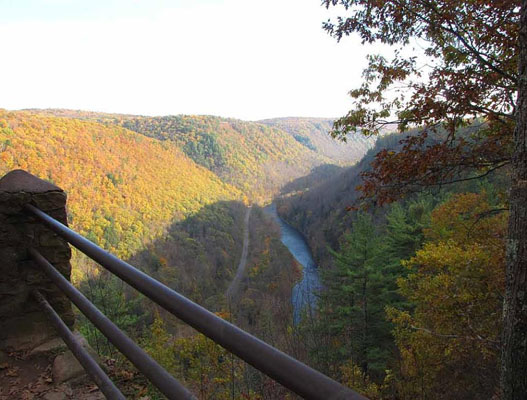 If you're looking for impressive, sweeping views and tumbling waterfalls, a visit to Pine Creek Gorge in the PA Wilds is a must. Much of the land surrounding the gorge is public, with Leonard Harrison State Park on the eastern rim and Tioga State Forest and Colton Point State Park on the western rim.
Find your way to the Pine Creek Rail Trail, one of the state's most scenic treasures and voted by USA Today as one of the "10 great places to take a bike tour." Featuring 62 miles of crushed stone, the multi-use trail is ideal for hiking, bicycling, and horseback riding. With endless opportunities for sightseeing, visitors can expect to see dramatic rock outcrops, wildlife, and crystalline waterfalls. But here's the catch, some of those waterfalls may be hidden!
Extend your nature trip with a leisurely hike along the eastern rim through the 0.6-mile Overlook Trail loop to Otter View for a magnificent view of the canyon. While the steep climb down provides a challenging hike, this trail is safe for kids to enjoy.