April showers bring summer getaways! Escape to one of PA's unique and luxurious boutique hotels, lodges, homes, inns, or glamping experiences. Embrace the spring season with these ultimate one-of-a-kind lodging experiences.
1. The Little A
Greentown
Located just minutes from the numerous hiking trails and waterfalls of Promised Land State Park, relax in the secluded tranquility and scenic beauty of the aptly named, the little A. This charming, two-bedroom A-frame cottage with its two-story high windows offers the perfect vantage point to spy the turkeys and other birds, fox, and deer that often laze around the backyard. Enjoy all the modern amenities, including the 60-inch smart TV, and relax by the wood-burning fireplace that fills the cabin with coziness and warmth, or by the outdoor fire pit.
2. Creekside Cabin
Landisburg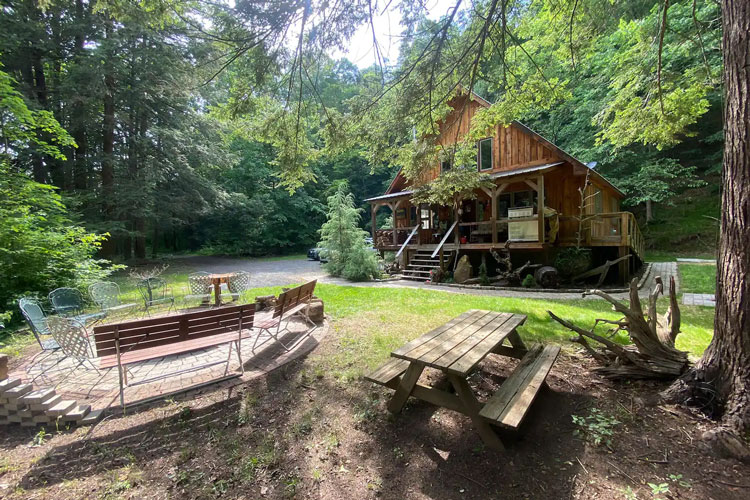 Nothing says unique like waking up to the sounds of a nearby creek as you step outside onto a wooden porch and smell that crisp country air. Creekside Cabin offers all the quaint country charms and more. Explore the nearby trails and then relax by the fire when you return. The cabin holds up to 10 guests with plenty of indoor and outdoor activities, including a horseshoe pit. The real treat is the location. Located only 30 minutes from Carlisle, the host has put together a one-of-a-kind, self-guided micro-brewery, winery, cidery, and distillery tour for you sip your way through the town.
3. Heartwood
Marienville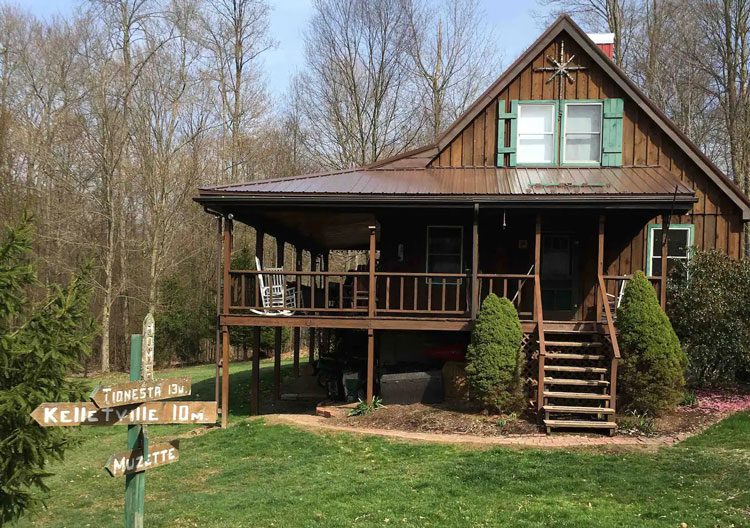 Cozy up by the wood stove, roast some marshmallows around the fire pit, and bundle up to enjoy your morning coffee or afternoon aperitif on the large wraparound porch surrounded by the peaceful sights and sounds of nature at Heartwood, a gorgeous three bedroom lodge in the heart of the Allegheny National Forest. The lodge is equipped with all the modern amenities including Wi-Fi, perfect for work and play!
4. The Deacon
Philadelphia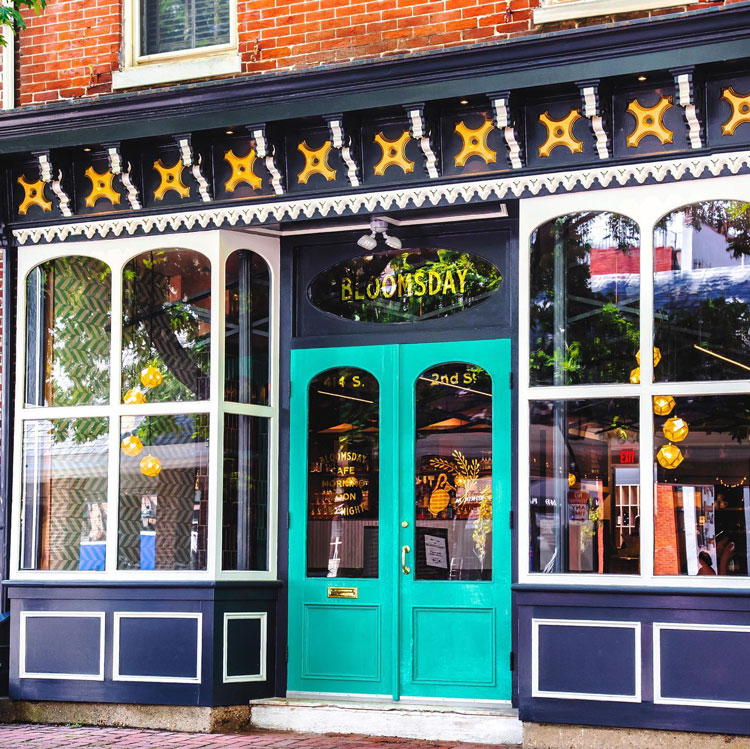 Once a historic church, The Deacon has been transformed into an eight-room, boutique hotel offering a unique, thoughtfully curated guest experience – complete with vaulted ceilings, arched windows, and perfect for any occasion or no occasion at all! Each of the hotel's artfully designed rooms features luxury bedding, internet access, original stained-glass windows, Sonos speakers, and exquisite details that endow each room with its own unique character.
5. The Whetstone Inn
Punxsutawney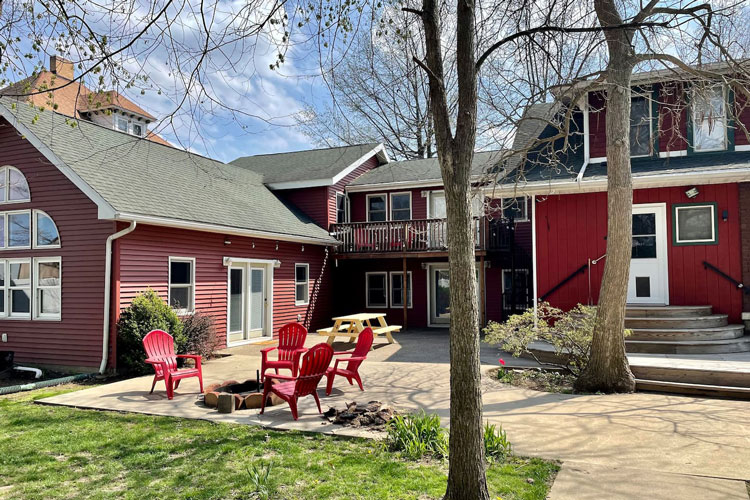 Enjoy a luxurious stay The Whetstone Inn, a beautiful historic home that offers comfort, tranquility, and fun all within walking distance of downtown. The inn sports a fully stocked entertainment center as well as a heated indoor swim spa to enjoy for an additional fee. Splurge and take your stay to the next level by having a professional chef prepare meals for you with a breakfast or dinner package. While there, don't forget to swing by and say hi to Punxsutawney Phil and his wife, Phyllis!
6. Pocono Castle
East Stroudsburg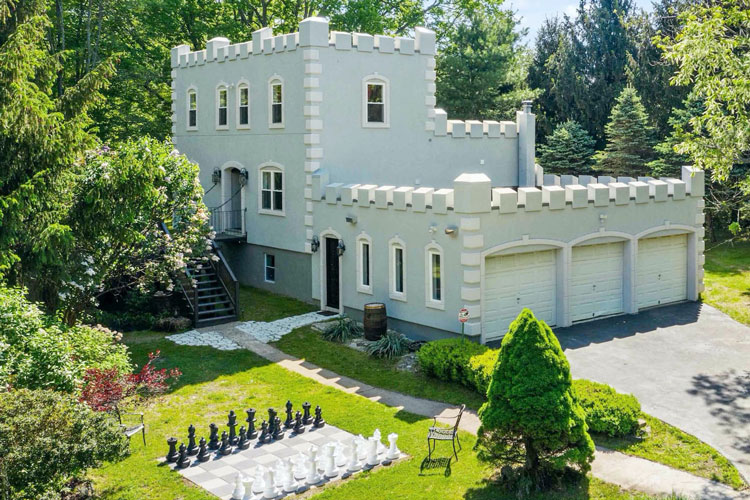 You'll feel like royalty staying at the one and only Pocono Castle! Located adjacent to its own private pond and while there's no moat or drawbridge, the countless castle-themed, decorative touches throughout may have you thinking you've taken a journey back in time to medieval days in Merry Olde England. No worries, though! The castle has all the modern amenities for your comfort and entertainment, including a hot tub, sauna, fire pit, and game room!
7. Modern Firetower Chalet
Bloomsburg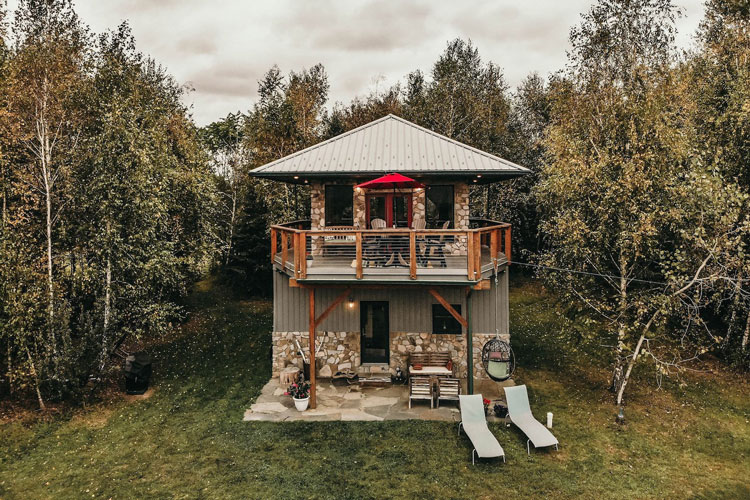 Inspired by the fire towers found out west, the modern, two-story Firetower Chalet offers a completely unique getaway where you can truly get away from it all (or not since it comes fully connected with Wi-Fi and an HDTV with Amazon Prime Video, Chromecast, Netflix, and Roku)! Nestled deep within 60 acres of farm and woodland, enjoy miles of private wooded trails perfect for hiking and exploring. Awaken every morning surrounded by views of birch trees and distant mountainsides, then enjoy your morning coffee on the second story wraparound deck. It's so peaceful, you might never want to leave!
8. Little Eventyr Tiny House
Champion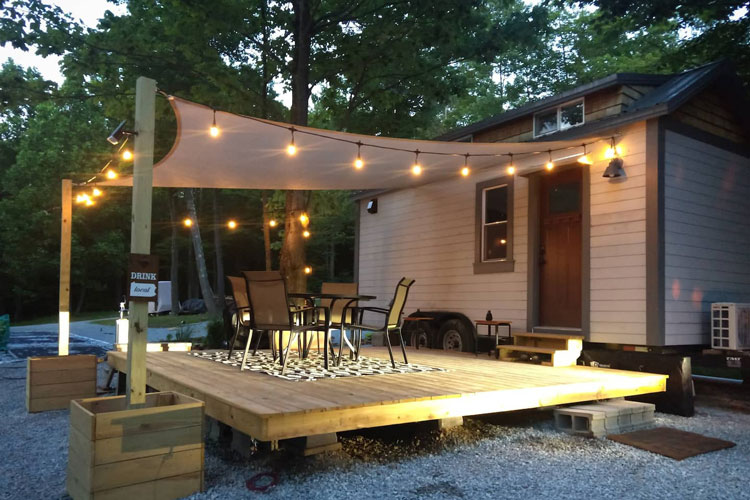 There's nothing tiny about the fun you'll have staying in the 160-square-foot Little Eventyr Tiny House. While a true "tiny house," it is packed with luxury and comfort. Located on a private camping resort in the heart of the Laurel Highlands, you'll be surrounded by beauty and nature. Relax by the fire pit after a day of adventure at one of the nearby resorts, then warm up by the cozy inside fireplace with a movie and board games from the well-stocked media cabinet.
9. Ohiopyle Treehouse
Farmington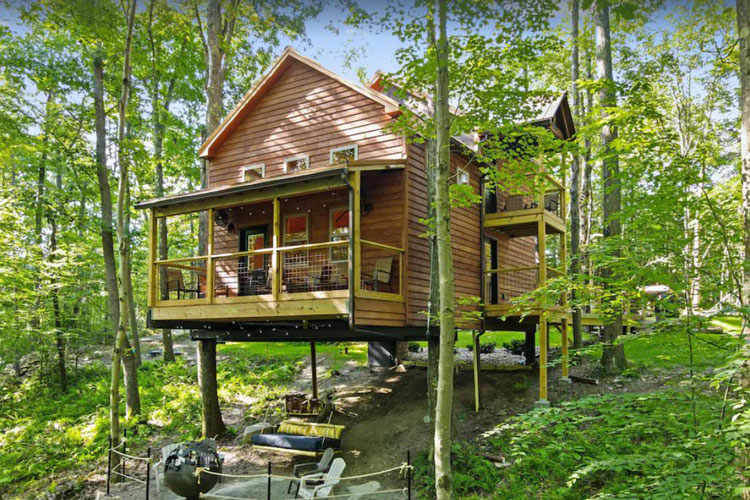 The Ohiopyle Treehouse puts the unique in unique getaways! Unwind in this one-of-a-kind treehouse getaway. Enjoy a mile-long private hiking trail that takes you across a clear mountain stream, and then take a dip in the wood-fired hot tub to relax after a day of exploring Ohiopyle State Park or Frank Lloyd Wright's Fallingwater.
10. The Glamper
Lancaster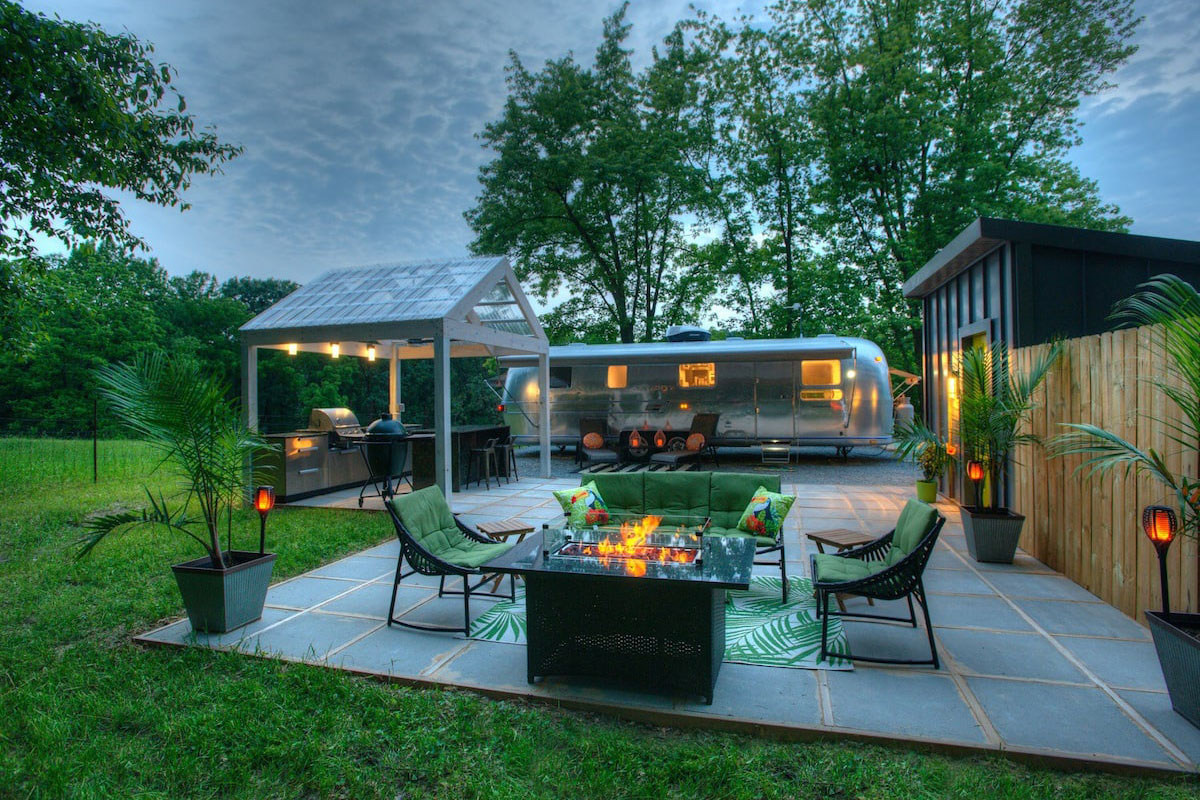 When you hear the word "glamping," a luxury-filled tent surrounded by the peaceful sights and sounds of nature likely comes to mind. Not so for The Glamper, which puts a whole new twist on the glamping experience! Rather than a rustic tent, you'll be staying in a vintage 1975 Airstream Land Yacht located on farmland. And while the outside might scream "1970s," the inside has a completely updated interior with granite countertops, a modern bath, fireplace, and tv!
11. The Dome House
Pittsburgh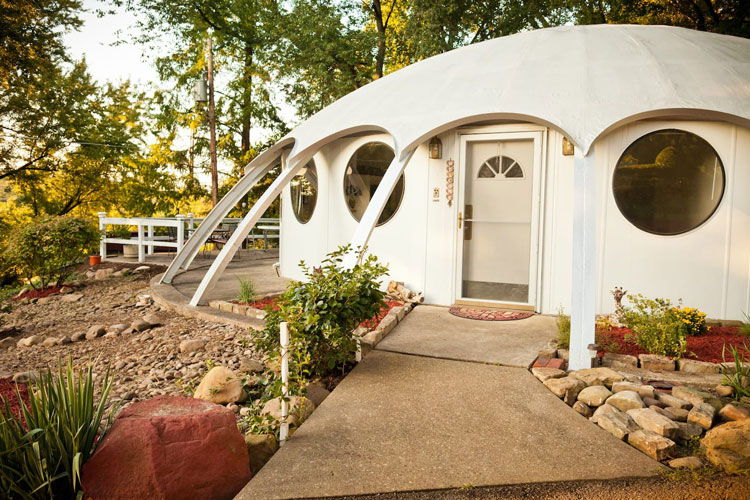 By the end of this getaway you'll be saying 'Dome Sweet Dome!' The Dome House is the original Yaca-Dome, better known as 'The Igloo.' If you're looking for a quirky house that is within city limits but feels secluded this is the place for you. The dome sleeps two guests and includes a patio and other necessities for a vacation full of relaxation. If you've ever wanted to stay in a Yaca-Dome now's your chance as this is the only one in this part of the country.
12. Airydale Retreat
Mill Creek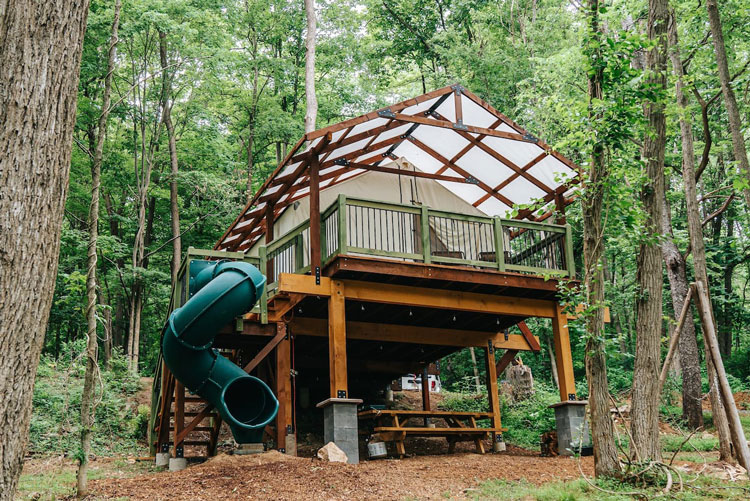 Looking for an authentic glamping experience? Then look no further than the Airydale Retreat. Perched atop a large wooden deck, their deluxe canvas tent features a queen bed, cot-style bunk bed, basic camping cookware, and a propane camp stove. Enjoy sweet goodies each morning provided by your hosts, then break out the s'more's fixings each evening for roasting at your fire pit!
13. Timberdoodle Lodge: A Cabin in The Woods
Bradford
It might be small, but the cozy and inviting Timberdoodle Lodge is big when it comes to amazing scenery, fun times, and the perfect escape from life's little hassles. Surrounded by the beautiful Allegheny National Forest and its 600 miles of trails, enjoy a full day in the great outdoors hiking. Afterwards, relax and unwind by the fire pit next to this little cabin in the woods.