From UFOs to life-sized coffee pots and houses shaped like shoes, these unique Pennsylvania roadside oddities will make any road trip one to remember.
1. Ducks
Yardley Borough
Stroll through the streets of Yardley to see the brand-new Yardley Duck Sculptures to spy six colorful ducks designed by local artists and displayed throughout the town. From Chester to Blue to Dapper to Dolly, make sure to stop by each of these lovable birds in various locations including Buttonwood Park, along Main Street, and Fitzgerald Park.
2. Boomer the Dino-Dog
New Hope
Originally installed in 2003 as a temporary sculpture for the New Hope Annual Outdoor Sculpture Show, it wasn't long before Boomer the Dino-Dog became a permanent resident and longstanding "guardian" of New Hope. Sculpted by local artist Dana Stewart two decades ago, the massive part dinosaur, part dog is a favorite of both locals and area visitors. Next time you're in New Hope, be sure to swing by and wave to Boomer at the entrance to Delaware Canal State Park.
3. The Belle of Saint Mary's at Hameau Farm
Belleville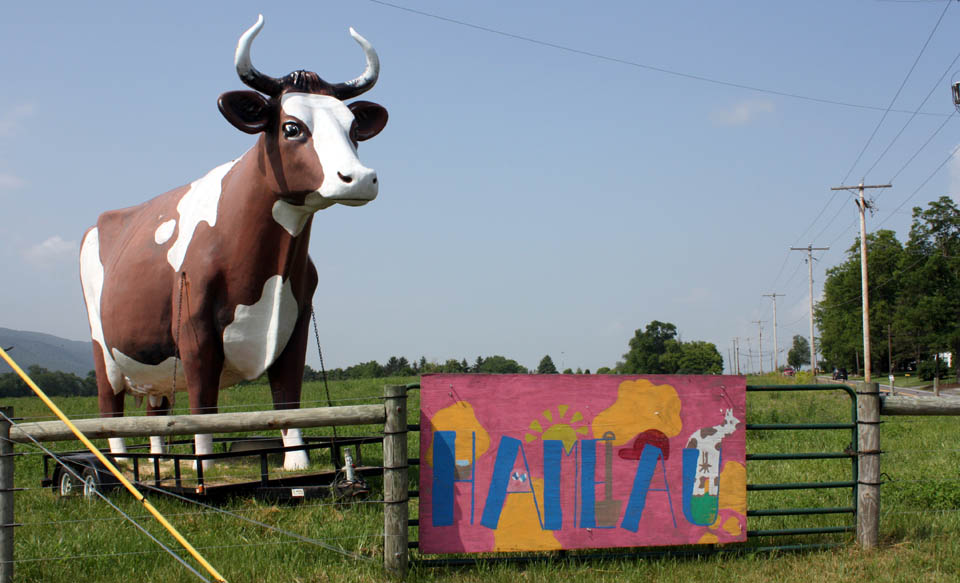 Be prepared for some cow-filled fun when driving past the Belle of Saint Mary's. The 13-foot-tall fiberglass cow looms over Kishacoquillas Valley, a portion of the Juniata River in Mifflin County. The Belle of St. Mary's is the perfect Instagram-photo op, greeting you and visitors alike as you make your way to Hameau Farm, a working dairy farm that is also a summer camp for girls. "The experience will moo-v you!"
4. Gravity Hill
McCandless Township
Is it science, an optical illusion, or the supernatural? Prepare to get spooked next time you drive through McCandless Township right outside Pittsburgh. Stop on the mysterious and seemingly gravity defying road known as "Gravity Hill," put your car in neutral and watch as the car starts moving forward, instead of backward down the hill. After experimenting with Gravity Hill, keep the mysteries going by checking out the haunted Blue Mist Road, known for being one of the scariest roads in Pittsburgh. When the sun sets on this road, it is said to become covered in a paranormal blue mist.
5. Doolittle Station
DuBois
Located just minutes from the Route 219 exit off Interstate 80 in DuBois, Doolittle Station is a must-see Pennsylvania roadside attraction. A unique village, the station has restaurants, museums, a brewery, and a bed and breakfast, all found within historic train cars. Order ice cream at the popular roadside cafe and creamery, check out the museum filled with mementos of PA railroad history, and grab a delicious meal inside the authentic 1950's diner car or farm-to-table, fresh fine dining service in the 1913 parlor car, only one of four ever made!
6. Playthings, Etc.
Butler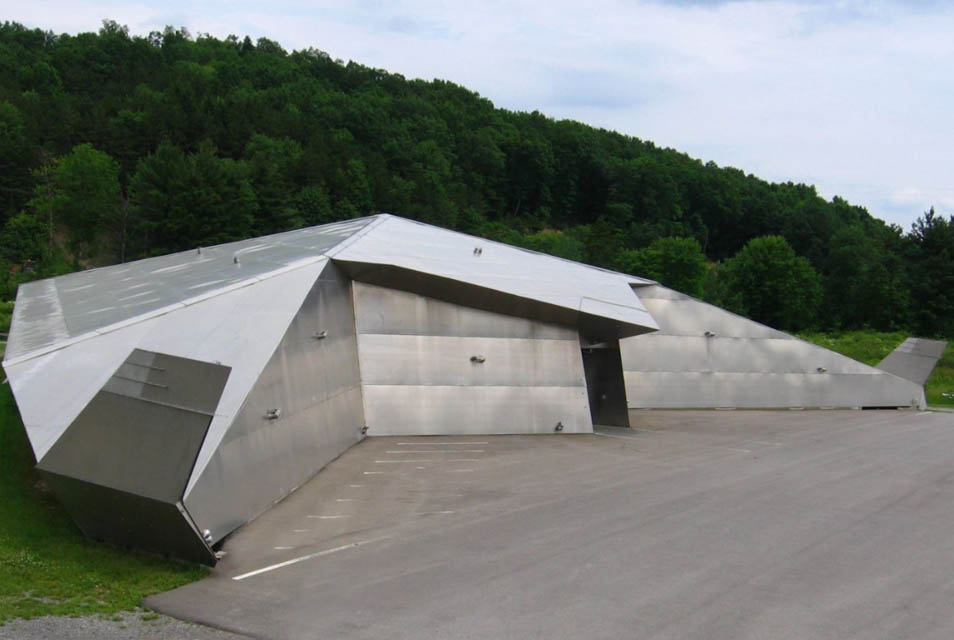 Located right off the William Flynn Highway, Playthings Etc. is probably the coolest toy and hobby store you'll find anywhere in the world. One might even say it's out of this world! After all, how may toy stores (or stores of any kind) are inside a spaceship?! Make a pitstop along your road trip and enter through the buildings "engine doors" to spend some time checking out the thousands of really cool toys throughout this futuristic and fun landmark.
7. Lincoln Highway Experience
Latrobe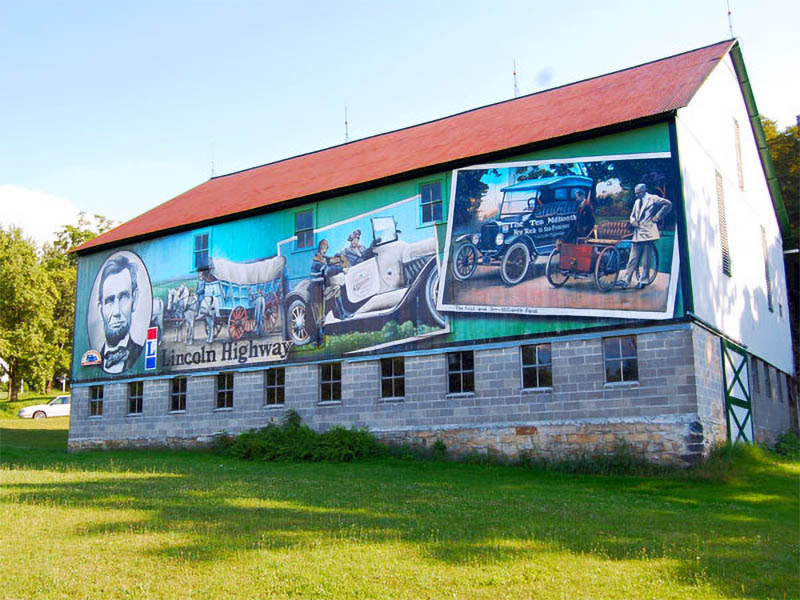 A history museum in West Moreland County, The Lincoln Highway Experience is the largest museum in America dedicated to the story of the first coast-to-coast highway. With a century's worth of history, the museum features several roadside oddities, including some of the highway's roadside giants including a 25-foot-tall giant gas pump and 17-foot-tall bicycle built for two.
8. Jackson the Elephant
Somerset
Standing in the parking lot outside an Eat'n Park restaurant, the life-sized statue of an elephant named Jackson is almost impossible to miss! Located just south of exit 110 of the Pennsylvania Turnpike in Somerset, the statue is a tribute to the actual 30-year-old elephant who lives at the International Conservation Center that specializes in the care and breeding of African elephants about 20 miles away in Fairhope. The statue honors Jackson who spent nearly two decades in a circus after being captured as a three-year-old in Africa.
9. Kecksburg Space Acorn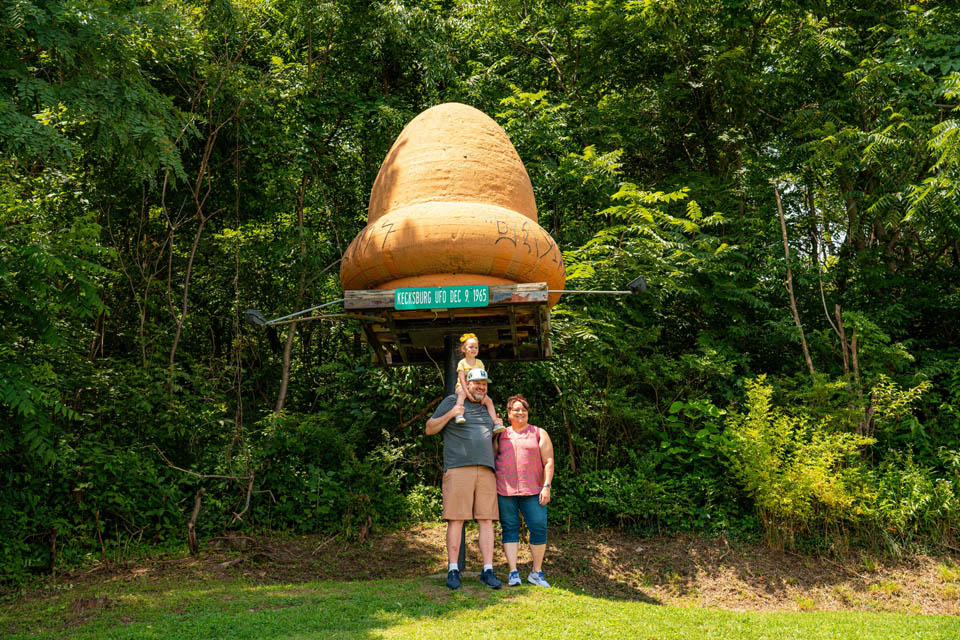 Is it a UFO, a giant acorn, or possibly both? You decide! The roadside oddity known as the "Kecksburg Space Acorn" can be found outside the Kecksburg Volunteer Fire Department in Westmoreland County. When crafted, it was meant to be a replica of an unidentified flying object (UFO) that reportedly crash-landed near the small town in the 1960s. Displayed in the town since 2005 when the TV show Unsolved Mysteries created the odd-looking monument to include in their episode about the Kecksburg incident, the statue has become a key attraction at Kecksburg's UFO Festival held every July.
10. Serenity Glass Park
Port Allegany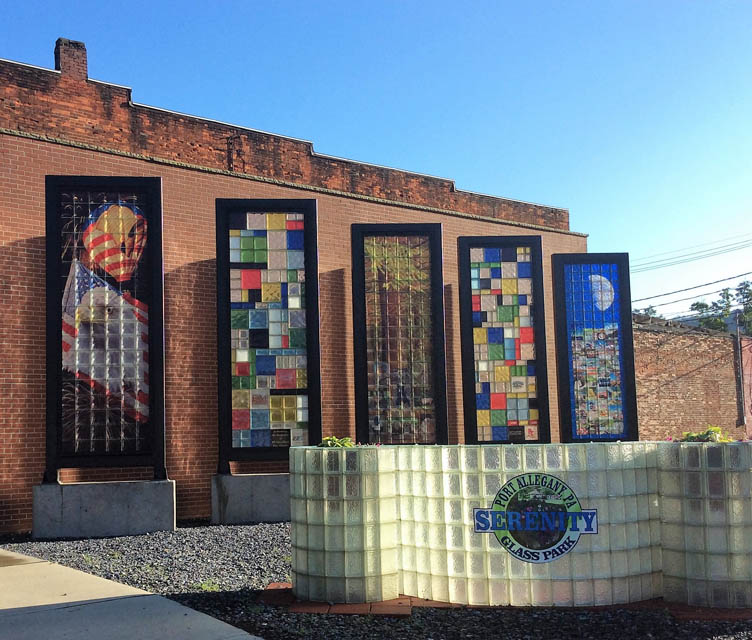 When the sun reflects off the colorful glass artwork at Serenity Glass Park, the surrounding area literally sparkles. Located at the intersection of Pennsylvania Route 6 and Mill Street in Port Allegany, prepare to be dazzled as you enjoy the creative artwork, beautiful walkways, and even a glass castle that pay homage to Port Allegany's glass manufacturing history and legacy.
11. The Haunted (Below The Candle Shoppe of the Poconos)
Swiftwater
Featuring almost every scent imaginable of scented candle, The Candle Shoppe of the Poconos looks innocent enough during the day, despite the faux castle exterior and massive skull along Rte. 611 in Swiftwater. Travel to the basement, though, where monkeys were kept for research that helped lead to the creation of the Smallpox and Yellow Fever vaccines. While the monkeys are long gone, the cages are not and some visitors have reported feeling fur brush against their ankles and hearing the screams of monkeys long dead. Take a Haunted Tour to experience or a bit of paranormal activity, or not!
12. Schaefer's Auto Art
Erie
Located along Hershey Road in Erie, the larger-than-life sculptures of Shaefer's Auto Art have all been crafted from old car parts. Walk through the site or simply drive by and wave to Automan as you check out the whimsical larger-than-life bugs, dinosaur, spaceship, and other auto-part creations of artist Richard Schaefer, often decorated in tune with the holiday seasons, especially Halloween.
13. Clothespin Statue
Philadelphia
Just outside the Center City subway entrance parallel to City Hall, you'll find a larger-than-life Clothespin. How large, you might ask. Quite large! The 45-foot steel sculpture by Claes Oldenburg has sparked awe, interest, a bit of head-scratching, and quite a few photos by passersby posing by the statue since it was installed in the City of Brotherly Love in 1976.